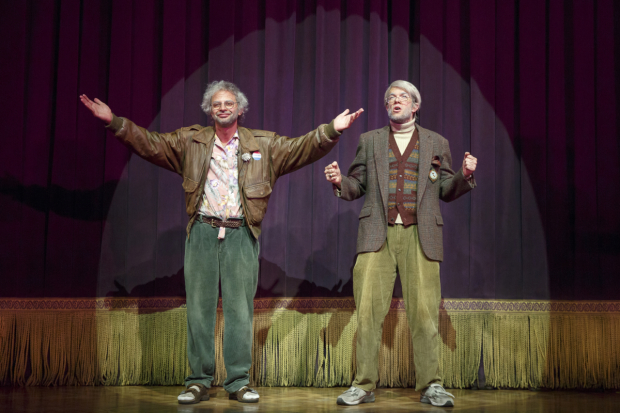 Are George St. Geegland and Gil Faizon the Vladimir and Estragon of the 21st century? Certainly the Upper West Side alter cockers of Oh, Hello on Broadway share a lot in common with the tramps in Samuel Beckett's Waiting for Godot: their slovenly dress, their codependence, and their inexplicable ability to hold an audience rapt for the length of a show in which nothing really happens. Audiences will laugh uproariously at their clownish behavior, even as some viewers will presciently recognize that this is where they're headed in a few decades — a few may already be there.
Actor Gil (Nick Kroll) and novelist George (John Mulaney) are septuagenarian roomies living in a rent-controlled five-bedroom apartment on 73rd Street and Columbus (for $75 a month). They met as undergraduates at Columbia University and have since shared their boundless enthusiasm for Steely Dan, a mountain of cocaine, and a penchant for principled career failure. But tonight is different: Gil and George have finally made it to Broadway in a new semiautobiographical play about two cable-access hosts who sell their show, Too Much Tuna, to NY1 in order to afford the $2,500 rent on their recently decontrolled apartment. But when they are asked by upper management to start shilling clam juice, will it destroy their credibility? It might just ruin their friendship.
Kroll and Mulaney were inspired to create Gil and George by the sight of two older gentlemen buying matching copies of Alan Alda's Never Have Your Dog Stuffed at the Strand Bookstore and then reading them silently side by side in a coffee shop. Too Much Tuna became a regular segment on Kroll's Comedy Central sketch program, Kroll Show, leading to a sold-out off-Broadway run of Oh, Hello last season at the Cherry Lane Theatre.
Little has significantly changed from that run, with the exception of an audience Q&A that has been removed. Under the direction of Alex Timbers (Rocky), the jokes are sharper, the flow more efficient, and the design considerably more extravagant. Scott Pask's franken-set is especially impressive: "Our whole set is cobbled together from discarded Broadway sets from some weird warehouse in Secaucus," Gil says as he prepares to fondle a hair dryer from Steel Magnolias. A giant stairway to nowhere from some unnamed August Wilson play (my hunch is Joe Turner's Come and Gone) occupies stage left, while Gil's UWS stoop (the only surviving element from off-Broadway) takes up stage right. None of it is particularly critical to the storytelling, but all of it is delightfully ridiculous.
Puppeteer Basil Twist (The Pee-wee Herman Show) has been brought in to animate Tony Tuna (the sandwich with an opioid addiction who cohosts their NY1 show), doing so on a grand scale. This is especially apparent during the experimental dream ballet (very funny choreography by Patrick McCollum) set at that cemetery you see on the way to LaGuardia Airport.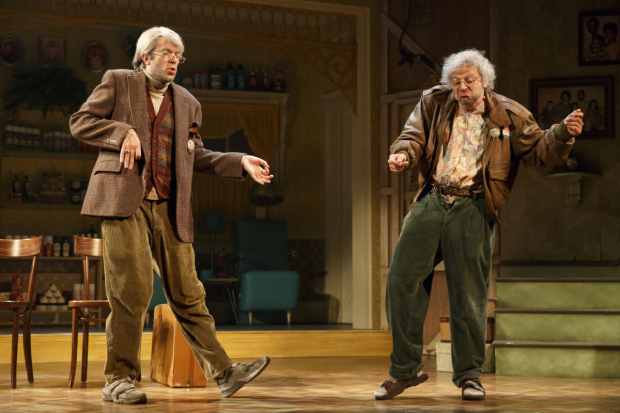 As with the off-Broadway run, each performance features a different guest for George and Gil to interview on Too Much Tuna (it was Paul Sorvino the night I saw it), giving Kroll and Mulaney an opportunity to improvise and riff — and they're often funnier doing that than when they're delivering scripted material. Mulaney, in particular, exhibits an unwavering commitment to character that allows him to know exactly what George would say in any given situation. He is simultaneously hilarious and very dark as we get little glimpses of George's unsavory past. Gil is undoubtedly the type B to George's type A: Kroll plays him in a way that is both vulnerable and repulsive, so that any feelings of affection toward him are immediately squashed by disgust.
Far from being a sketch that wears out its welcome after the first 10 minutes, Oh, Hello turns out to be a bottomless well of funny refilled by the tragic circumstance of Gil and George being life partners by default (much like Felix and Oscar, Bert and Ernie, and Vladimir and Estragon). Relationships forged out of habit and proximity are not likely to go out of style anytime soon, so we look forward to seeing them on Broadway for years to come.