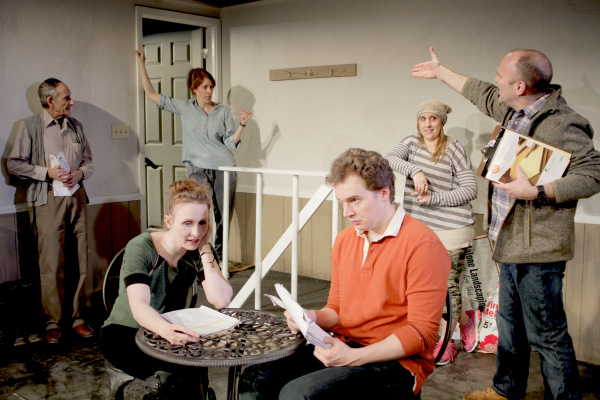 Anyone familiar with Elizabethan theaters will notice a Shakespearean ring in the title of Marc Palmieri's hilarious new play, The Groundling, now making its world premiere in a smart, impeccably cast production at the Axis Theatre. (The word groundling refers to person in the standing-room-only section of the audience at an Elizabethan theater.) But make no mistake — this is not Shakespeare. Palmieri, who also directs, has taken inspiration from the Bard's Love's Labour's Lost and created a thoroughly modern, breathlessly comical, arrestingly poignant story of a man trying desperately to make sense of love and loss.
Long Island landscaper Bob Malone (Robert Ierardi) and his chronically angry wife, Karen (Eva Kaminsky), have been going at each other tooth and nail for years. After he chances upon a production of Love's Labour's Lost in Central Park, he decides to write his own play (in rhyming couplets no less) about the happy times he once shared with his wife and then produce it in his garage (Chad Yarborough's set is remarkably clutter-free considering Bob is a landscaper). He hires a kooky troupe to put on his play: a frenetic director named Dodd (Brian Barnhart); Dodd's former lover, a desperate, out-of-work actress named Victoria (Kendall Rileigh); and quirky siblings Pete (Benjamin Russell) and Ally (Emily Kratter) to put on his play. Karen's elderly, hearing-impaired father, Frank (Jerry Matz), operates the lights and otherwise just tries not to get in the way. Though rehearsals go comically awry, a light begins to shine on Karen's face as she sees scenes of her happier days played out in front of her — until an unexpected revelation about the couple takes center stage.
This production is a terrific example of what happens when director, actors, and crew are all on the same wavelength. Palmieri brings out his play's exuberant comedy with seven well-defined characters, and all of his actors really get them. Ierardi and Kaminsky give us the bickering and abusive Malones who are at once funny, familiar, and poignantly sympathetic. Rileigh and Barnhart humorously play two theater people whose showmance has gone bad but who know the show must go on. Russell and Ally are two gems. As the dim-witted, sometimes stoned Pete, Russell layers on the doofiness with subtle expressions of befuddlement and impeccable timing while Kratter's wisecracking, beer-drinking Ally reels off her rhyming lines like a demented rapper, then beams a winning smile of accomplishment. Matz adorably plays Karen's pokey father, Frank, who barks out "Fine!" when he senses he's in the way — but damned if he's going to sit on the sidelines.
Palmieri's strong writing keeps the play consistently comical when it wants to be and moving when it needs to be. Lighting designer David Zeffren bathes a touching scene between Karen and Victoria in a cool purplish glow that lends itself to a lovely moment of commiseration between the two women in which we see Karen smile for the first time, making us wonder what could have happened to destroy her happiness. At a crackling 90 minutes, the ending sneaks up on you like a pickpocket and takes the play in an unexpected direction, just as does Love Labour's Lost. But the shift feels natural, and somewhere in the back of our minds we know it's coming.
With gut-busting laughs, a stellar cast, and a moving story, The Groundling is one of the surprise downtown gems of the season.