The Hello Girls Is a New Musical About a Real Female Army Unit in World War I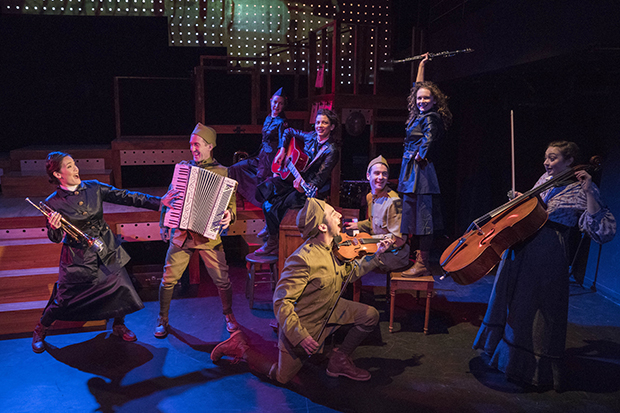 Breaking the glass ceiling isn't quite the same as breaking the ice; but in both cases, it helps to start with "hello." That much comes across in The Hello Girls, the irrepressible new musical by composer Peter Mills and director Cara Reichel, now making its world premiere with Prospect Theater Company at 59E59. Filled with memorable songs and brilliant performances, it is a musical as triumphant as the true story on which it is based.
The protagonist of that tale is Grace Banker (a commanding Ellie Fishman), chief of the first female telephone operators unit of the US Army Signal Corps. The unit was set up in 1917 on the orders of General Pershing (Scott Wakefield), who wanted skilled telephone operators to ensure effective communication between the American Expeditionary Forces in Europe. Of course, the best operators at that time were women, so that's who Pershing set out to recruit.
In order to coordinate with Ferdinand Foch's army, the operators also need to be fluent in French, making Franco-American Louise LeBreton (the feisty Cathryn Wake) a shoo-in. Idaho farm girl Helen Hill (Chanel Karimkhani) has been speaking French with her maman since she could crawl. Bertha Hunt (Lili Thomas) isn't content to sit at home while her husband ships off, so she joins the army too. Suzanne Prevot (Skyler Volpe) sees enlistment as an opportunity for adventure. She convinces Grace to join her, arguing, "Girls like us – we aren't cut out for tending Victory Gardens." Of course, Grace will have to cultivate her professional relationship with her immediate superior, Lt. Joseph Riser (Arlo Hill), a man's man who is none too thrilled about leading a company of ladies.
Mills (who wrote the music and lyrics) has filled this action-packed war story with instant-classic songs, like the wickedly fun "Je m'en Fiche," about a night of revelry before shipping out that features the saucy lyric, "Cause once the epaulettes are off, / I'm sorry, but all bets are off." Grace gets a jaw-dropping second act number with "Twenty," a song that ends with Fishman doing 20 pushups. "Quinze Minutes" touchingly depicts life between the shells of the Paris Gun in three-four time, and the rousing anthem "Making History" will send you out the door singing.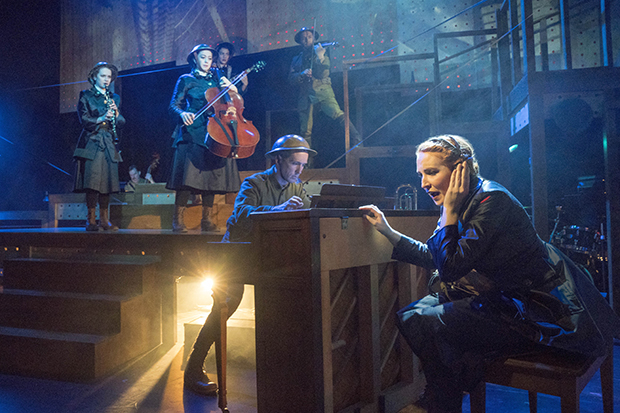 Director Reichel and Mills cowrote the book, which offers a surprisingly deep amount of historical perspective. A scene depicting an encounter with a German prisoner (a haunting Andrew Mayer) is one of the most memorable in the show, raising the question of why exactly these average folks are fighting a war that is essentially a family feud among crowned heads.
With a winning story and hummable tunes, it's tempting to brand The Hello Girls a good old-fashioned musical; but there is nothing old-fashioned about Reichel's inventive staging, which holds the vasty fields of France between two upright pianos. With the help of Isabella Byrd's targeted lighting, Lianne Arnold's multitiered set seems to create endless playing space, and her projections bring real images of 1918 into the theater. Whitney Locher's costumes re-create Great War-era uniforms and helmets, while Kevin Heard's heart-pounding sound design conjures the air raids and artillery fire that make those helmets necessary.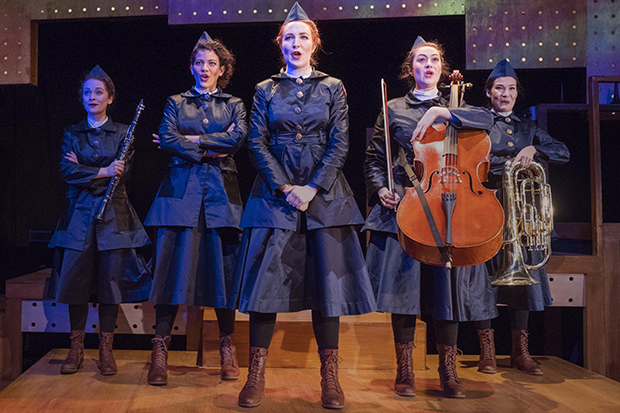 Most impressive is Reichel's use of actor-musicians: Playing a romantic interest in the story, Matthew McGloin also plays a very Parisian accordion. Thomas's marching tuba accompaniment is a delight to behold, and Wake's clarinet solos are gloriously jazzy. Under the music direction of Ben Moss (who also appears in the ensemble), nearly everyone seems to take a crack at the piano. Truly, you're unlikely to see a more talented group of performers anywhere in New York: This is a cast that can act, dance, and play multiple instruments while singing in French.
As of November 11, a century has passed since the armistice ending the war that was supposed to end all wars. Now is an excellent time to reexamine that conflict and the individuals who fought in it — especially those who never get credit in the history books. The Hello Girls makes that important reckoning a particularly joyous experience. You won't want to say goodbye.