The Familiar Feeling of Gettin' the Band Back Together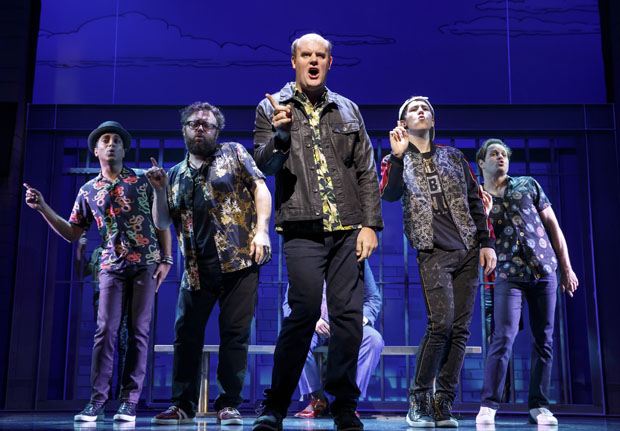 Producer Ken Davenport bounds onto the stage to deliver a curtain speech before the opening number of Gettin' the Band Back Together, his new Broadway musical at the Belasco Theatre. Dressed like a tech entrepreneur, Davenport is doing something infinitely harder than launching a software start-up: He's producing a completely original new musical on Broadway. The book isn't based on a blockbuster film, and the music (by Mark Allen) isn't a catalogue of popular songs, meaning that there is no built-in audience for Gettin' the Band Back Together. That makes it a risky proposition at Broadway prices, but such "originality" is what theater fans consistently complain is lacking on Broadway. Davenport speaks before the curtain to remind us of that, and, perhaps, to rekindle some of our teenage dreams of rock-star glory.
Those are dreams Mitch Papadopoulos (Mitchell Jarvis) thought he gave up when he moved to New York City to become a stockbroker. But when his firm gives him a pink slip for his 40th birthday, Mitch finds himself back in his mom's house in Sayreville, New Jersey. To make matters worse, Mom (Marilu Henner) is behind on her mortgage (by three months) and is facing foreclosure at the hands of Tygen Billows (Brandon Williams), a local real-estate tycoon who was Mitch's high school rival. Tygen is the lead singer of the local band Mouthfeel, and he still resents the time that Mitch and his band, Juggernaut, beat him in the local battle of the bands.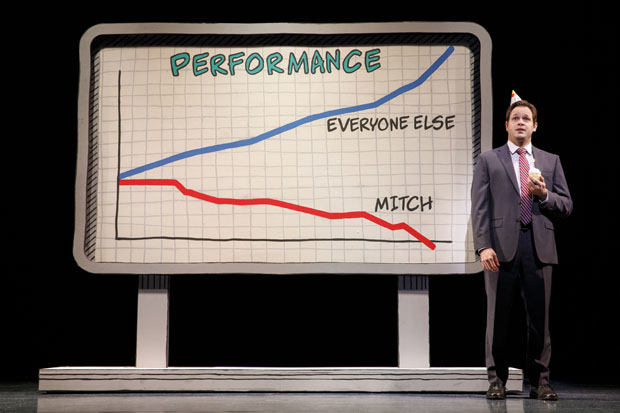 Instead of immediately hiring a good foreclosure attorney, Mitch challenges Tygen to a rematch. If Juggernaut wins again, mom gets to keep her home. This inevitably requires Mitch to get the band back together, reuniting math teacher Bart (Jay Klaitz), dermatologist Rummesh (Manu Narayan), and cop Sully (Paul Whitty). Teenager Ricky Bling (Sawyer Nunes) joins the band, replacing late guitarist Kenny. (They killed Kenny!)
By "they," I mean the criminally unfunny writers. In addition to producing, Davenport wrote the book in collaboration with improvisational troupe the Grundleshotz. Unfortunately, the result is less Christopher Guest than it is a bad improv night. The tepid, warmed-over jokes spring almost entirely from thinly drawn archetypes that stand in for real characters: the funny fat guy, the repressed second-generation Indian-American, the hapless cop, and the nerdy Jewish kid suffering an identity crisis. Their misadventures are just as stale: For their first gig they perform a rap song at an Orthodox Jewish wedding, a neatly segregated production number that feels slightly less edgy than Fiddler on the Roof.
Allen's in-one-ear-out-the-other rock music doesn't add spice to this bland dish, nor does Chris Bailey's half-hearted fist-pumping choreography. Director John Rando seems determined to force comedy by doubling down on the story's two-dimensional qualities. That starts with Derek McLane's set of painted backdrops that make it appear as though we're looking at a giant comic strip come to life. Costume designer Emily Rebholz adorns the cast in standard Jersey drag, complete with leather skirts and tortured hair (by J. Jared Janas). Ken Billington provides rock-show moving lights. All of it feels adequate, but never spectacular.
The same could be said about the performances, which attempt to fly on the border between over-the-top and real, but crash-land in sitcom territory. Jarvis's tightly wound everyman sets the pace for the other characters, including Kelli Barrett as a forgettable love interest and Henner as a badass mama bearing Rice Krispies Treats. While the preposterously villainous Williams and Garth Kravits (as his yapping sidekick) nearly achieve satisfying lunacy, the only time a performance feels native to McLane's cartoon set is when Ryan Duncan plays Nick Styler, a tragic lounge singer who performs late nights at the local diner. He sings "Second Chances," an easy-listening plea for reconciliation that becomes increasingly deranged with each verse. Duncan's commitment to this comic aside is so absolute that it made me wish the show was about him.
But that's really the problem with Gettin' the Band Back Together: It consistently makes you wish you were watching something else. The numbers recall better rock songs, and the plot smacks of funnier movies. A comic bit with a cowbell seems to be lifted wholesale from Saturday Night Live, while sight gags referencing Les Misérables and Oklahoma! make us think of superior musicals — musicals that feel original despite being based on established works. Gettin' the Band Back Together may be the only new musical on Broadway not drawn from an existing property, but it is paradoxically also the most derivative.