Sting to Join the Cast of His Musical The Last Ship?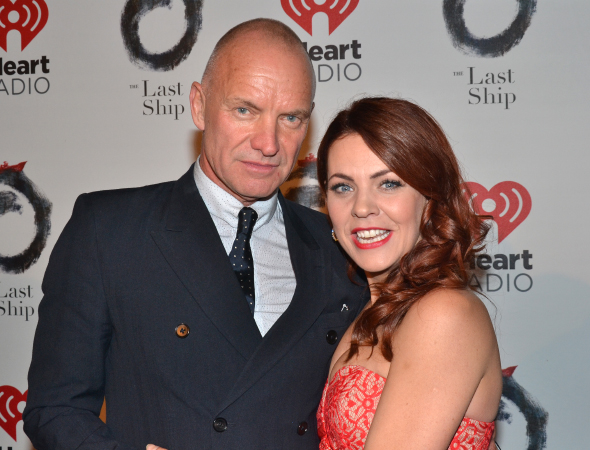 The weekly grosses of his musical The Last Ship may be floundering, but songwriter Sting isn't ready to cast off and let his baby sink. According to published reports, the 16-time Grammy winner is exploring multiple ways of keeping the show afloat at the Neil Simon Theatre, including cutting his weekly royalty fees and even considering joining the cast this winter.
There's no word on the character Sting would play, but there are a number of them that would suit an able-bodied, briny seaman such as himself. For example, he could appear as Jackie White, the gruff but lovable shipyard foreman portrayed by Jimmy Nail, and get to sing his shanty "We've Got Now't Else" (he even comes with his own crate to stamp on). He'd also be perfect as Father O'Brien, the foulmouthed, hard-drinking Irish priest originated by Fred Applegate, who convinces the disenfranchised shipbuilders to create one final sailing vessel before their yard closes down. (He's so multitalented that if he can dance, he could even take on the role of Meg, the love interest played by Rachel Tucker, who gets to perform the rousing tango "If You Ever See Me Talking to a Sailor.")
While none of the information, originally reported by New York's Daily News, has been confirmed by the production, Sting's appearing in the show wouldn't come as a total surprise, considering how active he's been in promoting it. He even joined the cast to sing on opening night. There's no question that his onstage presence would buoy the grosses of the listing vessel.
The Last Ship began previews September 30 and officially launched its Broadway run on October 26, under the direction of Joe Mantello (Wicked). The principal cast also includes Michael Esper, Aaron Lazar, Sally Ann Triplett, and Collin Kelly-Sordelet. Sting coauthored the show with John Logan and Brian Yorkey.
Click here for more information and tickets to The Last Ship.