Scandal's Kate Burton Turns Over Her Final Chekhovian Stone in The Seagull at Boston's Huntington Theatre Company
"Normally I don't do plays during the school year," noted three-time Tony nominee Kate Burton, whose fifteen-year-old daughter and busy shooting schedule for the ABC series Scandal keep her plate full. "But this is different. It's with my son."
The Burton family legacy will soon be on display at the Tony Award-winning Huntington Theatre Company as Kate Burton — daughter of legendary stage and film actor Richard Burton — and her son Morgan Ritchie share the stage in Anton Chekhov's classic drama The Seagull.
Burton leads the cast as actress Irina Nikolayevna Arkadina while Ritchie takes on the familiar role of her son, playwright Konstantin Gavrilovich Treplyov. This will be a Huntington reunion for the mother-son pair who shared the Boston stage in 2009 in Emlyn Williams' The Corn is Green. In anticipation of this poignant project, Burton spoke with TheaterMania about the joy of performing with her son, the depth of her lifelong love affair with Chekhov, and the satisfaction of completing her to-do list of great Chekhov roles.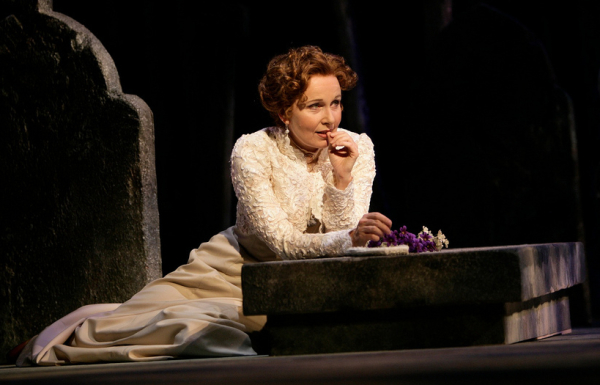 What brought this play to mind as one you wanted to do at the Huntington?

The Seagull is one of the greatest plays ever written. I have done all of Chekhov. I've been in Three Sisters four times, I've been in The Cherry Orchard twice, I've been in The Seagull once before, and then I did a film version of Uncle Vanya with Anthony Hopkins called August. So this is the one part in Chekhov that I've never played and I've always known that I would one day play it. [Director Nicholas] Martin worked with Morgan before in The Corn is Green and we knew this was a great part for him, so when [Martin] and I were talking about it, it was an absolute no-brainer.
Where does your strong affinity for Chekhov come from?
The thing about Chekhov is you grow up as an actress with it. You play the younger roles first and then you move on to the older roles. My first Chekhov was a one-act called Bare that I did when I was a freshman at Brown University and then I did The Seagull when I was a senior playing Nina, and then the next year at Yale I played Masha in Three Sisters, and then [that] summer I played Anya in The Cherry Orchard at Williamstown with Colleen Dewhurst. It's been my whole life. He's a great humanist playwright. In Chekhov you have tons of people talking about why they feel what they feel how they feel what they feel. That's why actors love Chekhov so much.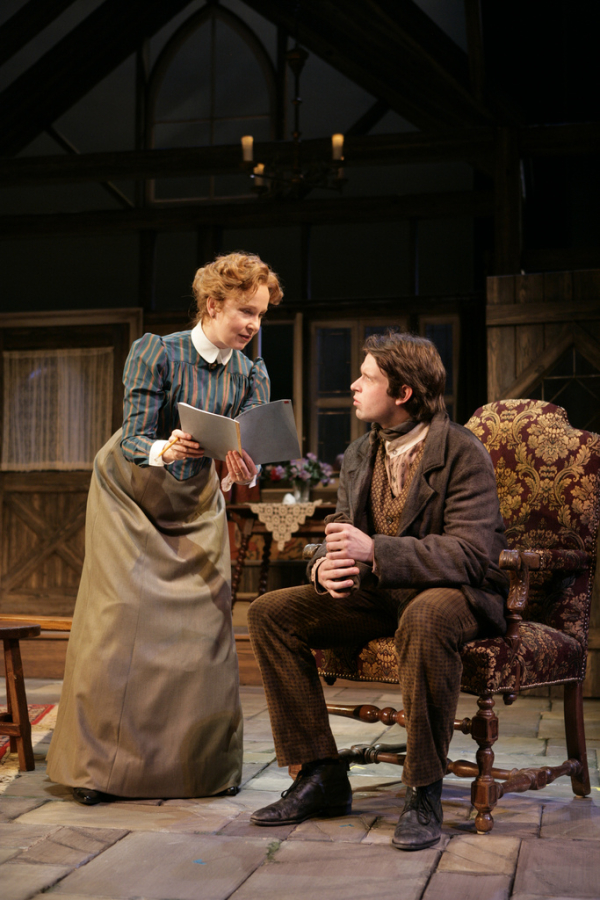 Do Boston audiences respond well to Chekhov?
Boston audiences are the best in terms of classical work. They see all kinds of productions of various classical plays. They're just incredibly well-read, well-versed audiences. The reason this is my fifth time at the Huntington and my sixth time in Boston in the theater is [because] I love Boston.
What is it like performing with your son?
It's amazing. He's an incredible character actor. I do forget it's him. For the first couple of minutes I'm aware that it's him but I do forget.
Are you similar actors?
Very different. He's more of a naturalist actor. He has the tendency to come from the inside out. He starts from a very natural place and I can do that but generally with theater I create a shell and fill it out.
Is it different to act opposite your son than it was opposite your father?
Well, I never worked with my father onstage. I only did film with him, which is a slightly different experience. When you're doing film it's very chopped up whereas when you're onstage it's very fluid.
Are there any plays you would have liked to do with your father?
We had talked about doing The Tempest together, but that was not really something I thought about that much.
Are there other plays you would like to do with your son in the future?
Yes, actually. Long Day's Journey Into Night is a play I'd really like to do with him at some later date. But that's for much [further in the] future. I'd like for my son to have a lot of experiences without me.