Review: This Land Was Made — For Whom? Not You and Me.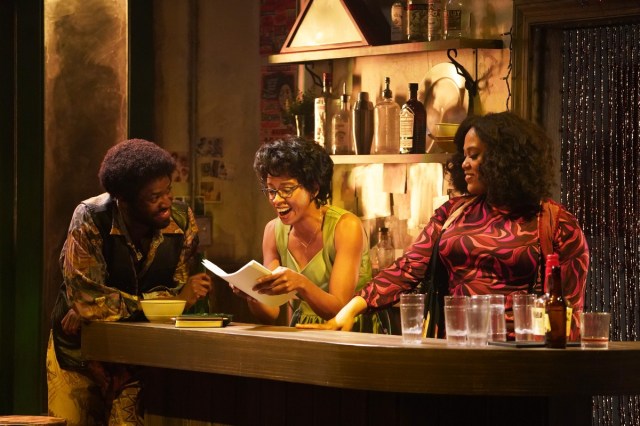 Tori Sampson frames storytelling as a tool of revolution, liberation, and mysticism in her play This Land Was Made, now having its off-Broadway world premiere at the Vineyard Theatre. Sassy (a commanding Antoinette Crowe-Legacy) introduces herself as our griot, a West African historian and storyteller whose oral traditions traveled to America on slave ships. Her purview is 1960s Oakland, California — birthplace of the Black Panther party and a hot spot for racially charged political turmoil. And with a swagger seemingly born from omniscience, she imparts truths from a dimension outside of time and space. It's a lofty beginning that plants its flag in the past, present, and future — promising a timeless fable and ultimately delivering a story that is well-told but not quite transcendent.
Sassy — who tossed over her real name, Karen, for a moniker more befitting her lively personality — initially addresses her present-day audience from the eponymous "Sassy's Bar" (set designer Wilson Chin builds a finely detailed watering hole fit for locals). She then sends us back in time to 1967 when the place bore the name of its former proprietor, her mother Trish (Libya V. Pugh fills the stage from behind the bar with her slight frame as a gentle but imposing matriarch).
This beer-stained establishment is holy ground for the folks who talk politics and gossip about neighborhood antics: Local mechanic Mr. Far (Ezra Knight) posts up at his regular spot like Norm from Cheers, mentioning in passing how his nephew Gene (Curtis Morlaye) has joined up with the Black Panthers. The young and energized Drew (a very funny Leland Fowler) rambles on about Muhammad Ali and spews righteous nonsense about why unemployment is better than working for the white man.
Sassy's lover Troy (Matthew Griffin), an ambitious and idealistic college student, vocally rejects Drew's lazy indignation in favor of hard work and unimpeachable behavior. And Sassy's best friend Gail (a scene-stealing Yasha Jackson) regularly swirls in ready to flirt with any well-groomed gentleman who passes by, or sing along to the latest Motown hit — usually both at the same time. Meanwhile, Sassy — in between the haircuts she gives to the bar's patrons — feverishly scribbles thoughts in a notepad for a book she's planning to write about Oakland's status as a trailblazing metropolis (she proposes the title, Made for You and Me, which, considering the play's title, foretells a drop in optimism).
Via her leading lady, Sampson makes the city of Oakland its own character — a theatrical move reminiscent of Dominique Morisseau and her Detroit Trilogy and of course August Wilson and his legendary Pittsburgh Cycle. This Land Was Made is anchored in this bar in this city, and the theater should feel suffused with the spirit of Sassy's humble yet hallowed hometown.
Sampson, however, has written herself into a pickle — at once immersing us in a community bar that feels authentic and lived-in, while trying to keep a foot in the realm of abstract and poetically inclined storytelling. Sampson and director Taylor Reynolds often seem to be crafting characters that are human-wraith hybrids (Adam Honoré plays with time and space in his lighting designs), directing our attention to this one particular moment while making distracting gestures to the breadth of American history.
This takes a toll on the play's pivotal storyline: a reimagined version of Black Panther co-founder Huey Newton's infamous arrest for the murder of Oakland police officer John Frey. In Sampson's version, Newton (played with bluster by Julian Elijah Martinez) waltzes into Miss Trish's Bar in his signature black leather jacket and bandolier (costumes by Dominique Fawn Hill and Deshon Elem) and joins the fabric of this whiskey-swilling coop. As Sassy tries to get an interview with him for her book, Newton finds himself in a debate with Troy about the place of violence in the fight for racial justice — arguments that are quickly made manifest for Troy and give Newton the upper hand in this tug-of-war between two immoderate ideologies.
In this version of history (an even more tragic iteration than the one that already exists), Newton is less a flesh-and-blood human than he is a shadow of the past and an omen for the future. These theatrical maneuvers draw clear lines between racial politics of the 1960s and modern-day America — primarily the debates over how best to fight against police brutality and for economic and social mobility. But by holding space for 2023, some air leaks out of 1967. History and folklore can certainly find compatibility onstage, but This Land Was Made is still roaming and rambling in search of the right alchemy.