Review: The Prince of Egypt Stage Musical Comes to BroadwayHD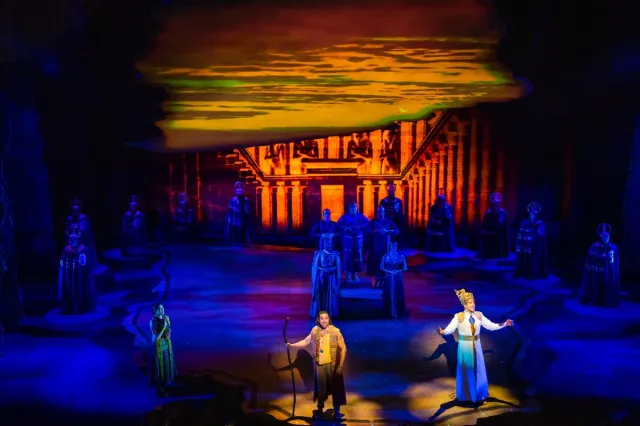 As we approach the Thanksgiving holiday and the inevitable cross-table shouting matches that come with, it's worth remembering that your family isn't the first to feel the strain of national politics and seismic global events — not nearly. Based on the Book of Exodus, The Prince of Egypt tells of a family ripped apart by a Bronze Age labor dispute and divine providence. Universal Pictures and STREAM Motion and Sound have beautifully captured the stage production that played at London's Dominion Theatre in 2021, which is now available to stream through BroadwayHD…perhaps as a post-dinner entertainment. It's sure to knock you out of your tryptophan haze.
The musical opens with the crack of a whip, as Pharaoh (Joe Dixon) orders the murder of every first-born Hebrew slave child. But one gets away, spirited down the Nile in a basket to be discovered by the queen (Debbie Kurup), who adopts him as her own. Moses (Luke Brady) becomes a brother to Ramses (Liam Tamne), who will one day inherit the throne, despite his father's misgivings about this potential weak link in their dynasty. He never suspects that the real trouble will come from Moses, who eventually discovers his birth family and flees to Midian, where God tasks him with freeing the Hebrews from Egypt and leading them back to Canaan — where they maintain a presence to this day.
The 1998 DreamWorks animated film, The Prince of Egypt, is the most significant contribution to the Exodus story since the 1956 DeMille movie. The songs, by a pre-Wicked Stephen Schwartz, rank with the best of Broadway, and left us with this indelible Whitney-Mariah collaboration.
Schwartz has teamed up with the film's original screenwriter, Philip LaZebnik (who wrote the book here) to create a new stage musical that incorporates five songs from the film into a mostly new score. Motifs from "Deliver Us" and "When You Believe" weave throughout, underscoring key moments of drama. Moses is given a new "I Want" song in the mellow "Footprints on the Sand," helping us to understand why anyone would want to walk away from unparalleled comfort in a time when few people lived past 40. The relationship between Moses and Ramses is deepened in the songs "Faster" and "Always on Your Side." And the entire second act plague sequence is a masterful musical montage. It all comes together as a finely crafted adult stage musical.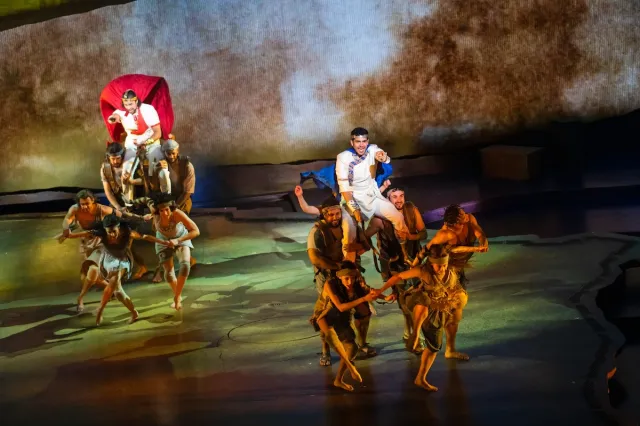 Director Scott Schwartz (son of the composer) employs the same inventive theatricality he brought to the off-Broadway show Murder for Two, but on a much larger stage. Simple gestures, like the unfurling of a baby blanket by a succession of bereaved mothers, draw the audience in and keep the staging from getting bogged down in expensive special effects. Only in the second act, when one mournful ballad follows hot on the tail of another, does the story seem to sag. But Schwartz and company quickly bring us back with a staging that regularly has us on the edge of our seats.
Huge credit should go to choreographer Sean Cheesman, who endows every scene with athletic and vital movement. Production numbers like "Through Heaven's Eyes" blend elements of ballet and West African dance to create something entirely new that seems ancient. Anything that can be played by a dancer is: chariots, stone pillars, desert sand, and the waters of the Nile. With this performer-centric approach, Cheesman and Schwartz embrace the strengths of the theater rather than trying to reproduce an animated movie onstage.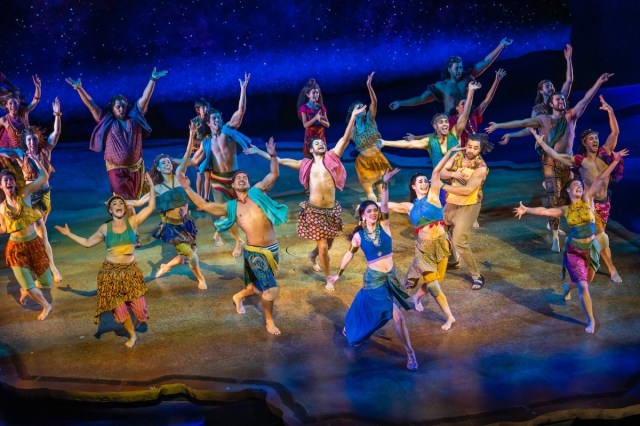 While everyone in the ensemble is top-notch, the principal cast is more uneven. Brady astounds as a remarkably conflicted Moses whose desire for fame and immortality darkens into a deep ambivalence about serving a homicidal God (the lyric "But once you've won, you have to live with what you've done" take on a chilling resonance in his performance). He exhibits a real fraternal chemistry with Tamne, who has a somewhat jarring habit of declaiming his lines like a town crier. Still, their scenes together are believable, which makes their mutual betrayals all the more heartbreaking. Unfortunately, Brady does not as easily connect with Christine Allado, who plays Moses's wife Tzipporah and seems to have studied at the Elizabeth Berkley school of drama.
Kevin Depinet's unobtrusive set supports Schwartz's people-focused and highly fluid staging, with a set of rearrangeable blocks constituting much of the furniture. Jon Driscoll's monumental projections serve to fill in the blanks, while a final scenic effect depicting the parting of the Red Sea is made even more spectacular by the biblical lighting (by Mike Billings) and sound (by Gareth Owen). Ann Hould-Ward's costumes evoke ancient Egypt while allowing for acrobatic movement. They're also a little sexy (it's hard not to admire Moses's mesh tank top). Every element of the design supports a musical that captures one's attention from the first note and never lets go.
It's easy to get swept away in The Prince of Egypt, an excellent new stage adaptation of an animated favorite, which you can now enjoy from the comfort of your own living room. There really can be miracles.
_____________________________________________________________________
The Prince of Egypt is currently available for streaming on BroadwayHD. It will become available to buy or rent digitally on December 5.