Review: Psychic Self Defense Is the Most Imaginative Show in New York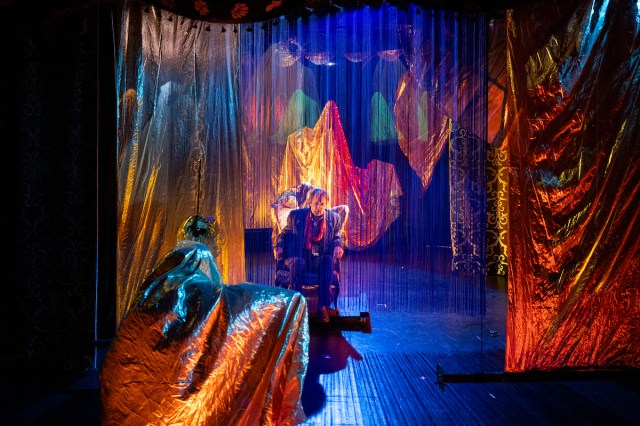 There are few lines in Psychic Self Defense, Normandy Sherwood's magnificently strange play at HERE. And while there are discernible characters, I couldn't tell you a thing about their demographic backgrounds, their profit motivations within a recognizably liberal economy, or their political persuasions in our strange post-Covid, not-quite-post-Trump societal holding pattern. What a relief!
The spawn of an outsize imagination and a healthy disdain for accepted practices, Psychic Self Defense is the kind of show off-off-Broadway was made for. It's not here to teach us a very important lesson or raise awareness of the harsh realities of life in 2023. The world depicted onstage bears little resemblance to the one you and I inhabit. It's about puppets, trippy sound design, and cascades of outrageous fabric. HERE is specifically well-known for this kind of all-too-rare work, having presented the premiere of Basil Twist's genre-defying Symphonie Fantastique in 1998 (reviving it in 2018). Theatergoers with warm memories of that show will want to book this hallucinatory spectacle.
It starts from the moment we enter the theater through the stage door, which immediately disorients us. A mysterious figure in black, looking like an escapee from one of Lorca's nightmares, ushers us through several corridors of rich brocade decorated with mismatched chandeliers and sundry tassels. Our guide stops briefly to ring a bell or turn a knob on a mechanical device. What does it mean? Sherwood (who wrote, designed, and directed the piece) slyly exploits the human impulse to look for story and pattern, forcing us to lean in and take note of everything.
The story, as far as I can tell, is about a man (Ean Sheehy) and woman (Nikki Calonge), both of whom are committed to mastering the art of "psychic self defense" (a phrase first coined by the British occultist Dion Fortune in her 1930 book). They silently meet in the psychic realm, where they are confronted with three bells hanging from the ceiling. She rings one and is hit with a big tangle of golden party streamers, leaving her in a state of euphoria (Calonge's megawatt smile is the most joyous aspect of the production). Sheehy's palpable dread offers the inverse as he fights off handsy blobs of cloth and attempts to remain dispassionately in control of his wits. A potted plant glides across the stage and he looks profoundly disturbed. But she is too busy assimilating into the drapes to care. They're a textbook juxtaposition of a good and bad trip, like Goofus and Gallant for stoners.
While the thought is tempting, I wouldn't recommend viewing Psychic Self Defense while high, as Craig Flanagin's 360-degree sound design and original music have the potential to prod you into a state of paranoia (although I'm perhaps more like the man than the woman in this story). Fuzzy distortion and abrupt beeps and bumps give way to a murderous chord as the lights (by Christina Tang) shift and the curtain falls.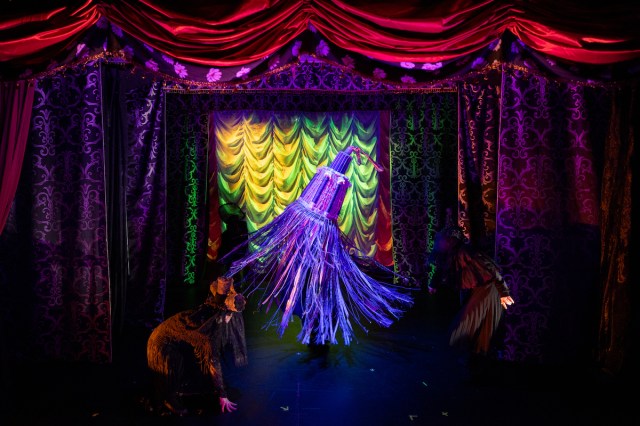 And there's always a curtain falling and rising, twisting and unfolding, or dancing a do-si-do with another curtain. Sherwood's marvelous creations include several proscenium stages reimaging as nesting dolls and a man-sized forked tongue. Covered in fringe and wild pink fishnet, Calonge attends what appears to be a royal ball with the king and queen of the tassels. I occasionally wondered if I was witnessing a high-concept advertisement for Mood Fabrics.
These alien figures parade across the stage seamlessly and in constant motion thanks to the hard work of the remaining members of the cast (Kate Brehm, Elyse Durand, Adrienne Swan, and Daniel Allen Nelson, who also did the scenic and rigging design) and stage manager Max Mooney. It all has the vibe of giddy children creating worlds out of the schmatte under mom's sewing machine — but it takes an awful lot of skill to maintain that playful illusion without any cloth getting snagged in a caster.
Psychic Self Defense is an exuberant reminder that theater makers don't have to be teachers or missionaries. Sometimes, they can create extraordinary things by embracing pure imagination.