Review: Poor Yella Rednecks Is the Continuing Saga of Vietnamese Refugees in Arkansas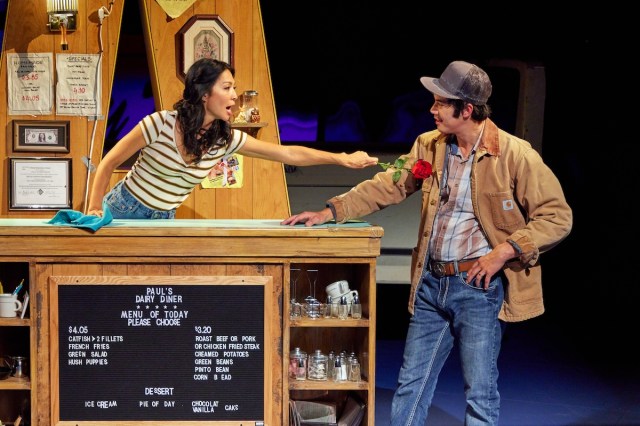 What happens after happily ever after? Qui Nguyen's Poor Yella Rednecks (now making its belated off-Broadway premiere with Manhattan Theatre Club) answers that question with scenes of struggle, rage, and perseverance — all filtered through the exuberant and often hilarious theatricality Nguyen and director May Adrales employed in their 2016 collaboration Vietgone.
That story ended with two Vietnamese refugees finding each other and falling in love in El Dorado, Arkansas, circa 1976. This sequel flashes forward four years later to show how that love story is going: Tong (Maureen Sebastian) works long hours at the local diner, while Quang (Ben Levin) struggles to find a fulltime job. Tong's mother, Huong (Samantha Quan), thinks she could do better — and it seems like she'll have to when their marriage is annulled after Quang receives a letter from his long-lost wife, who is raising their kids with no support back in Vietnam.
Will Tong ever forgive Quang when he sends his first family their entire savings of $5,000? That money could have been spent on tuition for their young son, Qui (Jon Norman Schneider and an adorable doe-eyed puppet designed by David Valentine), who is struggling to learn English and has no friends. Or better yet, she could have put a down payment on the diner so they could be their own bosses and really start making money. They're living on a prayer, and not nearly halfway there.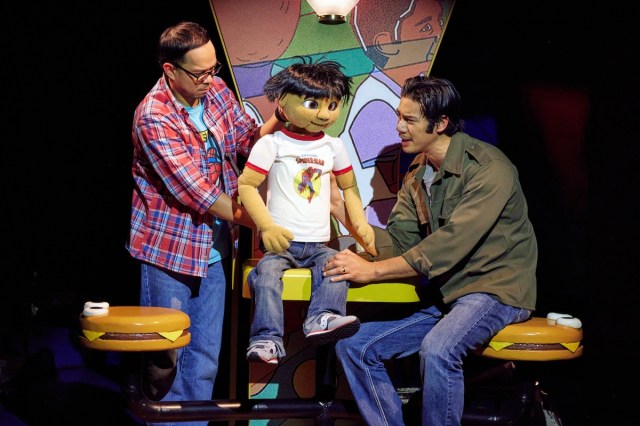 Nguyen grippingly charts the twists and turns in his family's American dream, which is as exciting as any Hollywood action flick. We reflexively reach for the popcorn as we watch the characters do battle with their demons and the people who seek to exclude them from their new country (the playwright also serves as fight director, choreographing a thrilling "Eye of the Tiger" montage and a particularly ludicrous battle in the aisle of a Safeway).
May Adrales delivers an appropriately cinematic staging that conveys the author's fabulist voice while never losing sight of the personal stakes at the heart of the story. The word "Yella" in giant block letters confronts the audience as we enter, later unfolding into every setting for the play in Tim Mackabee's clever scenic design. Jared Mezzocchi's projections add a dash of comic book magic to the scenery while incorporating authentic Nguyen family photos. Lap Chi Chu's lighting and Shane Rettig's sound design further heighten this world, with the latter providing radio-ready hip-hop beats to underscore Nguyen's original lyrics. Yes, this is an action-adventure play with music.
Unfortunately, the music turns out to be the weakest element in the show, with many of the numbers feeling like Hamilton knockoffs. Nguyen does himself no favors by borrowing the well-know line "immigrants, we get the job done" not once, but twice.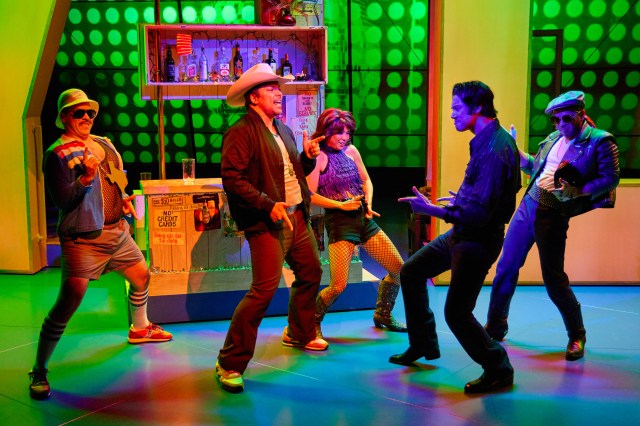 Luckily, the actors perform it all with irrepressible gusto, causing any cringe to instantly shift back into a smile. Quan makes a delightfully naughty granny, and we cheer her on as she fights to preserve some semblance of Vietnamese identity for her grandson. Jon Hoche and Paco Tolson both dive headfirst into multiple smaller roles (I particularly enjoyed Tolson's spot-on impersonation of Stan Lee). Levin smartly balances the alluring and aggravating qualities of Quang. Sebastian makes us feel the weight bearing down on Tong, folding laundry while dryly telling her mother, "I'm not alone. I have you, I have Little Man. A veritable cornucopia of endless responsibility. So fulfilling." And Schneider grounds this often-fantastical myth in the real feelings of a young child searching for belonging in an inhospitable place.
The small theatrical miracle of Poor Yella Rednecks is its ability to embrace the mythic style Nguyen pioneered with his off-off-Broadway company, Vampire Cowboys, while highlighting the real and persistent struggles immigrants to this country have faced and continue to face in 2023. It's a strange and intoxicating mix that makes this play a rare and satisfying watch.