Review: Brian d'Arcy James and Kelli O'Hara Are the Best They've Ever Been in Days of Wine and Roses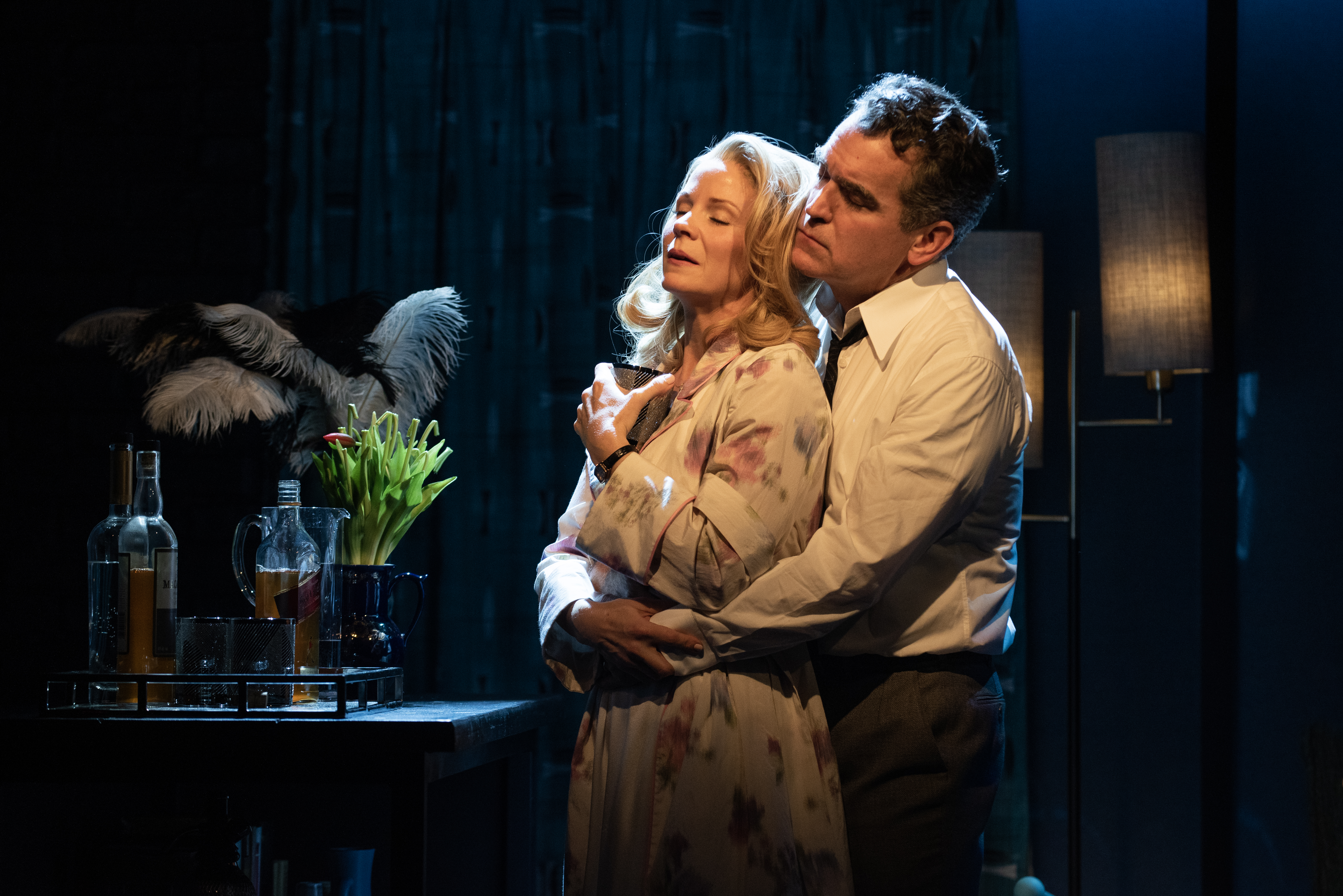 If you're looking for the feel-bad hit of the summer, the Atlantic has you covered with Days of Wine and Roses, the new musical from Light in the Piazza writers Adam Guettel and Craig Lucas. Adapted from the 1962 Blake Edwards film (which itself was based on a Playhouse 90 teleplay by J.P. Miller and directed by John Frankenheimer), Days of Wine and Roses has a lot going for it: a complex and milieu-defining score, two stars — Brian d'Arcy James and Kelli O'Hara — who are the best they've ever been, and a hypnotic staging from director Michael Greif. But as TV producer Fred Coe told Frankenheimer in 1958, it's all Wine and no Roses.
For what it's worth, the same can be said of the films, which starred Cliff Robertson and Piper Laurie (television) and Jack Lemmon and Lee Remick (cinema). The estimable d'Arcy James and O'Hara take on our central characters here, Joe Clay and Kirsten Arnesen, whose marriage is defined and destroyed by their mutual alcohol dependency. Joe needs the bottle for his career — he's a public relations man in the 1950s, when boozy all-nighters were just part of a day's work. When he turns teetotaler Kirsten onto the joys of Brandy Alexanders, she discovers a cure-all for life's problems.
The musical fast-forwards to different points in their relationship with each other and the bottle. Joe and Kirsten marry in secret, to the consternation of her widowed gardener father (Byron Jennings, who stews in anger like nobody's business). They have a daughter named Lila, (Ella Dane Morgan, making a lot out of a little). Joe's sloppiness leads to his demotion and eventual firing, while Kirsten gets so bombed one night that she falls asleep smoking and burns down their apartment. Eventually, Joe realizes that it's time for him to get clean with the help of Alcoholics Anonymous and sponsor Jim Hungerford (David Jennings, a conscientious shoulder angel). But Kirsten, who has been spending long periods away from home, might be too far gone.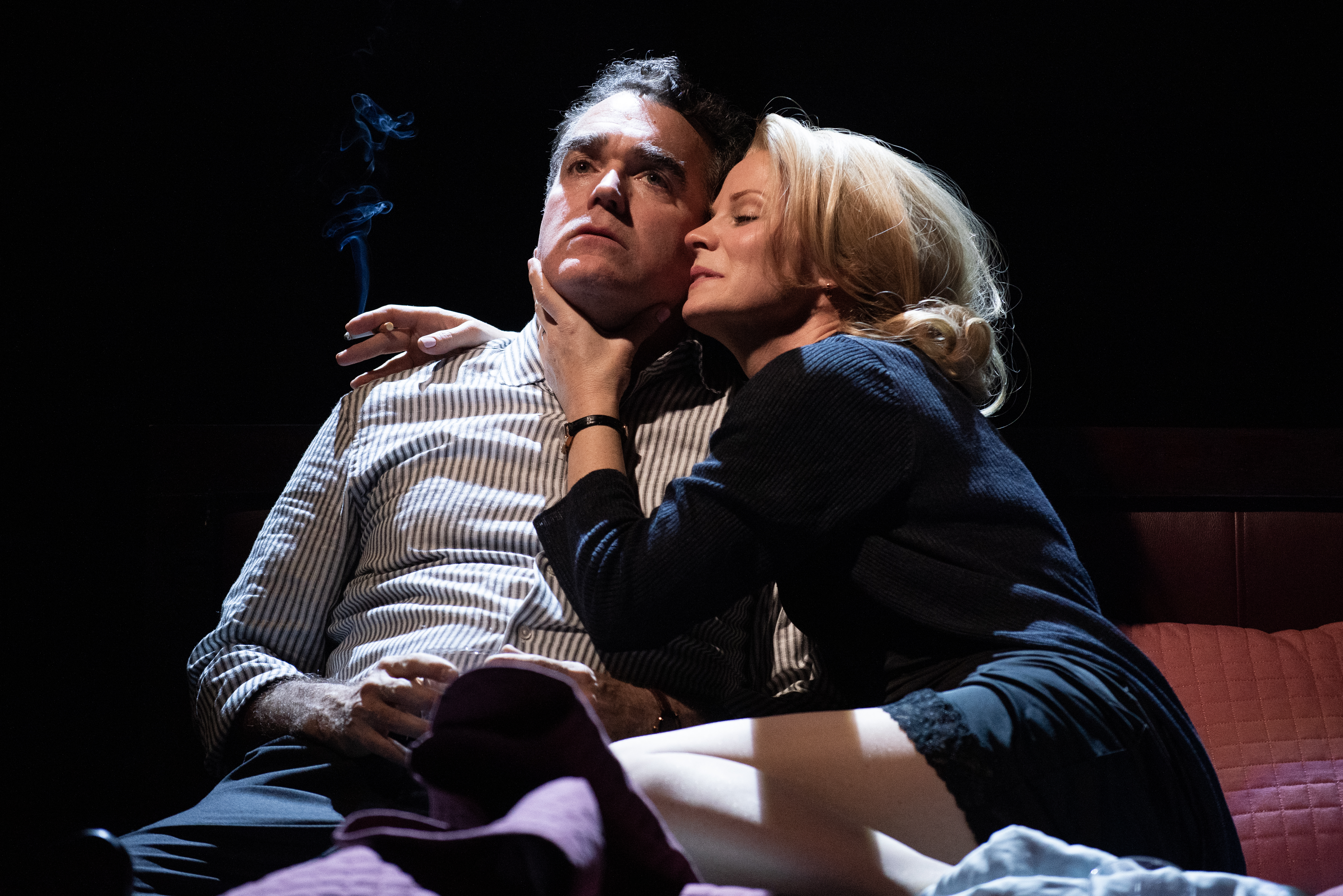 Happy stuff. And yet, book writer Lucas has managed to tone down some of the brutality of the film. We are mercifully spared the strapping down of Brian d'Arcy James in the hospital drunk tank like Lemmon on screen, and Kelli O'Hara picking up strangers for random sex on one of her benders. But that also makes things a little too pat: The moments of revelation just sort of happen and we move on. At roughly 105 minutes without intermission, the musical is shorter than the Edwards film and could actually afford to be a little longer, if only to spend more time filling out the character arcs. It also needs some elements of humor in there to lighten the mood a little; the movie didn't have any, but that doesn't mean the show shouldn't.
Guettel creates a shocking musical language, filled with jagged-edged melodies and sudden stops that make it sound like Jim and Kirsten are dancing as fast as they can as they get progressively drunker. One song, "Evanesce," has a tempo that feels so disorienting it's as if Jim and Kirsten can barely keep up. A late number, "Forgiveness," sits at the very top of d'Arcy James's range, forcing him into a prickly falsetto that captures the strained emotions of the song with devastating accuracy. It always helps when a composer knows exactly how to write for a particular singer's sweet spot, and while the character of Kirsten could use some more fleshing out textually, O'Hara's sung moments are nothing short of virtuosic.
Guettel's orchestrations, for a six-member band led by the great conductor Kimberly Grigsby, astutely conure the jazzy, three-martini-lunch aura of the period. They set the scene as conclusively as Dede Ayite's dressy costumes and Ben Stanton's noir-style lighting. On the other hand, Lizzie Clachan's set lacks the visual and aural tone struck by her collaborators, blurring the lines instead of clarifying them.
Having worked with both d'Arcy James and O'Hara before on other musicals, director Greif knows how these two emotionally intelligent performers work, and here, he manages to bring out the best acting they've ever done. There's something about watching these two extremely likable performers go through hell and (at least in his case) come out on the other end that's awfully thrilling, and this is the rare chance to see two of our finest on a small scale and selling every moment like they're in a big Broadway theater. Days of Wine and Roses might be a harrowing watch, but you'll never see anything like it again.