Rep. Lauren Boebert Ejected from Beetlejuice Performance in Denver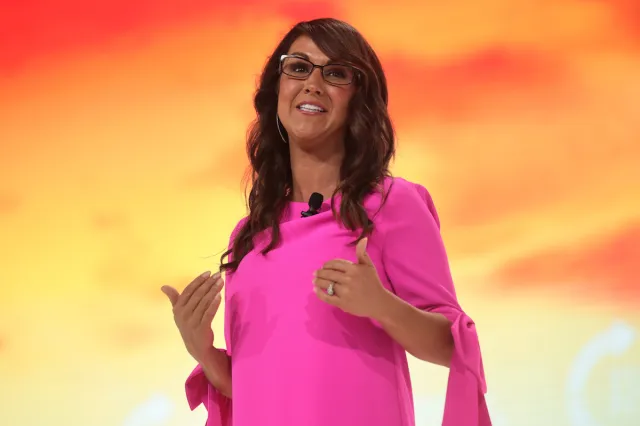 Representative Lauren Boebert was escorted from the Denver Center for the Performing Arts on Sunday after reportedly disrupting a performance of Beetlejuice. The sleeper hit Broadway musical is slated to perform through September 17 at the Center's Buell Theatre, where the incident took place.
According to The Denver Post, Boebert was accused by venue officials of vaping, singing, and causing a disturbance during the show. The congresswoman and her companion were issued a warning at intermission following complaints from other theatergoers. Front of house staff received another complaint about the congresswoman recording with her phone about five minutes into the second act, prompting an usher to ask her and her companion to leave.
"They told me they would not leave," said the usher in an incident report from the venue. "I told them that they need to leave the theater and if they do not, they will be trespassing. The patrons said they would not leave. I told them I would (be) going to get Denver Police. They said go get them."
Denver police arrived at the theater and remained in the lobby until Boebert and her companion left the Denver Center, according to the report.
Surveillance video from the Denver Center shows the moment Boebert was escorted from the house. You can watch her ejection below:
Boebert's campaign manager, Drew Sexton, released the following statement in response to the incident: "I can confirm the stunning and salacious rumors: in her personal time, Congresswoman Lauren Boebert is indeed a supporter of the performing arts (gasp!) and, to the dismay of a select few, enthusiastically enjoyed a weekend performance of Beetlejuice."
A musical about death (and specifically one rowdy ghost), Beetlejuice is written by Eddie Perfect (score) and Scott Brown and Anthony King (book), with direction by Alex Timbers. It is based in the 1988 Tim Burton film. The show has been touring North America since last December, with Justin Collette and Isabella Esler in the leading roles. TheaterMania's critic called the touring production, "the perfect show for getting back to the theater." You can read his review here.
Boebert's ejection is the latest in a string of high-profile audience disturbances reported in the years following the pandemic. Click here to read TheaterMania's special report about the death of theater etiquette.