Mies Julie and The Dance of Death Skate the Line of Love and Hate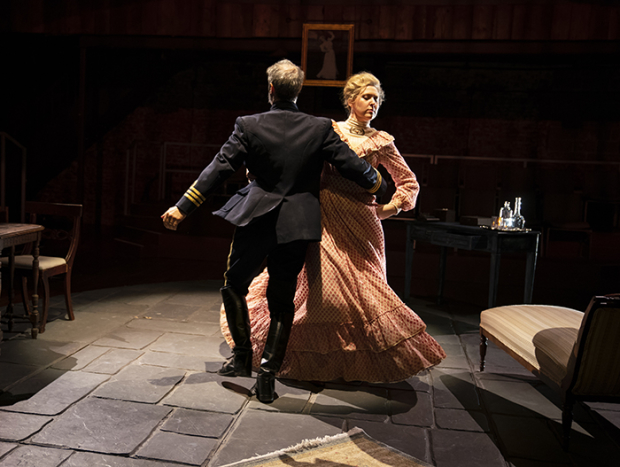 Love and hate are two sides of a very thin coin in Classic Stage Company's repertory productions of August Strindberg's Mies Julie (Yaël Farber's modern adaptation of Strindberg's Miss Julie) and The Dance of Death (an adaptation by Irish playwright Conor McPherson). Originally written 12 years apart (Miss Julie in 1888 and The Dance of Death in 1900), the two plays were not created as companion pieces. However, presented in rep, they have a fascinating conversation about the ways in which power struggles evolve during the life cycle of a relationship — or perhaps how they never evolve, instead locking their subjects in a ceaseless war that can find resolution only in the sweet release of death. Sound bleak? That's Strindberg for you.
An oval platform (the consistent element in David L. Arsenault's parallel set designs) is the established battleground for both pieces, caging in the players like chickens in a cock fight, and making the surrounding audience members complicit voyeurs. However, be prepared to witness two very different styles of combat: While Mies Julie is a 75-minute blitz that keeps you on the edge of your seat, The Dance of Death is a nuclear standoff that is all too often more tiresome than taut.
Victoria Clark (best known as a Tony-winning actor) directs The Dance of Death, lending her lyrical sensibilities to the story of Edgar (Richard Topol) and Alice (Cassie Beck), a retired military captain and ex-actress approaching their 25th wedding anniversary. In its expressionistic moments, the spouses circle each other like predator and prey, sometimes violently colliding in sequences of dreamlike ballroom dance. When we plunge into everyday reality, however, their days are spent spitting venomous insults at each other between card games inside their claustrophobic living room. From there, it's two hours of manipulation, emotional blackmail, and vengeance for lost dreams — much of which involves Alice's aggressive sexual pursuit of a man named Kurt (Christopher Innvar). He's a perfect piece of ammunition in her lifelong war against the man who ruined her life (a.k.a. her husband). And yet — like a dismal interpretation of Fiddler on the Roof's marital duet "Do You Love Me?" — after 25 years of coexistence, another living-room card game is all but cosmically determined ("If that's not love, what is?").
It's an appropriately joyless display, and Topol delivers a perfectly head-spinning performance as a compulsive liar and drunkard who, like his marriage, is constantly on the brink of death (Edgar periodically collapses in anguish only to presciently say he's got another 20 years in him). Beck serves as an excellent sardonic foil to his (literally) feverish antics, comically wishing each of his spells will spell the end (she also gets to waltz into every scene with a fabulous new frock, designed by Tricia Barsamian). But even McPherson, a playwright with an aptitude for building drama in confined spaces (works like Shining City and The Seafarer come to mind), can't lift The Dance of Death out of its monotony. Acrimonious and conniving characters just become more acrimonious and conniving. Tedium may be important to Strindberg's depiction of a trip around the marriage maypole, but it's a frustratingly stagnant experience to witness, even as the play proffers astute observations about the politics of love, hate, and matrimony.
In Mies Julie, on the other hand, director Shariffa Ali gets to dive into similar issues at the fraught beginning of a relationship, just as the bricks of sexual politics are being laid. Yaël Farber's adaptation adds an additional layer of national politics, setting the 19th-century story in the Karoo of South Africa on Freedom Day, 2012. It's been 18 years since the end of apartheid, but the oppressive social structure remains firmly in place — something made abundantly clear at the top of the play as we watch the black farmhouse worker Christine (a beautiful performance by Patrice Johnson Chevannes) spend a painfully long time washing a kitchen floor in silence.
Christine eventually leaves the room to her son John (James Udon) and Julie (Elise Kibler), the daughter of the farm's white owner, for whom John has pined since childhood. Kibler tellingly enters seductively sprawling her body all over the kitchen that John's mother just cleaned, wearing the western clothing of an Afrikaner in contrast to the Xhosa clothing Christine later wears to church (Ntokozo Fuzunina Kunene and Andrew Moerdyk designed the costumes). Expressions of passion, hatred, and everything in between eventually lead to a simultaneously angry and lustful sexual encounter between John and Julie, further muddying the waters of John's paradoxical appetites for Julie's love as well as her downfall — a just desert for the system she represents and unwittingly propagates. Julie's birthright of absolute power, it turns out, is as much a curse as it is a privilege.
Udon and Kibler make thrilling stage partners, pushing uncomfortable physical and emotional boundaries to their breaking points under Ali's bold direction (as well as Alicia Rodis and Claire Warden's fight and intimacy direction). The tragic ending may be as preordained as that in The Dance of Death, but rather than watching in woeful resignation, Mies Julie makes you want to reach onto the stage (like the legendary Vinie Burrows in her ghostly cameo) and change the social architecture that's signed its characters' fates.