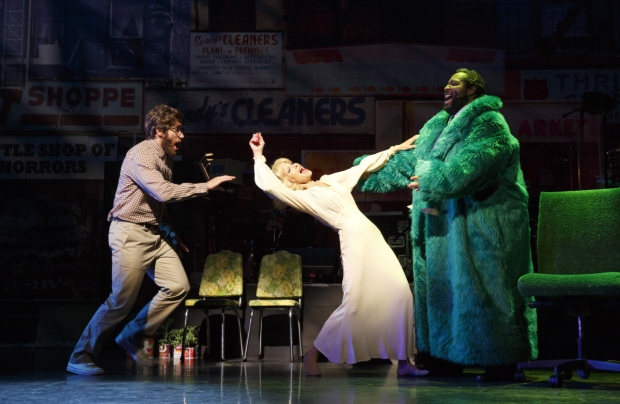 It's tantalizing to imagine the sublime heights to which the late great director-librettist Howard Ashman would have pushed musical theater had he not died at the young age of 40. He had been writing musicals for less than a decade when he penned Little Shop of Horrors with composer Alan Menken in 1982. Yet as evidenced by the concert production organized by Encores! Off-Center at New York City Center, he already understood the form far more than most of his contemporaries. Even in this uneven presentation, the fundamental strength of the work is readily apparent.
Based on the eponymous 1960 Roger Corman film, Little Shop of Horrors is the story of Seymour Krelborn (Jake Gyllenhaal), a hapless clerk in a Skid Row flower shop owned by Mr. Mushnik (Joe Grifasi). Seymour has the hots for his coworker Audrey (Ellen Greene, reprising the role she created), but she's already attached to a sadistic dentist (Taran Killam). When Seymour begins to tend a strange and interesting new plant (which he pointedly names Audrey II), he suddenly wins a lot of attention from customers and the press. There's only one catch: The plant thrives on fresh human blood. Seymour suspects that a ravenous plant ordering him to kill might be too high a price for fame and success. No price, however, is too high for the love of Audrey.
Since its off-Broadway debut, Little Shop has gone on to become one of the most successful and widely produced musicals of all time. Much of this has to do with Ashman's unique gift for weaving comedy into tragedy through a highly theatrical yet efficient package (it's Faust with giant puppets, rock and roll, and a nine-person cast). Menken's score exhibits his hallmark pastiche, borrowing from doo-wop, gospel, and operetta. Ashman and Menken are largely responsible for the Disney renaissance of the late '80s/early '90s, collaborating on films like Aladdin and The Little Mermaid. As with those animated musicals, Little Shop's songs are infectiously fun. Unfortunately, music director Chris Fenwick conducts the first two numbers ("Little Shop of Horrors" and "Skid Row") at a sluggish pace, sapping some of the power this score normally has to draw an audience in.
Thankfully for Encores!, this concert reading is happening before an already-super-engaged crowd of Little Shop enthusiasts. Before Greene stepped onstage for her big return to New York theater (after a two-decade absence), I had yet to witness an entrance standing ovation. Her greeting extended over a minute.
While this certainly seemed excessive on the part of the audience, Greene earned every bit of this rapturous welcome. Her Audrey is as vulnerable, funny, charming, and lovable as ever. Greene has raised the stakes by making this revisited Audrey hyper-aware of her own mortality. When she sings "Somewhere That's Green," it's very clear that she doesn't really ever expect to see those tract-house suburbs. Still, this doesn't stop her from dreaming.
An urbane Manhattan audience might be inclined to roll their eyes at a squeaky-blonde lady singing wistfully about a toaster, but Greene makes that impulse very hard to follow. You have to bring your own cynicism, because she's offering none in this ultra-committed performance, which feels pulled straight out of Charles Ludlam's Ridiculous Theatrical Company. Ludlam (whose theater was hugely influential on the downtown scene when Ashman penned the book and lyrics to Little Shop) was noted for his ability to make an audience laugh at one moment and cry the next. The secret? Fully embrace everything your character does and believes, no matter how silly; don't hold her at a distance or wink at the audience. Greene does just that and it is always astounding, strange, and completely perfect. It's hard to roll your eyes when they're on the verge of shedding tears.
Under the serviceable but not always rigorous direction of Dick Scanlan, the other members of the cast achieve this effect to varying degrees. While his vocals are merely adequate, Gyllenhaal offers a believable and fully realized Seymour, complete with physical transformation. Hands habitually jammed in his pockets and shoulders slumped forward, he speaks with just the hint of a stutter. You would never guess this nebbish is the same actor who plays the hulking boxer in Southpaw. Eddie Cooper lends his devilish demeanor to Audrey II, bringing down the house with his powerful vocals. In his New York stage debut, Saturday Night Live cast member Killam is appropriately over the top in his portrayal of Orin Scrivello, D.D.S., and a slew of other roles, stealing many a scene.
Quite the opposite, Grifasi's Musnik barely registers. The three urchins Chiffon (Tracy Nicole Chapman), Crystal (Marva Hicks), and Ronnette (Ramona Keller) also feel muted, as if they're unsure of their harmonies and blocking.
Set designer Donyale Werle's overstuffed urban backdrop gives us a sense of Skid Row while Clint Ramos' costumes augment the performances. Cooper's full-length green fur coat is a particularly memorable item. Lighting designer Mark Barton and sound designer Leon Rothenberg create key moments of horror-film thunder and lightning, appropriately austere for this concert reading.
You're likely to walk away humming the songs and wishing to see a full production. Since Encores! never promises to be anything more than a skeletal concert (even though some of its recent shows have been awfully fleshy), we can count this presentation of Little Shop a success: It made us fall in love with the show all over again despite budget production values and hit-and-miss performances.