Julie Reiber, Benjamin Eakeley, and Teralin Jones Join Jagged Little Pill Tour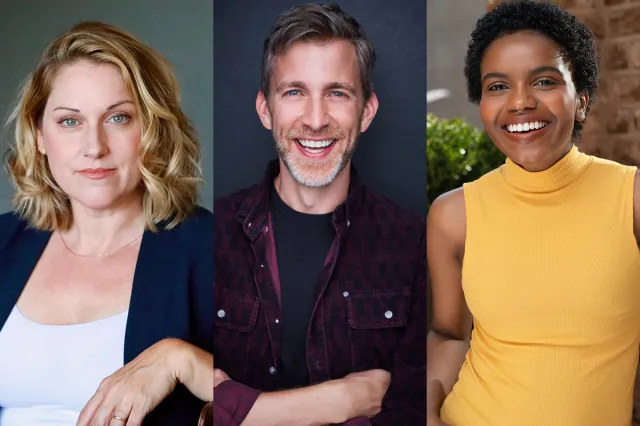 The producers of the North American tour of the Alanis Morissette musical Jagged Little Pill have announced three new principal cast members who will join the production starting next week.
Julie Reiber will play Mary Jane Healy, Benjamin Eakeley will play Steve Healy, and Teralin Jones takes over as Frankie Healy when the tour plays Tulsa's Chapman Musical Hall September 12 and 13. The tour is currently playing Houston's Theatre Under the Stars, where Heidi Blickenstaff (Mary Jane), Chris Hoch (Steve), and Lauren Chanel (Frankie) are finishing up their runs.
You can see a complete list of tour dates here.
Reiber, Eakeley and Jones join the cast for year two, with year one principals Dillon Klena (Nick Healy), Jade McLeod (Jo), and Allison Sheppard (Bella Fox) continuing their roles.
The ensemble includes Lee H. Alexander, Delaney Brown, Justin Scott Brown, Chelle Denton, Shelby Finnie, Rishi Golani, Liesie Kelly, Cydney Kutcipal, Jordan Quisno, Carmella Taitt, Alexander Tan, Daniel Thimm, and Elaine Watson. The cast also includes Naima Alakham, Claire Crause, Sophie Lee Morris, Sergio Pasquariello, and George Vickers V as swings.
Featuring music by Alanis Morissette and a Tony-winning book by Diablo Cody, Jagged Little Pill tells the story of one Connecticut family with a whole lot of problems: Drug addiction, the trials of gender nonconformity, tensions arising from interracial adoption, and sexual assault are all addressed using music from Morissette's groundbreaking 1995 album, as well as later albums.
You can read TheaterMania's review of the touring production here.
The production is directed by Tony Award winner Diane Paulus, with scenic design by Riccardo Hernandez, costume design by Emily Rebholz, lighting design by Justin Townsend, sound design by Jonathan Deans, video design by Lucy Mackinnon, and hair, wig, and make-up design J. Jared Janas.