Julia Roberts and Meryl Streep Come Home Empty-Handed From the 2014 Golden Globe Awards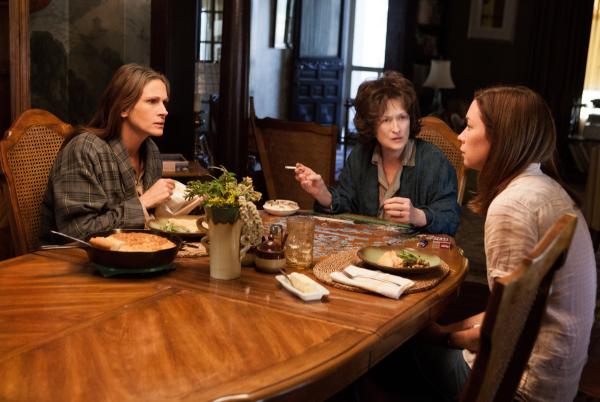 On Sunday evening, director John Wells' film adaptation of Tracy Letts' Pulitzer Prize- and Tony Award-winning play, August: Osage County, walked away with neither of the two Golden Globe Awards for which it was in contention. Oscar- and three-time Golden Globe-winning actress Julia Roberts lost in her eighth nomination to Jennifer Lawrence, who took home a statue for her supporting performance in American Hustle. Three-time Academy Award winner and reigning queen of film Meryl Streep lost in her 28th nomination to Amy Adams, who came away victorious for her leading performance in American Hustle.
August: Osage County follows three sisters — Barbara (Roberts), Ivy (Julianne Nicholson), and Karen (Juliette Lewis) — who are beckoned back home after their father (Sam Shepard) goes missing. Greeting them at the door is the pill-popping, truth-telling matriarch, Violet (Streep), who leads the family in an explosive reunion. The film's cast also features Ewan McGregor, Chris Cooper, Abigail Breslin, Benedict Cumberbatch, Margo Martindale, Dermot Mulroney, and Misty Upham.
Click here to watch TheaterMania's video interview with the stars of August: Osage County.
Click here to read "5 Questions With August: Osage County Star Julia Roberts."
Click here to read "August: Osage County: A Warm and Fuzzy Holiday Gift From Tracy Letts."
Click here to read "Margo Martindale Takes Her Turn in the August: Osage County Movie."