Is Tár the Best Picture of the Year? The New York Film Critics Circle Thinks So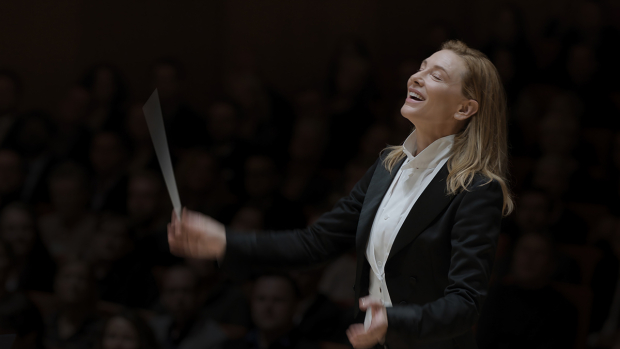 Cinematically, the year that just ended may have come down to a question of Tár or Avatar 2.
The public has already cast its vote for James Cameron's elaborate waterworks display, which has so far raked in $1.7 billion globally. But January 4, another county was heard from: the New York Film Critics Circle. In a three-hour awards ceremony that was hosted by TAO in downtown Manhattan, the pick of some 50-plus New York film scribes was Tár, which, to date, has managed to squeeze only $5.6 million from the masses and is just the third feature of director Todd Field. They're sure to catch Oscar's eye, which is still ever-roving over other contenders.
One of Hollywood's genuine legends, director Martin Scorsese, presented the critics' prize for Best Picture of 2022 to fledgling Field, who wrote and directed it. Scorsese made a surprise appearance, and it instantly upped the celebrity quotient of the evening. He came with choice words for Old Hollywood and its mad chase after big box-office numbers and kind words for Now Hollywood, which takes audience in unfamiliar and uncharted directions.
"For so long now, so many of us see films that pretty much let us know where they're going," said Scorsese. "I mean, they take us by the hand, and even if it's disturbing at times, sort of comfort us along the way that it will be all right by the end. Now this is insidious, as one can get lulled into this and ultimately get used to it. Leading those of us who've experienced cinema in the past—as much more than that—to become despairing of the future of the art form, especially for younger generations.
"But that's on dark days," Scorsese continued. "The clouds lifted when I experienced Todd's film, Tár. What you've done, Todd, is that the very fabric of the movie that you have created doesn't allow this. All the aspects of cinema and the film that you've used, attest to this."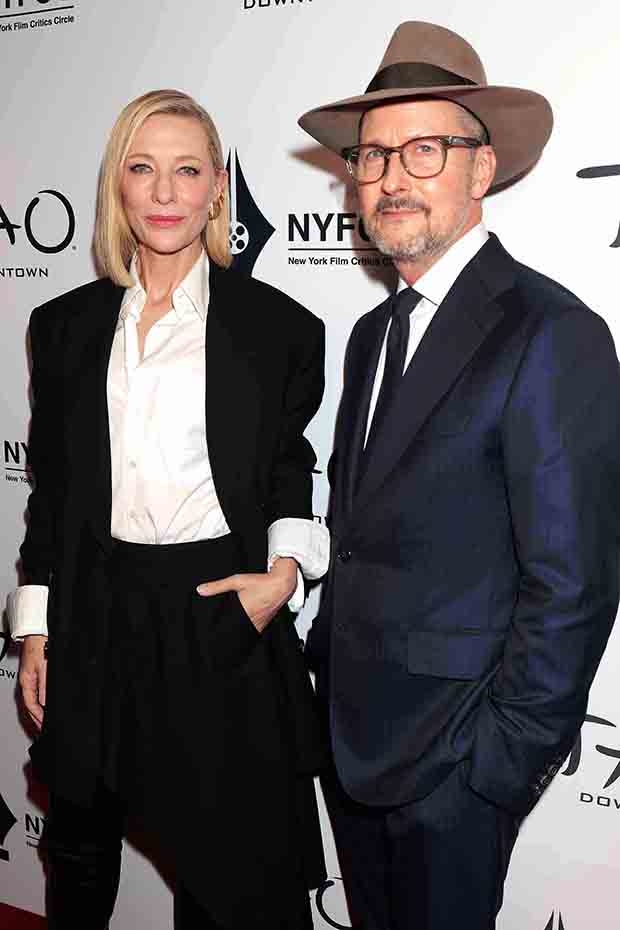 In addition to directing Tár, Field concocted a complex character study for Lydia Tár, and turned Cate Blanchett loose on the role, letting her have her way with it, winning first the Volpi Cup for Best Actress in September and the New York critics' nod for Best Actress in December. A brilliant conductor, Bernstein-trained and specializing in Bach, Tár is the first chief conductor of the Berlin Philharmonic. A prodigious talent, she arrogantly and unwisely believes her gift makes up for her problematic, predatory behavior. When she learns it doesn't, her world comes crumbling down.
"You make it so that we exist in her head," Scorsese told Field. "We experience only through her perception. The world is her. Time, chronology and space become the music she lives by. We don't know where the film's going. We just follow the character on her strange, upsetting road to her even stranger final destination. Now, what you've done, Todd, is a real high-wire act."
For Blanchett, Field is "the most inventive collaborator I've ever encountered," and she told how he could really get the juices going: "Todd is the type of director you go on a hike with, and he'd warn you that you will almost definitely encounter a bear, and there's a strong possibility that you might lose a limb or part of your face, and you find yourself really excited. Bears? Fuck, yeah!"
Tár wasn't the only film to lead the list of critics' wins with just two victories. The Banshees of Inisherin logged up a couple, but it was hard to find an Irishman in the house. Martin McDonagh, who won the Best Screenplay honor with his original screenplay about two Irish BFFs who call off their friendship, and one of those friends, Colin Farrell, was the critics' choice for Best Actor.
The Irish star also was voted Best Actor by the group for After Yang, making him one of five leading men doubly honored by them in the same year: Brad Pitt in 2011 for Moneyball and The Tree of Life, Robert DeNiro in 1990 for Awakenings and Goodfellas, Jack Nicholson in 1974 for Chinatown and The Last Detail, and William Powell in 1947 for The Senator Was Indiscreet and Life With Father.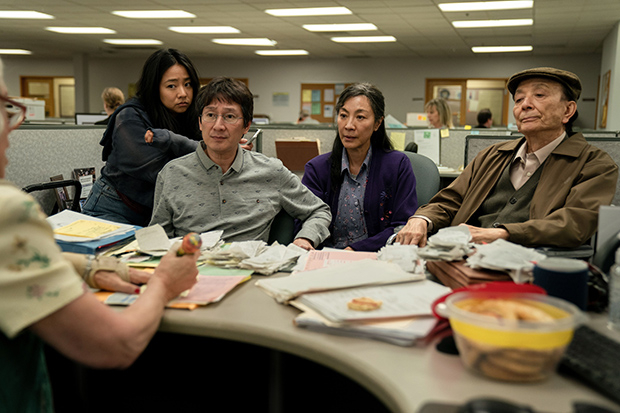 This year's supporting-player winners who started out as child stars unleashed a torrent of tears.
Ke Huy Quan, now 51 and the group's pick for his support in Everything Everywhere All at Once, first hit the screen at 13 as Short Round in 1984's Indiana Jones and the Temple of Doom and then, a year later, as "Data" Wang in The Goonies. But after a stint on ABC's Head of the Class in the '90s, the phone didn't ring again for three decades so he transitioned to other film-industry jobs.
"I promised my wife I'm not going to cry tonight," Quan told the audience, "but I remember the day when I got the call from my agent and he said that I got the role of Waymond. I remember screaming so loud and was overwhelmed with emotions. It was one of the happiest days of my life because it was a role that I waited for a long, long time." He closed with thanks to the two Daniels who directed the film, Kwan and Scheinert, for "making me feel like a kid again."
Keke Palmer, the critics' choice for Best Supporting Actress (as the UFO chaser in Jordan Peele's sci-fi Western, Nope), reached the screen at age 11 in Barbershop 2: Back in Business and started hitting a good stride two years later as Akeelah in Akeelah and the Bee. Now a 29-year-old expectant mother, she has since expanded her acting talent to singing, producing, TV hosting, and social-media celebrity.
"I've been performing all my life—it's really all I've known," the actor admitted while smiling through some tears. "My parents introduced me to performing as a vessel to express myself. Sometimes I feel insane for how [apparent] my emotions are. But this craft has never judged me. … I'm thankful to acting for another great memory that we get to have together."
A total of 15 awards got distributed over the course of the evening. Among them: Best Director: S.S. Rajamouli for an epic from India, RRR; Best Foreign Language Film: Eo, a Polish film about a donkey; Best Cinematography: cameraman Claudio Miranda for his high-altitude Cruising in Top Gun: Maverick; Best First Film: Charlotte Wells for Aftersun; Best Nonfiction Film: All the Beauty and the Bloodshed; and Best Animated Feature: Marcel the Shell with Shoes On.
Now, Oscar, what do you think of that?