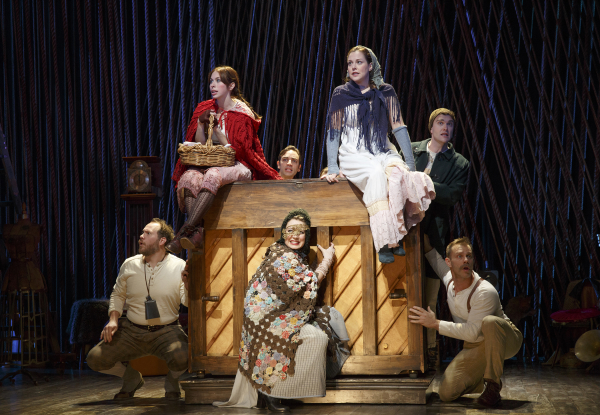 In just the past few years, Stephen Sondheim and James Lapine's fairy tale-infused musical Into the Woods has gotten several full-body makeovers. In 2012, Shakespeare in the Park turned the Grimm characters into playthings from a toy chest, while this past Christmas Rob Marshall got a blockbuster (star-studded) Disney film out of the property with a CGI-facilitated gothic aesthetic. Fiasco Theater now brings its own concept to the table at Roundabout Theatre Company's Laura Pels Theatre, reprising the troupe's acclaimed 2013 McCarter Theatre production. The concept in a nutshell: Check everything but the story at the door. And as it turns out, Into the Woods thrives on flying solo.
The entire setting is largely left to our imagination, with a field of ropes composing our "woods" at the back of the stage and piano frames lining the walls (set design by Derek McLane). Fiasco Theater is known for stripping classic works down to their skivvies, so their minimalist, 10-person rendering of Into the Woods is par for the course. But the barebones format fits the alternatingly playful and gruesome show like a finely tailored suit.
The musical, by nature, is like a child's game of make-believe that unwittingly stumbles into a tragic reality, an idea that likely inspired Timothy Sheader's elaborate 2012 production at the outdoor Delacorte Theater. Powerful ideas, however, do not require such a loud delivery — a philosophy the Fiasco troupe embraces with a production that looks like it came straight from a dress-up bin. A knitted, bright-yellow wig passes for Rapunzel's flowing blonde locks, and oversize shawls, jackets, and hats (designed by Whitney Locher) are thrown on and off to cue changes in character. While in Act I these crude costume changes offer a lighthearted homage to youthful storytelling, in the second half they take on a new power, as what was an innocent gesture just moments ago could now mark a character's death.
Codirectors Noah Brody and Ben Steinfeld keep us perpetually conscious of this demonstrative act of storytelling, doing subtle service to Sondheim and Lapine's ode to the lasting and potentially bewitching power of the tales passed down through time. Rather than the traditional single narrator, each of the performers (gathered around a central piano played by Matt Castle) takes a turn at the wheel while a group of classic characters' plots unfold.
Little Red Riding Hood, played by Emily Young with a wide grin and dim-witted innocence, triumphs over the wolf at her granny's cottage; Cinderella, performed by Liz Hayes with a storybook optimism, finds her prince at the ball; Rapunzel, also played by Young, lands a prince of her own (a standout comedic performance by Andy Grotelueschen) despite the best efforts of her mother the Witch (Jennifer Mudge); and Jack defeats the Giant from his overgrown beanstalk, with a beautiful moment of revelation by Patrick Mulryan in his performance of "Giants in the Sky." The Baker and his wife (Steinfeld and Jessie Austrian) — the musical's linchpin characters — find a happy ending as well after each of these fairy-tale protagonists help them break the Witch's spell of infertility.
During this cheerful first act, the company lays the piece's groundwork, explicating its free-form structure and introducing some creative arrangements to Sondheim's classic songs. Yet it's not until the second act when happily-ever-after takes many unexpected turns that allow both the piece and the performers to come alive. Steinfeld and Austrian's rapport in Act I often lacks the comic levity that makes the central couple's rediscovery of one another so enjoyable to watch. Nevertheless, both find their footing in their respective Act II solo numbers. Austrian clearly guides us through Sondheim's soul-searching wordplay in "Moments in the Woods" while tragic echoes of generational legacies resonate throughout Steinfeld's ballad, "No More."
Once Mudge loses her Witch-y exterior, she too bursts open into a blend of indomitable power and maternal helplessness — a two-sided coin she adroitly illustrates during her showstopping number "Last Midnight" and the hauntingly mournful "Children Will Listen." Mudge also refreshingly offers some of the strongest vocal chops of the company, many of whose technical flaws can, at times, be difficult to overlook. Still, our dogged determination to do so speaks volumes for the strong production beneath these superficial blemishes.
This strength lies primarily in the company's unified devotion to stepping out of the musical's way. If you are already an Into the Woods devotee, this bare interpretation of it may not mine anything you haven't already excavated from the deeply layered Sondheim-Lapine collaboration. Fiasco's production best serves those whose feelings about the show — and its various overwrought forms — have remained lukewarm. Free from the ambient noise of movie stars, special effects, and conceptual retoolings, Into the Woods finally has a proper platform for the magic it has carried all along.