Interview: Kelli O'Hara and Brian d'Arcy James on the Joyous Experience of Days of Wine and Roses
You don't expect to hear actors say they found a great deal of joy plumbing to the depths of the darkest roles, but for Kelli O'Hara and Brian d'Arcy James, starring in Adam Guettel and Craig Lucas's new musical Days of Wine and Roses last summer at the Atlantic Theater Company provided for some of the most fulfilling and happy experiences of their career.
Based on the Blake Edwards film, James and O'Hara play a couple that falls in love while succumbing to alcoholism. To musicalize it was an idea that O'Hara had, pitching it to Guettel during their Light in the Piazza days as a vehicle for her and James, her former Sweet Smell of Success costar who she loves to be on stage with. Indeed, their divine romantic chemistry is one of the show's richest elements, channeling the likes of Humphrey Bogart and Ingrid Bergman, Richard Burton and Elizabeth Taylor, Spencer Tracy and Katharine Hepburn, and yes, even Jack Lemmon and Lee Remick, the film's original stars.
With the production set to transfer to Broadway's Studio 54 in January, we sat down with O'Hara and James to discuss putting Days of Wine and Roses together, and how their quest for perfection adds to the show's riches and rewards.
This conversation has been condensed and edited for clarity.
How did this project come to fruition?
Brian d'Arcy James: You should start, Kelli. You're the brainchild of this whole thing.
Kelli O'Hara: That behavior right there is indicative of all things Brian d'Arcy James. He is a gentleman and he's waiting for me to go first because he's just a sweetheart.
Brian: No, the truth is that the genesis begins with Kelli, if I'm not mistaken. Right?
Kelli: Right. It was because of Sweet Smell of Success. It's no secret that I'm a big Brian d'Arcy James fan since way back. I saw him in The Wild Party, and when I got my audition for Sweet Smell of Success, even to just read with him, I was like "I don't care if I get the part. I got to read with Brian d'Arcy James." Anyway, working on the show was wonderful, and then it closed in June, and in July, I went out to Sundance to work on a project, and they happened to need another singer for the workshop of Light in the Piazza. That's how that whole thing got started.
I met Adam Guettel doing that, and I was so fresh off of Sweet Smell that I said to him, "You should write a show for Brian d'Arcy James and me, and I think it should be Days of Wine and Roses." I knew that film. I had watched it many times — that was the kind of thing we watched in my house when I was a teenager. During Sweet Smell, a lot of people would say "Brian looks like Jack Lemmon and you look like Lee Remick," so I thought "Why not?" It would be a really weird, sort of artsy opera version of Days of Wine and Roses, it would be super dark. Adam liked the idea and I guess at some point he got the rights and nothing came to fruition until probably, like, seven years later when we did a reading. It was one of those things that I didn't even put any attention on because I didn't think it would ever happen, but little by little it did.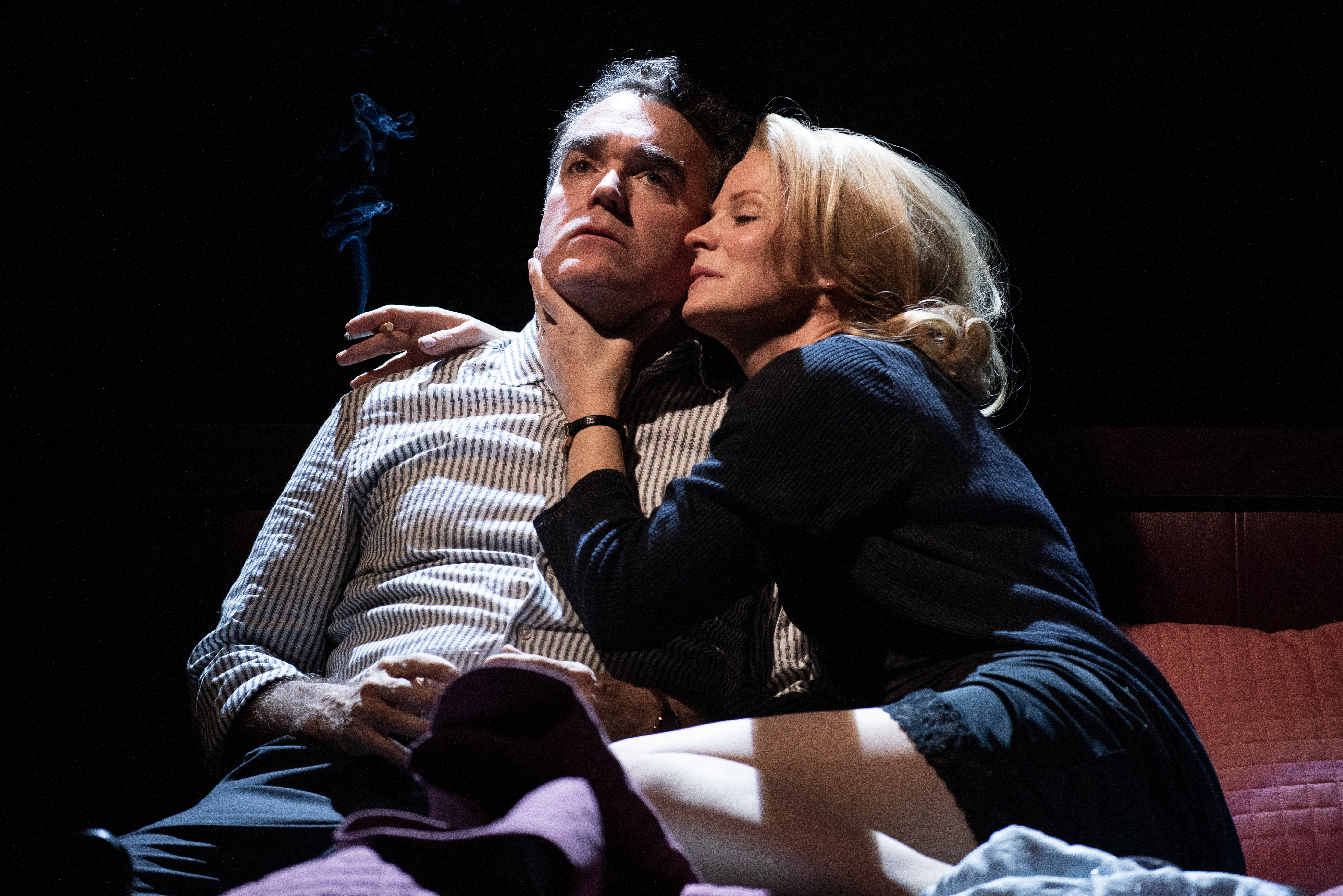 Having been through such a long development, what is it like, then, to get to the fully realized production and have it be such a success, and to know now that Broadway is on the horizon?
Brian: It's a bit of a strange moment, in that so much work has preceded this and resulted in a full production that went very well. As you know, you always put your heart and soul into it, to wring everything out of it you can. And this is a show that requires quite a bit emotionally from both Kelli and myself. Now we're in this holding place [before the Broadway run] and I find myself trying to figure out all the things that I want to address in terms of "I wish I'd done that." That's a huge gift in terms of performance, but you also want to keep the pilot light lit so you're not starting from zero again. You're starting from a place where you can catapult yourself into the next production. I find it strange but liberating.
Kelli: I feel the same. Brian knows this, I was more joyous doing this show than I've been in a long, long time. I think maybe it has something to do with my personality and going inside someone that is really not like me. I keep saying it feels like I'm wrenching myself into the deepest kind of place, and when I come out, it's like this release that I don't have in the rest of my life. I think that's sort of the addition of being an artist in a way, it feeds you.
Without this show in these last few months, I've recognized how high I was during that period. I was having the time of my life, to be honest, so this period feels very strange. This business is such a vulnerable thing, and you don't know how it's gonna go. Even though the Atlantic went well for us, it feels like there's no guarantee for Broadway. And it's a big space, and I really love the small space, and what if they try to make changes that try to make it a big Broadway show when it should really only be this small art piece? I have a huge paranoia about it because it did feel so good that I wonder if the high will be the same. That has been a big thought of mine: How do we protect it? How do we make it the same, but different and fuller? I feel very strange now. Don't you, Brian?
Brian: Yeah. I agree with what Kelli is saying. I'm just thrilled that we have a chance to do this again and for more people to get to see it. We believe so fervently in this piece and it's beauty. It just gets into your heart and soul, not just for us, but for a lot of people. I'm really proud that there is space on the Broadway stage for this to exist.
Is it hard to do this show night after night and put yourself through the wringer it requires?
Brian: Yes and no for me. Kelli is shaking her head no. The emotional aspect wasn't hard for me, because the material is so rich that it's gonna take you there. I've always been a little hard on myself in wanting to get things right in the most perfect way possible. That sometimes doesn't happen, because we're human beings and eight shows a week is a hard thing to do. So the hard part for me was wanting to honor the technique that would allow for a successful performance and sometimes feeling like I wished I had another shot at it. That's why I'm thankful we get a chance to keep working on it, so I can keep striving for that perfection.
Kelli: For me, it's not that it wasn't hard. I always love hard work. I love being in the position to be nervous. What made it so joyous for me, even though it is hard, is that I felt really safe partnering with Brian.
The other thing is, from my experience with Adam's music…I remember feeling off-balance playing Clara in The Light in the Piazza, and oftentimes, that can make the actor feel vulnerable. Here, we both had shows where we didn't quite hit the notes. These songs are difficult. They're not songs were you can say "I knocked that out of the park today." I realized — and it doesn't take a genius to realize this — that that's on purpose. Adam is not going to write solid ground for two people struggling with an addiction. He doesn't want the word "Forgiveness" to be easy. I kept saying to him that it's not in a good place for me. Could we raise the key? There I am in my 11 o'clock number and all I want to do is go way higher, and he won't let me, because we know in the very next scene, I fail. He doesn't talk about it, he's never going to talk about it, but he wants us to struggle in that moment because we're in the middle of our journey. And with Craig Lucas, he's building a person that I think he knows really deeply and is looking for that authenticity. It hurts as a person with an ego, but as an artist, it's magic and doesn't happen very often.