Interview: Comedian Michael Cruz Kayne Laughs Through Tears in Sorry for Your Loss
Humor is tragedy plus time, the old adage goes. On the decade anniversary of a loss, Michael Cruz Kayne, a comedian and writer on the Late Show With Stephen Colbert, tweeted about his grief. In response, it received more than 200,000 comments people from around the world. Subsequently, Kayne decided to tell his story in a longer form — more than 140 characters — in order to make people laugh through their tears. The result is Sorry for Your Loss, a moving and hilarious solo show presented by Audible at the Minetta Lane Theatre. Over email, Kayne discussed the development of the piece, and what it's like to be performing nightly while he's also on strike with the Writers Guild.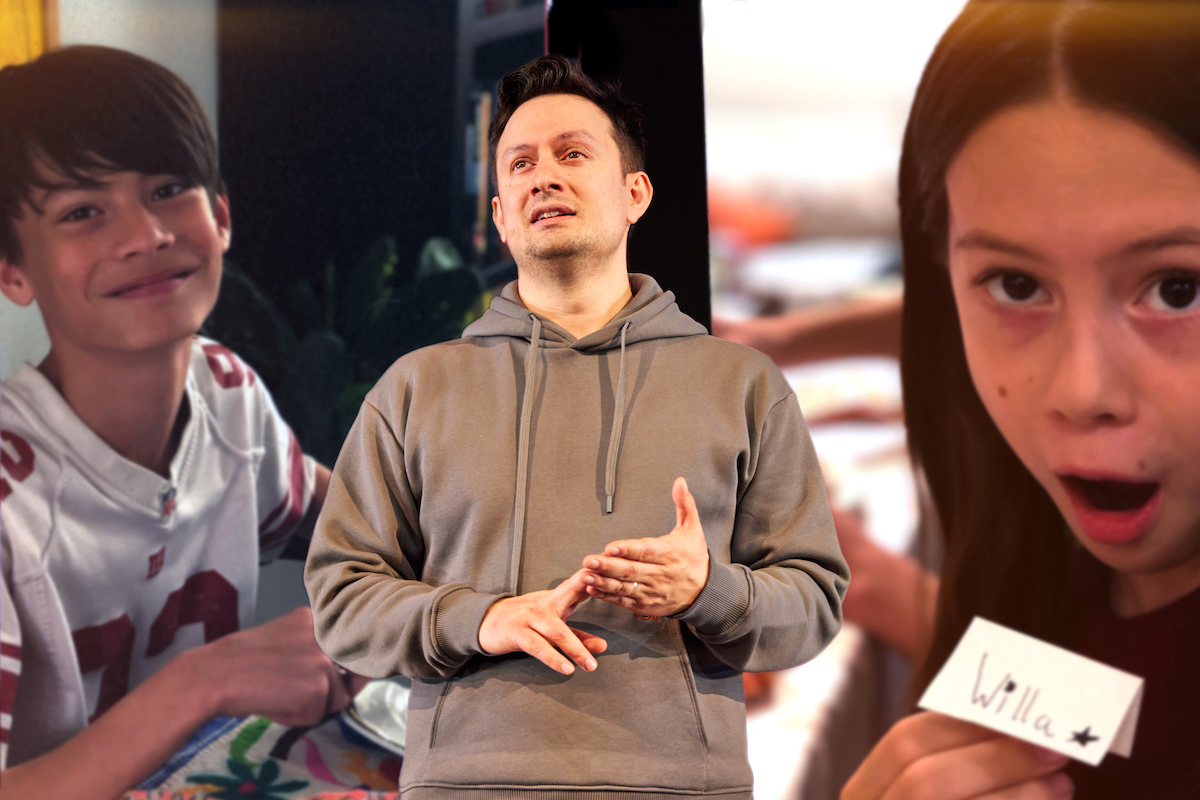 How has it been to perform Sorry for Your Loss amid the Writers Guild of America strike that has darkened your gig at Colbert?
It's weird. The two things should be distinct. I don't want to be striking; I want to be working. But the powers that be have decided to grossly undercompensate (among other indignities) my union siblings, so we're on strike. In one way, it has nothing to do with Sorry for Your Loss, but I suppose it's also true that the strike has freed up my work day (except for the time I spend picketing) so that I can rest and recover between shows. If a strike had to happen — and it didn't! The AMTPT [Alliance of Motion Picture and Television Producers] forced us to strike — I guess now is a relatively good time for me, personally.
Can you talk a little bit about the development of Sorry for Your Loss as a stage show? Where did it begin, and how long did it take you to hone?
It started just before the pandemic. I had over a decade since the tragedy that inspired the show, and I just started to feel like it was impossible for me to continue avoiding the subject in my writing and standup. The Asian Comedy Festival generously gave me a shot at it when it was hardly ready, and I put it up there. There was no script, just a series of loose talking points and half-formed ideas. I recorded the show, and for every show thereafter I would listen to the previous show's recording and keep what felt true while discarding what felt unuseful.
So there really wasn't a script at all until Audible got someone to transcribe what I'd been saying. It was sort of a one-man oral tradition. A director and writer friend of mine, the brilliant Daniel Goldstein, saw a version of the show in a basement in Brooklyn. He believed in it and introduced me to Kate Navin at Audible Theater, who shared his belief. I was lucky to get Josh Sharp to direct it: I knew him from the comedy world and he had done a show years ago about his dead mother that amazed me. I met with lots of incredible theater directors, but it had to be Josh, because he understood the material in a deep way and he was, foremost, impossibly funny.
In addition to Josh, I have a freak squad of genius designers who elevated every single idea I had. One thing Josh and I agreed on from the start was that if we were going to do the show in a theater, we should make it theatrical. To a theatergoer, that might sound obvious, but I had been doing the show with a microphone and a laptop in basements and bars for years. Taking it to another level was a little scary. My tendency is to micromanage, but it became very clear that each of the designers had a vocabulary that drastically exceeded my own. Josh and I basically sat agape any time a new element was shown to us. "Holy shit! You can do that!?"
OK, this answer has been WAY too long so I am abruptly stopping here!
From your experiences performing the show so far both in New York and elsewhere, have you found that audiences are willing to laugh at the idea of grief and "grief industry"?
Yes! The show is deeply sad but also, I hope, very very funny. But it's ultimately a tribute to the dead, and to ourselves. People who haven't seen the show sometimes think it's like The Roast of the Person I Love Who Has Died, and it is definitely not that.
Is there a difference that you've discovered in building a traditional standup set versus building a show like this?
Well, I definitely cry less when I'm writing regular standup.
What's the most meaningful thing you've heard from audience members?
It's hard to pick a "most meaningful" because audiences have been very generous with me, but one thing I love hearing is that the show has helped at least a few people feel more understood, less alone.  I'm lucky to able to do that in whatever little way.