In-Flight Beverages and a New Kind of Living Room Play in Summer Shorts A
An evening at Summer Shorts A is like a trilogy of freewriting in post-Trump America. Mercifully, only one of the series' plays actively mentions our sitting President, but race, gender, and the corrupt politics they inspire jump off the stage in all the short stories being presented at 59E59 Theaters.
Robert O'Hara, known for brazenly provoking the audience with racially charged plays like Bootycandy and Barbecue, as well as his dystopian Mankind (about a world in which women have become extinct), is equally unapologetic in his short play, The Living Room, which he also directs. Joel Reuben Ganz and Kate Buddeke play Frank and Judy, the last two white people on earth who have been literally trapped behind the proverbial "fourth wall," forced by their black playwright to act out a generic living room play for eternity. It's a fun, antagonistic riff on the genre, which O'Hara pokes fun at with his pair of stereotypical white characters who sit in their Pottery Barn chairs while eating Chinese food out of takeout boxes (the simple but effective set is designed by Rebecca Lord-Surratt). You can feel O'Hara himself getting some giddy catharsis out of the exercise as he claims control over such a narrative. In the end, it feels like less of a play and more of a promise from O'Hara to his audience about the rules we can expect his work to continue to break.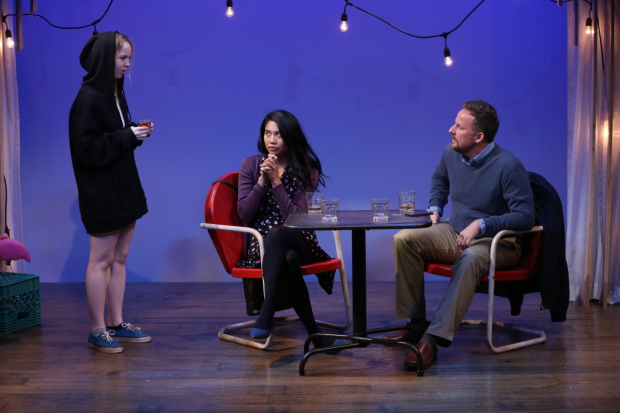 Abby Rosebrock follows with her play Kenny's Tavern, directed by Jess Chayes. Laura (Francesca Fernandez McKenzie) and Ryan (Stephen Guarino), a teacher and dean (respectively) of a West Virginia magnet school, meet for drinks at their favorite dive bar just before the 2016 Presidential election. The election initially seems to be a topic unrelated to the complicated relationship dynamics Laura and Ryan have come there to discuss over shots of whiskey. But as the conversation continues, toxic masculinity starts closing in on all sides. The pieces never fully cinch together, particularly when a girl named Jaelyn (Mariah Lee) — a socially awkward local whom Laura rejected twice from her magnet school — enters the conversation. But Rosebrock's honest dialogue and the humor McKenzie brings to her intoxicated heroine is plenty to keep you invested in the direction all of these people are headed after the polls close.
Rounding out the trio is Grounded, the debut play from best-selling novelist Chris Bohjalian and directed by Oscar-winning screen writer (and On Your Feet! book writer) Alexander Dinelaris. Bohjalian profits from his novelist impulse to slowly dole out information, creating the least complicated but most emotionally compelling of the three plays. The scene follows two flight attendants —a salty mother of two named Karen (K.K. Glick) and a nervous twentysomething named Emily (Grace Experience) — as they prep for an international flight to London. It turns out Emily is afraid of flying. So why did she become a flight attendant? The answer is gradually unfurled in the story of a toxic romantic relationship, which sweetly brings the two women together while maintaining a sense of humor (particularly when lines are wryly delivered by Glick). When all the information is finally on the table it takes Bohjalian a little too long to (forgive the pun) land the plane, but where it does eventually land is a place that envisions a simple and hopeful horizon.