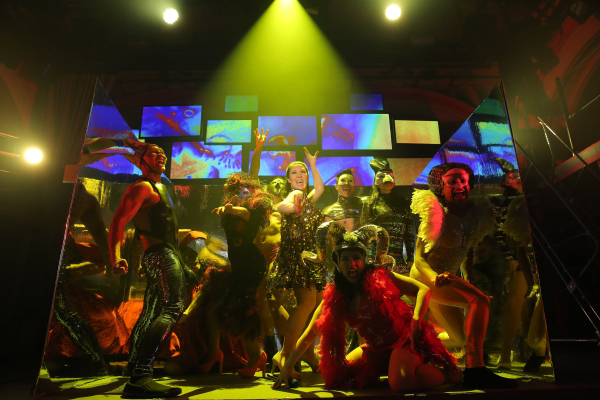 A year has gone by since the Public Theater's premiere of David Byrne and Fatboy Slim's immersive Imelda Marcos musical Here Lies Love. Can you believe she still hasn't flown in to see it? Maybe she's just doing things on her own time table and needs space to emotionally prepare. After all, as the show teaches us, even dictators have feelings.
Whatever the reason for her absence, the 84-year-old (who is currently a member of the Philippine House of Representatives and the subject of multiple graft investigations) has another chance to catch the story of her life now that Here Lies Love has returned to its original home in LuEsther Hall. The party is just as much fun as it was the first time around, but with deepened performances from an endlessly energetic cast.
Ruthie Ann Miles reprises her starring role as Imelda. The story traces her journey from humble beginnings in Leyte through her two-decade reign as the most powerful and glamorous woman in the Philippines. A beauty queen, she has a brief flirtation with liberal politician Ninoy Aquino (Conrad Ricamora) before abruptly marrying war hero and Senate candidate Ferdinand Marcos (Jose Llana). Marcos wins the presidency in 1965 and Imelda is quickly subsumed into the glamorous world of the international jet set. Parties with Andy Warhol and Mary Lasker lead her to champion a massive center for the arts in Manila while developing an increasingly ostentatious lifestyle. "The most important things are love and beauty," she assuredly sings.
Aquino believes her values to be decadent and out of touch with average Filipinos, caustically referring to her as "the fabulous one." But Imelda sees herself as a role model: Act virtuously, work hard, and prosper. She just knows that the Filipino people need her and her husband's guidance, which is why she's sure they won't mind when the Marcoses declare martial law and seize power permanently.
The show is almost completely sung through, offering 90 minutes of infectious pop music. And since most of the audience is on its feet, dancing comes naturally. Maria-Christina Oliveras burns the house down with her wicked, tire-slashing rendition of "Men Will Do Anything." With crisp diction and muted sanctimony, Ricamora is reminiscent of Barack Obama in his portrayal of Aquino; that is, if the American president was the lead singer of a '90s-era boy band. As Marcos, Llana has the macho swagger of a reformed bully-turned-politician. His soul-stirring version of "A Perfect Hand" will make you feel optimistic, then sickened by your vulnerability to such propaganda.
Miles sets the tone for the show with the anthemic title track, "Here Lies Love": "Sometimes I had no shoes," she ominously sings, recalling her impoverished beginnings and foreshadowing her intention to trample over her nation's constitution while wearing Prada heels. Her meteoric rise is part of the mythology of the Marcos regime, a false promise of meritocracy.
Miles brings a wide-eyed innocence to Imelda, helping to tell the story of her epic delusion. She believes herself to be the people's "star and slave," a unique martyrdom that is her cross to bear. She passes through the crowd, touching everyone in her path while giving a knowing glance as if to say, You're welcome. Yet has any slave ever been so pampered and finely adorned? Even as an angry mob of protestors gather outside her palace, she crouches on the balcony and reminds herself why she does what she does: "It's for love; it's for love; it's for love," she repeats. It's the dictator's equivalent of a worthless self-help mantra learned in a stress-management class for busy executives.
Director Alex Timbers has managed to create an evening of theater that is simultaneously raucous, funny, and informative. It also has mountains of heart and real emotional stakes: The final song, "God Draws Straight," about the People Power Revolution of 1986 that finally toppled the Marcoses without shedding any blood, is heartwarming, and certain to make you a little verklempt. It exudes a simple and earnest decency that is too rare in politics. Peter Nigrini's exhaustively researched projections undergird the stage action with actual footage of Imelda in her natural habitat: at the side of some of the most powerful people of the 20th century. You'll dance your way through Imelda's tale and you'll leave hungry for more, looking for modern parallels. Every bio-musical should be this entertaining and intelligent.