Cruel Intentions: The Musical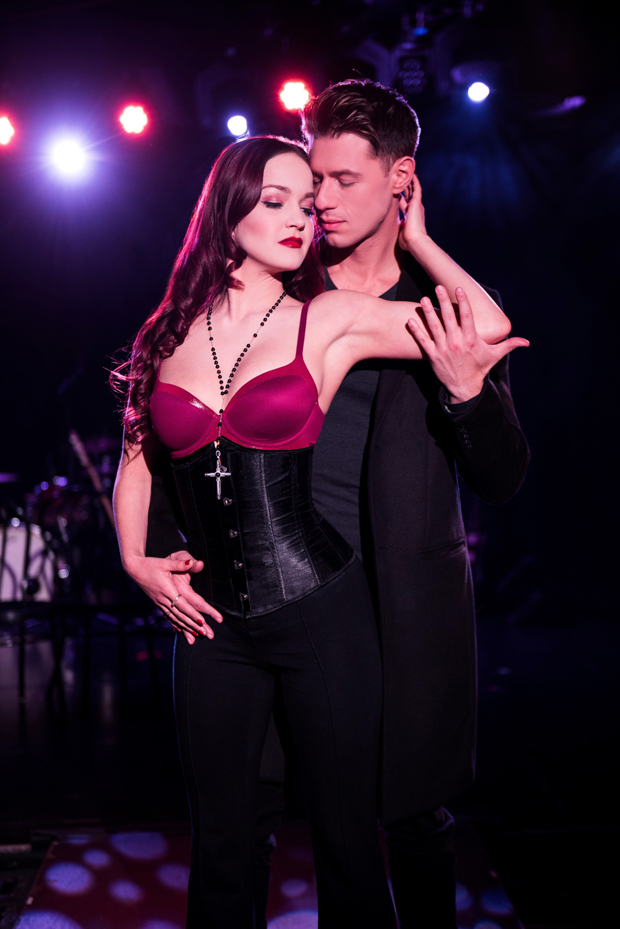 Get ready to party like it's 1999. That was the year that Cruel Intentions, Roger Kumble's movie about teens behaving badly, became a surprise hit at the box office. With the help of Jordan Ross and Lindsey Rosin, Kumble has now adapted his screenplay into a new jukebox musical at (le) Poisson Rouge. Featuring a slew of radio hits from the late '90s, Cruel Intentions is by no means the next great American musical, but it is off-Broadway's newest guilty pleasure.
It tells the story of stepsiblings Sebastian Valmont (Constantine Rousouli) and Kathryn Merteuil (Lauren Zakrin), two Manhattan rich kids who amuse themselves by playing sexual and psychological games. Sebastian has his eye on the virginal Annette Hargrove (Carrie St. Louis), sure that deflowering her will solidify his lothario reputation. Kathryn prefers to maintain her public image as the "Marcia Brady of the Upper East Side," but she is even more devious behind the scenes. She wants Sebastian to seduce the dim-witted Cecile Caldwell (the fantastically peppy Jessie Shelton) as a way to get back at an ex-lover. The two decide to compromise: If Sebastian succeeds in his quest to sleep with Annette, Kathryn will have sex with him. If not, she gets his car.
Since its origin as Pierre Choderlos de Laclos's 1782 novel Les Liaisons Dangereuses, this story has wed suspicion of the idle rich to timeless misogyny. As Kathryn, Zakrin seems to derive genuine pleasure from her machinations, her shock of red hair blowing in the wind as she destroys worlds with her giant voice. She's Adam's own malignant rib, so it's no surprise that the show creators give her Meredith Brooks's 1997 anthem "Bitch."
This isn't really a satirical adaptation: Much of the book is lifted directly from Kumble's screenplay. Nevertheless, humor springs from the smartly curated songs. Just try not to laugh when Kathryn sings Sixpence None the Richer's "Kiss Me" as she tries to convince Cecile to make out with her. A whole catalogue of boy-band songs is given to secret gay lovers Greg McConnell (Brian Muller) and Blaine Tuttle (Alex Boniello, at least delivering some flair to a character whose malice is still as unmotivated as it was in the film). Music teacher Ronald Clifford (a charismatic Matthew Griffin) even teaches Cecile how to play "I Want It That Way" on the piano. The show's creators mash all of these songs up in a medley of misérablian proportions at the end of the first act, a moment that is simultaneously ridiculous and impressive.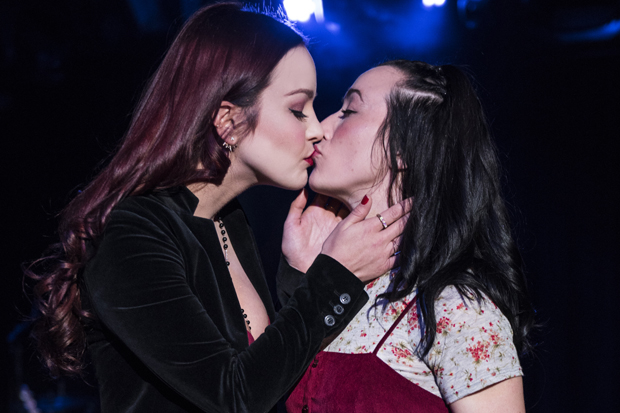 To their credit, the cast interprets these numbers with style and sincerity. Rousouli lends an appealing voice to the mischievous grin he's taken from Ryan Phillippe (who played Sebastian in the film). St. Louis also has a presence that is hilariously reminiscent of Reese Witherspoon, but her pipes are no joke. Even Home Improvement's Patricia Richardson (playing Cecile's mom) delivers a darkly operatic rendition of TLC's "No Scrubs."
Also serving as director, Rosin blocks it all with just four chairs on an empty stage. Jennifer Weber's choreography harks back to '90s music videos, while the band occupies an upstage corner, making this event feel more like a rock concert than a musical. Unfortunately, so does James Kolditz's lighting, which spends a little too much time aimed directly into our eyes. Costume designer Tilly Grimes outfits the cast in simple and essential looks that help to place this piece in context: Sebastian's formfitting shirt and a long black coat make him look like a sexy vampire on a WB drama.
If you're going to see this show, it's really best to surrender to the book's adolescent silliness while enjoying the music. As Zakrin ramped up to sing a reprise of Christina Aguilera's "Genie in a Bottle" at the performance I attended, a fabulous man in the back of the house shouted, "Stop it!", his incredulous delight encapsulating our response to the whole two hours. Between the retro story, the skillfully performed '90s pop, and the mom from Home Improvement, one couldn't ask for much more in the way of millennial nostalgia. This show is stupid good fun.