Ambition and Betrayal Take Center Stage at Shakespeare and Company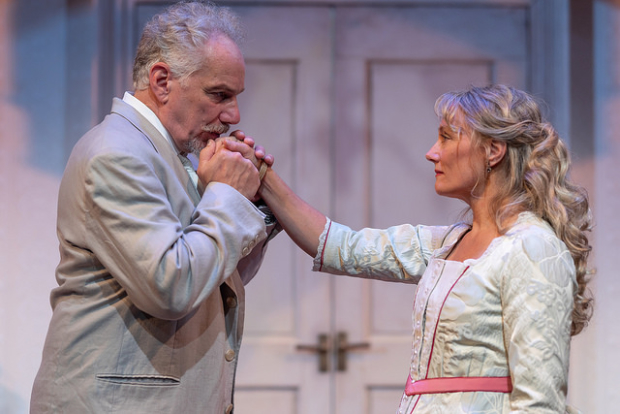 Light fare is not on the menu right now at Shakespeare and Company in the Berkshires. August Strindberg's Creditors, a dark study of romantic relationships, and William Shakespeare's Macbeth, a bloody tale of ambition, are anything but. Yet both are meaty theatrical events that will leave you with a lot to chew on with their timely examinations of greed, revenge, and the pitfalls of unbridled desire.
Creditors, subtly directed by Nicole Ricciardi, has a particular power in this regard with its treatment of the transactional nature of relationships. Strindberg's rarely seen 19th-century drama tells the story of Adolph (Ryan Winkles convincingly portraying an insecure artist), who has married an older woman, Tekla (played by Kristin Wold with conniving flirtatiousness). The young Adolph, head over heels for Tekla, is tormented by the idea that his wife does not love him, so he confides in Gustav (a ruthlessly deceitful Jonathan Epstein), who convinces Adolph to stop being a doormat for Tekla. But when Adolph takes Gustav's advice, a secret is revealed that may end more than Adolph and Tekla's marriage.
Ricciardi directs this 90-minute battle of the sexes like a taut thriller. Strindberg's misogynist tendencies are on display here in the character of Gustav, but his provocative treatment of the free-thinking Tekla, who wears a blazing red petticoat beneath her reserved light-green dress (period-inspired costumes by Deborah Brothers), makes her the play's most compelling character. John McDermott's set, a room with an artist's materials on one side and a dining table on the other, shows us the men in their separate worlds before their lives collide in an unexpected way. Filled with blisteringly astute insights into human psychology and sexual politics, this production of Creditors crackles with suspense and riveting performances.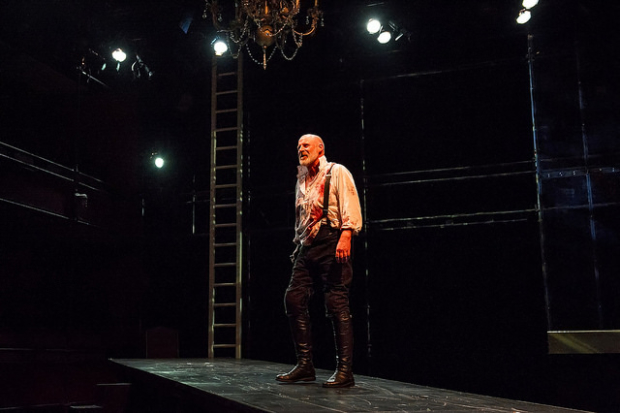 Macbeth also delves into betrayal and the dark corners of the psyche, but in much bloodier ways. Jonathan Croy plays the Scottish warrior who, spurred on by a witch's prophecy (Zoë Laiz as a solitary witch instead of the usual three) and his wife's prodding (Tod Randolph as an impeccably malevolent Lady Macbeth), hacks a bloody path to the throne. Among the talented cast, Nigel Gore stands out for his accomplished ease with the Bard's language in the role of the King Duncan and his knee-slapping humor in the Porter scene.
Director Melia Bensussen doesn't shy away from the play's violence in this slightly pared-down, two-hour production. Blood runs red in the waterfall of Cristina Todesco's darkly colored set, which features a long runway of a stage that serves as a long dining table in the banquet scene. The atmosphere is made grimmer by Dan Kotlowitz's haunting, shadowy lighting, while Brendan F. Doyle's jarring sound design adds to the production's depictions of savage violence. And Olivera Gajic's gorgeous red dress for Lady Macbeth evokes the bloody thoughts hidden behind the queen's beauty.
"How much do we really know about people?" both of these plays seem to ask. While neither work can be considered lighthearted summer entertainment, they're worth a trip to the Berkshires for the animated conversation they're bound to inspire on the drive home.