What Are Broadway's Landlords Doing to Make Sure the Roof Doesn't Collapse During a Performance?
On the evening of December 19, 2013, the ceiling of London's Apollo Theatre caved in on the unsuspecting audience of The Curious Incident of the Dog in the Night-Time, injuring 76 people. The collapse was later blamed on the deterioration of burlap and plaster of Paris ties that were used to lash together the lumber frames holding up the suspended ceiling. The ties had been in place since the theater first opened in 1901.
While most of the theaters on Broadway aren't as old as the Apollo, many are approaching a century of use, naturally leading to questions about their own structural integrity. Could a similar incident happen at a Broadway venue?
"We work with an engineer who does annual inspections of our theaters," said Jennifer Hershey, Vice President of Building Operations at Jujamcyn Theaters, the third largest landlord on Broadway. "If he had been hired for that theater in London, he would have noticed the deterioration." Hershey is in charge of maintaining the theaters' physical health, working with New York City building inspectors and the fire department to make sure that the structures are safe and secure.
"We're obsessively up to code," Hal Goldberg, VP of Theatre Operations, chimed in. Goldberg handles the human aspect of the theaters' daily use (actors, stage hands, ticketholders, ushers). "We work with shows when they first come in, but also annually, to make sure we're remaining diligent."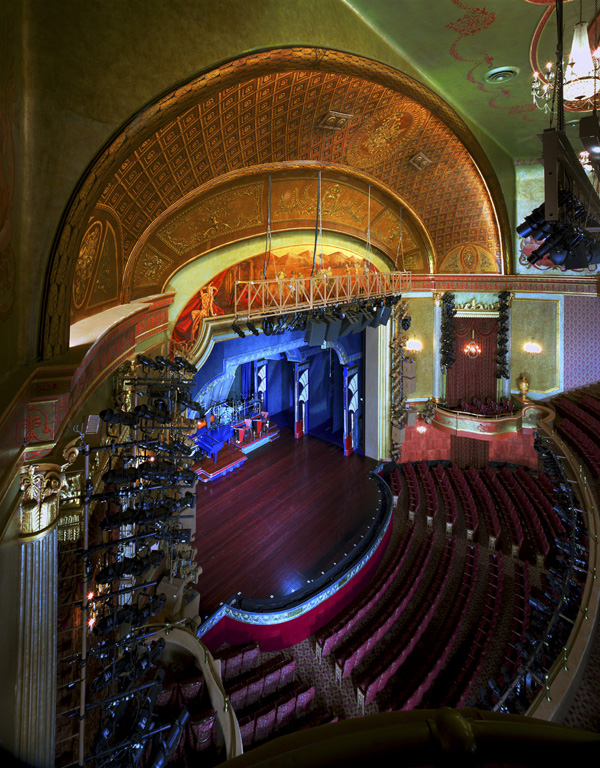 That last part is important because Jujamcyn has long-term tenants in four of their five theaters: The Book of Mormon in the Eugene O'Neill, A Gentleman's Guide to Love and Murder in the Walter Kerr, Kinky Boots in the Al Hirschfeld, and Jersey Boys in the August Wilson. When a theater is occupied by eight performances a week, year-round, for several years, it becomes difficult to schedule repairs — difficult, but not impossible.
"You have to be very clever and find windows of opportunity," Hershey said, elaborating that most building work is done from Sunday evening to Tuesday afternoon (when shows are not performing). Even then, the projects have to be done in sections. For instance, Jujamcyn recently repainted the lobby of the Eugene O'Neill Theatre over several weeks, putting out scaffolding and drop cloths on Sunday evening and taking them away when performances started again on Tuesday. "You just have to leave it in a way so it doesn't look completely unfinished," she explained. Sometimes, however, you have to do it all in one blow.
"Jersey Boys had been running in the August Wilson for some time," Goldberg said. "We decided it was time to change out all the seats to newer, more comfortable seats. We didn't want to do it where audiences came on Tuesday and saw some new seats next to the old ones." So they decided to take a leap and replace them all over the course of three days in January 2012.
"It was a marathon," Hershey exclaimed, sounding exhausted just thinking about it. "We orchestrated it so that, as the seats were coming out, the new ones were going in. There was not one moment where nothing was happening." A large crew worked from Sunday through Tuesday to get the news seats in place. The curtain went up on Jersey Boys Tuesday night with the audience snug in their new seats.
Ensuring that these theaters continue to operate isn't merely a matter of maintaining what is there. Sometimes, it requires a whole new approach to the space. Jujamcyn's theaters all opened in the 1920s, meaning they were designed for a different type of theatergoer, with very different patterns of behavior, especially when it came to women.
"I don't think women drank at the theater back then," Hershey hypothesized about the reason women's restrooms were so small in the theaters' original design. "When I came to Jujamcyn, the women's-room situation was abominable. The Al Hirschfeld (which was the Martin Beck) had only four stalls for women. Four! Meanwhile, the men's room downstairs has fourteen stalls, a smoking bar, a fireplace, and a lounge area." In this age of obsessive hydration, when public drinking by women is no longer frowned upon, something had to be done.
Hershey and her associates swapped the two restrooms, giving the women the larger space downstairs and sending the men upstairs. "They had these dressing tables for women to change their makeup," she said. "That's where we installed the urinals. We reallocated the real estate." They've made similar changes at all their theaters, retrofitting spaces designed in the 1920s to accommodate audiences in the 21st century.
As audiences change, so do artists. "More and more shows are coming out in front of the proscenium," said Goldberg. In response, Jujamcyn performed a major modification on the St. James Theatre's balcony during the lull between Let It Be and Bullets Over Broadway. "We raised the seats a few inches and lowered the front cap [the railing]," he said, explaining that it would improve sightlines for patrons in the balcony.
Extended periods of vacancy in which to make these major improvements are rare on Broadway, especially for Jujamcyn. "That's the greatest mystery of the job: never knowing when those windows are going to be," Hershey said. "Did you think Bullets Over Broadway was going to close so quickly? No! That was the last thing we expected." They've spent the last two months returning the theater to normal in preparation for the revival of Side Show, set to begin an open-ended run November 17.
In the meantime, Hershey and Goldberg are thinking up new ways to improve and maintain Jujamcyn's five theaters, constantly getting price quotes, meeting with engineers, and waiting for the right moment. "We are so good at 'hurry up and wait,'" said Goldberg, "but when it's time to pull the trigger, we're so ready."