John Cameron Mitchell Wants to "F**k Up Broadway" in Hedwig and the Angry Inch
It was the news that set the theater community ablaze: After nearly 17 years, John Cameron Mitchell, who cowrote and originated the role of the internationally ignored transgender rock star Hedwig, would once again don the character's very high and very blond wigs. Only this time it would be on Broadway at the Belasco Theatre in Michael Mayer's Tony-winning revival of Hedwig and the Angry Inch. The production would also reunite Mitchell with his Hedwig cowriter and composer, Stephen Trask.
Mitchell follows in the very sharp stiletto heels of Neil Patrick Harris, who won a Tony for his Hedwig last June, and subsequent replacements Andrew Rannells and Michael C. Hall, as well as the memories that theatergoers have of Mitchell's own legendary performance at the Jane Street Theatre in 1998. (The stilettos are so sharp that Mitchell recently injured his knee and had to perform while wearing a brace.)
Mitchell's return to Hedwig is an emotional homecoming, as the role was his acting swan song before heading into the world of film. But he has no regrets, and he's ready to show Broadway a side of herself she's never seen. In a recent conversation with TheaterMania, Mitchell detailed what it's like to open up his emotional wounds, what Hedwig has taught him, and what our contemporary culture is lacking in terms of Hedwig-style "strange rock-and-rollers."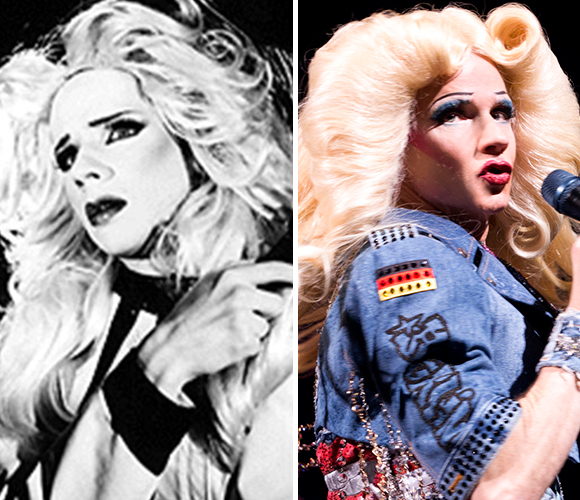 Ever since the Broadway run began, you've said you weren't into playing Hedwig again. What was it that changed your mind?
It wasn't so much that I wasn't going to do it. It just wasn't on my mind. I really do love helping people find their own Hedwig. Neil is such a consummate performer that I wanted to stay out of his way until he got into heels. I would offer jokes and he would run with them and fix them. I added the line "Luther ran off with a bag boy he met on Christian Mingle" and Neil extended it to "or whatever we called it back then. Church." Then it was like, "Hmmm, it might be kind of powerful to revisit it." It was already teed up in a way, with Michael leaving. I might never do it again.
What did you do to prepare, physically and emotionally?
From the summer, I started doing Pilates to get my body going again. I studied meditation knowing it would be a huge new calming skill. The emotional readiness is difficult, bringing up touchstones of when I wrote it and what has happened since. Vocally, I was terrified, but Liz Caplan, who is THE Hedwig vocal architect, broke up the rock and found my voice underneath and made it stronger even than it was then. I burst into tears in her office a lot. She said, "This is all opening your heart in a physical way and an emotional way. You're doing it for a reason. You're not proving anything to anyone but perhaps you need to break up some scar tissue in your life." And I certainly am. I'm excited to see what happens and if I can propel myself in a new direction personally and artistically. People say I look younger than ever.
Do you think you do?
Getting the blood moving through your body does do wonders for your complexion. I feel it in my body much different than I did in the old days. All the little aches and pains I didn't have back then. [Back then] I was exhausted and didn't know about nutrition. All of the Hedwigs told me it gets easier and easier. I did it for a year and it didn't get easier. It got harder.
How does your 2015 Hedwig differ from your 1998 Hedwig?
She's aware of death more than she was when she was younger. The connection to Yitzhak is richer. It was more of an S&M thing before and now there's a possibility of a real relationship, albeit an abusive one, but also one with tenderness and sexuality. That's something I learned from doing the film with Miriam [Shor] and I wanted to bring it to the show more. There's definitely more of a— I have nothing to lose. I don't have to prove myself. There's a fun and freedom that allows me to access different parts of myself a little more than the last time. But also, being on Broadway, I kind of want to f**k up Broadway a bit more. I want to mess it up. Chaos is the natural state and theater tries to make sense of it, but it's got to be a little messy to be believable.
Are the late-night shows helping to capture that vibe?
The audience is a little louder, a little drunker. It makes for an unpredictable show. We're initiating a Friday late-night show, which isn't a Broadway thing at all. It's easier to do a second show after the first because you're tired, but you're completely warmed up.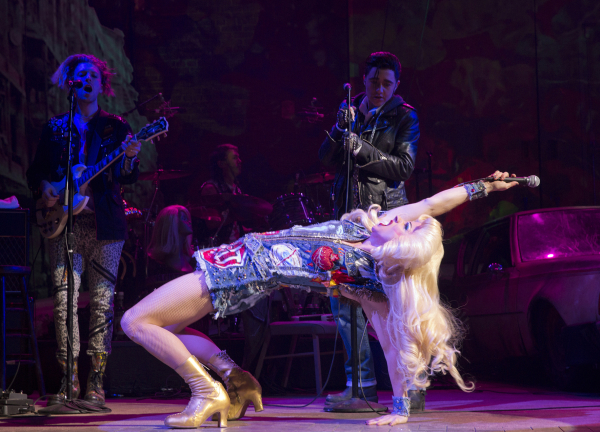 A friend who waited at the stage door recently said you came out bearing Sugar Daddy candies for the stage-door fans. Tell me about that.
I love a deal, so I went online and was like, "Ooh, I can do it wholesale. They're ten cents a piece." [laughs] I wanted to touch flesh rather than just do the traditional signing a program or taking a selfie. It's a trick-or-treat situation. And also I can speak less. I can barely speak after the show.
What has being involved with Hedwig and the Angry Inch taught you over the past twenty years?
The best experience I'll ever have is my continuing relationship with the role. It afforded me to meet tens of thousands of people, all of whom are quite unusual and valuable. Even just the amount of sex I've had because of Hedwig is incalculable. [laughs] It's a great gift, but it's a gift that I gave myself, and that Steven and I gave each other. It reminds me what to say to young people who are terrified about their career and their calling cards. Nothing is a calling card. Everything is what you do. If you do it in order to get somewhere else, you're not actually doing it. If you're thinking, "What is the weird thing I want to make with my friends?," money and other things will come later. I'm wondering, in this age of YouTube, where are the new weirdos making something completely different? If one percent of everyone is fascinating and weird, probability dictates that there should be more weirdos on YouTube.
Who are the strange rock-and-rollers of today?
I know people who work on that ancient form called the stage who are brilliant. Bridget Everett, Lady Rizzo, Justin Bond, certainly Taylor Mac. There are people like that all over the world making strong performance pieces. It's almost a revolutionary act to get people away from their screens. We're feeding a bit of this hunger with Hedwig. People are thrilled to be in a group rocking out. Maybe people lost a bit of that when they grew up.
Do you have any personal goals for this run before you finish?
My goal is to crowd-surf in the Belasco before this run is over. I've got to get a few people starting it out. Strong people.