Scandal's Katie Lowes and Husband Adam Shapiro Realize Just How Dawn-and-Ogie They Are
Katie Lowes and Adam Shapiro have two jobs at the moment: Getting (re)married eight times a week as
Waitress
's newest Dawn and Ogie, and giving every friend, colleague, and distant relative a late-night backstage tour like a Broadway safari.
After seven seasons as Quinn Perkins on the Shonda Rhimes series Scandal, Lowes is hardwired for workdays that begin at 5am, while Shapiro, also a film and TV actor, happens to jell with the hours of a night owl. Regardless, skipping the postshow festivities is not an option for the West Coast couple who, within a matter of days, relocated themselves, their 10-month-old, and their nanny to New York to make their double Broadway debut happen.
"We have the entire eastern seaboard coming to see us as Dawn and Ogie," said Lowes. "Our family has always wanted us to do Broadway, and they can't believe it's happening."
A graduate of NYU Tisch, Lowes started her career in New York theater before making what she said would be a three-month move to Los Angeles for a pilot season.
"And then you met a boy," said Shapiro as the two reminisced over a donut at an Upper East Side coffee shop. "I introduced her to the city I loved and she introduced me to all the theater people."
Yes, theater people. They exist on the West Coast too, and Lowes corralled all of the great ones she could find to create the now-10-year-old IAMA Theatre Company.
Their long-term goal: Make LA a thriving hub of regional theater. Their short-term goal: Savor every crumb of this once-in-a-lifetime Broadway pie.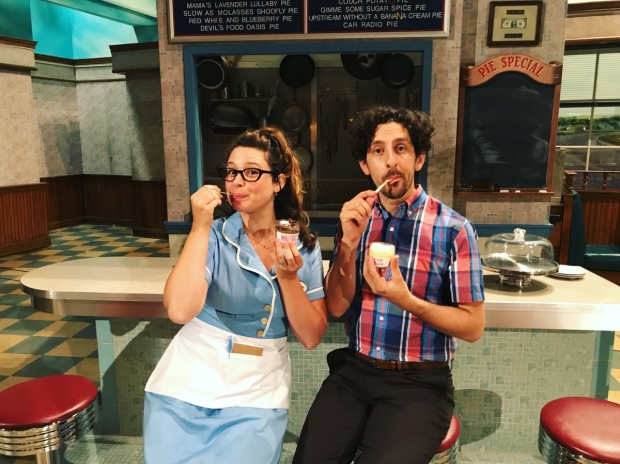 How did this opportunity to make your joint Broadway debuts in Waitress present itself?
Adam Shapiro: I've known Sara Bareilles since I moved to LA 16 years ago. She had the idea of us playing Dawn and Ogie and texted us: "What if you guys did your Broadway debuts together in Waitress?"
Katie Lowes: We auditioned separately, but we ended up both getting it, which made it better for our whole family because four days later we told our nanny we were moving to New York, a day after that we were on a plane, and nine days after that we opened on Broadway.
Adam: I got my equity card yesterday.
Is that true?!
Katie: Isn't that insane? I remember when we were auditioning, I was like "should we tell them that you're not even in f*cking equity?" Then I thought, let's just not say anything.
How were those nine days of preparation before you opened?
Katie: It was the hardest thing I've ever done. I haven't been in a musical since high school, so I didn't know if I could physically do it. I never sang this many days in a row so I didn't know if my voice was going to be there. And you're actually waitressing for two hours, so it's about ketchups and mustards and coffees and busing tables and dropping off checks and bringing in this pie cart. I was horrified I was going to mess it up.
Adam: I didn't care about any of that. I was like, "I'm doing this no matter what." We had seen Waitress four times before we were in it. We're not just jumping into a random musical. This is our favorite musical.
In all the times you saw the show, did you ever picture yourselves as Dawn and Ogie?
Katie: No!!!
Adam: I remember when Sara texted us about Waitress, I thought she meant we were going to play Dr. Pomatter and Jenna.
Katie: What?! I definitely did not.
Adam: When she said, "No, as Dawn and Ogie," I was like, "Oh my god, I never even thought about that." But now that I'm playing Ogie, I'm like, of course I'm Ogie! People come up to us after the show and say, "You guys are so Dawn and Ogie."
Do you take that as a compliment?
Katie: Yes! They're our favorite characters in the show! I think we didn't see ourselves because we saw Caitlin Houlahan and Chris Fitzgerald do it so many times and they steal the show for us.
Adam: Once we got over the hump of oh my god these are hard acts to follow, it was actually easier than I thought it would be to find ourselves in these roles. Now I think I actually have a lot of Ogie in me.
Katie: I have so much of Dawn in me too.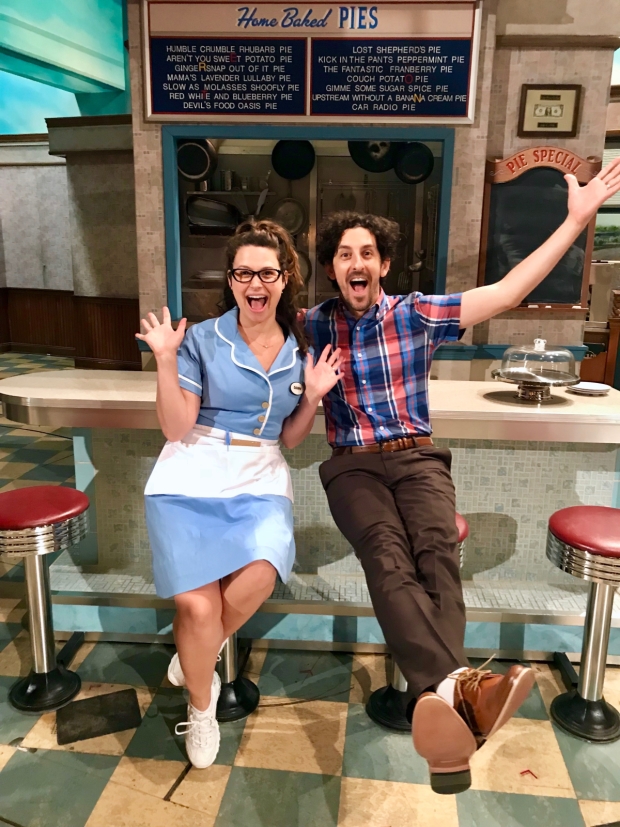 What are your most Dawn and Ogie traits?
Katie: Dawn feels the best when she's super organized and everything has its place — I really like when sh*t's organized. She's really good at waitressing — and I was a freaking great waitress. I think she's also a really loyal friend to Jenna and Becky, and I'd like to think I'm a good friend.
Adam: I become obsessed with things — like one soundtrack or one sports player.
Katie: That's so Ogie.
Adam: That is so Ogie. He's obsessed with clogging, he's obsessed with the Revolutionary War, he's obsessed with Dawn, he's obsessed with Pavarotti. For me, Pavarotti is LeBron James.
Even though you've both been working primarily in film and television, you've been running your own theater company (IAMA Theatre Company) in LA for the past 10 years. Has that experience made this transition any easier?
Katie: What's been so helpful about us doing small theater for the last 10 years is, at the end of the day, there are still a lot of things about Broadway that are like what we do in LA. The props backstage are on a prop table with masking tape and it looks exactly the same as the crappy theater that we're renting in LA.
Adam: We just had to get over the mental obstacle of "This is Broadway." We hold Broadway in such high esteem that just to come to grips with the fact that we were really going to be on Broadway — that was the hardest part for me.
How did you end up starting a theater company in a film and TV town?
Katie: I went out there and all my NYU friends — we were theater nerds. We knew how to take 50 bucks and rent a theater for a night and put up something. So we did that.
Adam: We had just started dating when they thought of the idea of putting up a show, and I said, "Oh, I'll make a website for you so you can sell tickets." I ended up being in the show and then that show was the thing that ended up leading to IAMA.
How does it feel to be back in New York doing theater again?
Katie: It's been such a blast. My brother came last night — my brother, who I have dragged to every performance since I was 3 years old. I could barely sing "Opening Up" because I was so emotional that he was in the audience. Our IAMA Theatre Company members are flying in to come see us, Shonda Rhimes came…
Adam: She wrote on Instagram that she was a proud mama.
Katie: The hardest thing for me is the late nights. People are going to the gym between matinees on Saturdays and Wednesdays and I'm like are you kidding? How do I get to a nap fast enough?
.@WaitressMusical was great, fun, and touching. @KatieQLowes and @adamshapiro are both fantastic. I was a proud mama. pic.twitter.com/Pa3JKxhDT2
— shonda rhimes (@shondarhimes) August 1, 2018