From Understudies to Stars: Nathaniel Stampley and Alicia Hall Moran Take The Gershwins' Porgy & Bess on the Road
When Alicia Hall Moran and Nathaniel Stampley were cast in Diane Paulus' Tony Award-winning production of The Gershwins' Porgy & Bess, they had the most intimidating of assignments: understudying the leads. That gig is frightening to begin with, but when the actors you're covering are Audra McDonald, who would go on to win her fifth Tony Award for playing Bess, and Norm Lewis, who received his first Tony nomination in the midst of a career that featured roles like Sweeney Todd and Javert, it's even scarier.
It's been a year since this musical, adapted by Suzan-Lori Parks and Diedre Murray, from the classic opera by George & Ira Gershwin, DuBose & Dorothy Heyward, closed at the Richard Rodgers Theatre. But with many Broadway performances under their belt, Moran and Stampley are gearing up to lead the show's first national tour, which begins November 10 at San Francisco's Golden Gate Theatre. The tour will touch down in a number of historic theaters, including Washington D.C.'s National Theatre, where the show made a bit of theatrical history in 1936 when the very first road company refused to play there unless the theater was integrated.
Prior to their departure for the Bay Area, TheaterMania chatted with the pair about performing these iconic roles for the first time, the locations in America they're most excited to play, and how to dispel the controversy that greeted the production's Broadway premiere.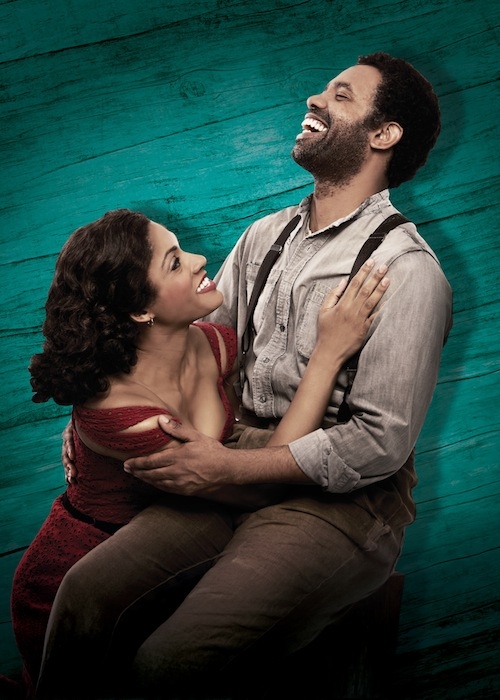 Do you remember your first time going on in the roles of Bess and Porgy?
Alicia Hall Moran: Ohhhh, yes, I do. It was a two-show [day] on December 26. A preview. So you're having Christmas, you're in Broadway previews understudying Audra McDonald, and everyone at dinner is toasting to your success and your year, and the next morning, [you get a message saying] "You'll probably be on." And an hour later, "You're on." I just felt very alive. Reading that text…Everything [I'd] worked towards, everything [I've] dreamed about, was going to come into play. I had gone on for [Audra] in Cambridge, but that was scheduled. That was very helpful, [knowing] that I was going to sing Bess during three shows. I never had the courage to ask if that was some kind of a test.
Nathaniel Stampley: I played [the role of] Robbins [on Broadway], so I was on every night. The first time I went on [for Norm Lewis]…We were close to show time and all of a sudden, I got a call down to stage management and they [told me I was going to go on]. Later, we found out [Norm Lewis] was stuck on the train. I was in my Robbins clothes warming up, ready to go, and I said, "Oh my gosh, this is it." I just remember the rush of going on. I got to lean back and rely on the cast; they got me through the show. I felt like I wasn't fully ready, but in your head, are you ever really ready? It happened so fast, and that's the best way for it to happen. It wasn't until we were close to intermission that I told one of the stage managers, "Oh my god, call my wife, tell her I'm on, and I'll tell her about it when I get home."
Alicia Hall Moran: A few weeks ago, I was performing at the Gardener Museum in Boston, where I am an artist-in-residence, and a man came up to me at the end and said, "You know, I have waited to see you in a performance again. I was in New York City with my wife and we saw you and you were fabulous." I said, "You know, that was my first Bess." And we took a picture together.
There was a bit of controversy when the show initially opened on Broadway because of the so-called "musical theater-ization" of this opera. What do you say to that?
Nathaniel Stampley: You have this incredible opera that's going to be done until the end of time. The Gershwin estate was very mindful of…how do we reach this next generation that really doesn't have any interaction with Porgy and Bess besides "Summertime," the most recorded song in history? So how do we do that? We bring in great theater people: Suzan-Lori Parks, Diane…How do we tell this story in a way that younger audiences are going to appreciate, and not get turned off by the length or aspects of the opera that are a bit foreign if you're not raised in that culture. They stripped away some of those things and we get the essence of what Porgy and Bess is: a love story.
Alicia Hall Moran: Nothing great ever suffers from more intelligence and more thoughtful care and handling as it goes through the course of its life. That's how I've always looked at art and artists and great work.
What tour stop are you most excited for?
Alicia Hall Moran: The National [in Washington D.C.], because of its history. To get to The National, I think we were all dreaming of being able to do that some day. That [Jeffrey Richards] and the producers got it to happen is historical for all of us. We've heard that story from Diane Paulus for three years. Oh, my goodness; I couldn't be more excited.
Nathaniel Stampley: It's funny, I feel like it's the first city. It's San Francisco. It sets the precedent for the rest of our travel days. I'm really excited about DC. Playing the National and the history of the National with our show? That's like a dream. But initially, it's the start. You start right, you'll end right. I jokingly say we've already been on tour; we've been to Cambridge and New York, so now we're on to the rest of the country.