Carey Mulligan Confronts Toxic Masculinity in Girls & Boys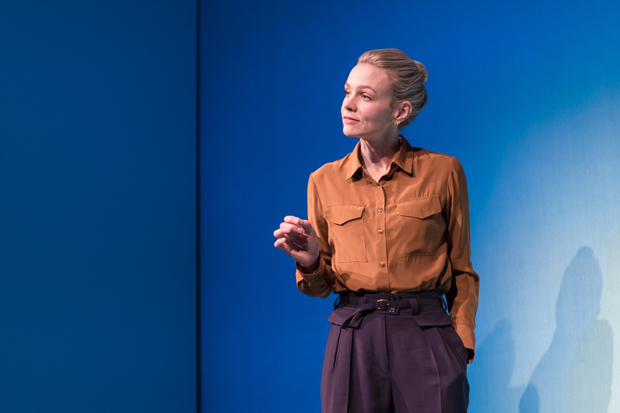 Carey Mulligan stands in the center of an empty stage, wearing a copper blouse and eggplant-colored pants. With a slight glint in her eye, she delivers an opening line that could also serve as an omen: "I met my husband in the queue to board an Easyjet flight and I have to say I took an instant dislike to the man."
Mulligan delivers this line — and many, many others — with the sharp, self-deprecating nature of a standup comedian. Much of Dennis Kelly's Girls & Boys, now running at the Minetta Lane Theatre, is written like that, and if you've seen any of Mulligan's past performances on stage or screen — soulful, dark, and introspective — you'd be surprised to see how adept she is at making a roomful of people cackle over and over.
Girls & Boys, which premiered at London's Royal Court Theatre this past winter and is presented in New York by Audible, is a comedy. Until it's not. In his past works, and even in his Tony-winning book for Matilda, Kelly has become known in England for exploring the nature of violence, and this play, as it turns out, is no different. But it's Mulligan's disarming performance, at once hilarious and absolutely tragic, that makes the events that take place so shocking.
Much of Girls & Boys is the story of how Mulligan's character, simply called "Woman," met and married her husband, found a surprising career that eventually eclipsed his, and sustained the resulting strain that took on the connection they have with each other and their two young children, Leanne and Danny. Interspersed with relationship-charting monologues that grow from downright hilarious to wildly unsettling, there are short scenes where Woman interacts with her kids, playing with them at home, unintentionally losing one at the mall.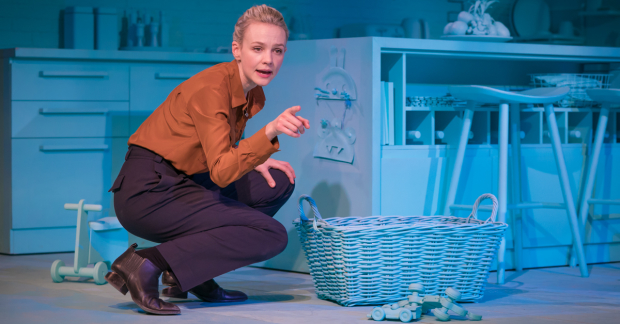 There are no children, though, just Woman alone. Girls & Boys is a memory play, and Lyndsey Turner's production is awash with them. Woman is traveling through the recesses of her mind, and Es Devlin's set accentuates that point with three sky-blue walls that eventually transform into a similarly colored living room. Oliver Fenwick's lighting adds to the theoretical haziness: Woman has remembered this story over and over, but each time, it gets a little bit foggier.
Mulligan herself hits that point quite perfectly. Woman chooses her words with clinical precision, as if she's had them memorized for years, but each time she says them, they get heavier, more distant. It's an extremely funny performance, but even as she hits punch lines as though she's secretly been a comic for years, there's a lot going on behind her eyes, adding even more depth to the play's darker, more surprising second half. It's just amazing to see the full breadth of her skill set as a performer in such an intimate way.
From a technical perspective, Turner has directed Mulligan to be extremely generous with her stage time, and Mulligan uses the whole audience, orchestra, and balcony as her counterparts. Everyone will feel the intimacy, tension, sadness, and anger, and it makes us all culpable in her story.
Not all of Girls & Boys works in Woman's limited perspective ("I am, of course, giving you one side. My side…That's what happens when you have just one person talking," she says), but Mulligan is so enthralling that we feel like we've gotten to know all of her, and as much of the story as we really need. The standing ovation is well-earned.