Actors Without Borders: How Belarus Free Theatre Is Defiantly Going Global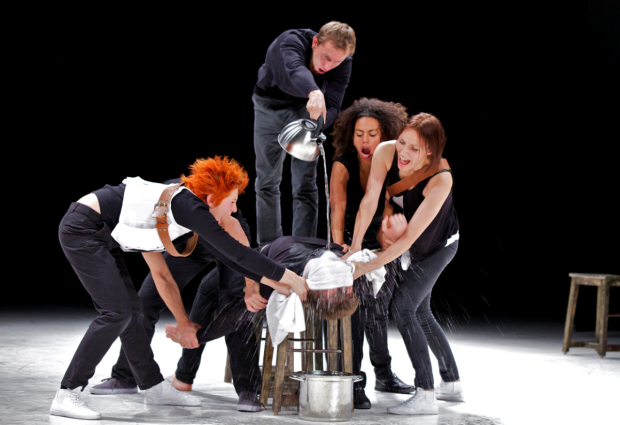 The last time Natalia Kaliada came to La MaMa, she had to be smuggled there out of her home country. Along with her husband Nicolai Khalezin and director Vladimir Shcherban, Kaliada is one of the founders of Belarus Free Theatre, an underground troupe of performers operating under one of the most repressive regimes on earth. Their latest work to play La MaMa's Ellen Stewart Theater, Trash Cuisine, offers an international look at capital punishment. As with their 2011 appearance at the Under the Radar Festival, it features eight performers who have also had to sneak out of Belarus to get here.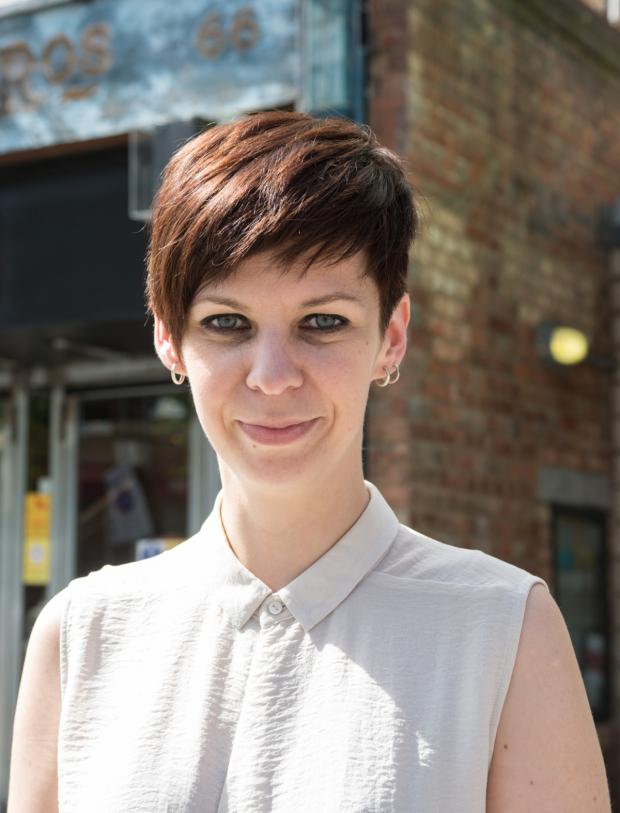 Kaliada describes how, in the early days of 2011, the Public Theater arranged new plane tickets from Moscow for her and members of the company without canceling their original tickets from Minsk. "The K.G.B. thought that we were leaving from Minsk on a particular day," she says, "but by that time they came to intercept us at the airport we had already been in New York for three days."
Yes, that's right: The K.G.B. When the Iron Curtain fell in 1989, it reconstructed around Belarus, which retains many of its Soviet-era agencies. According to the CIA World Factbook, about 80 percent of Belarusian industry is still state-owned. Since 1994, the country has been presided over by one man: Alexander Lukashenko, who is often described as "the last dictator in Europe." Because the Free Theatre does not operate under the auspices of the government, their performances (held in secret locations around Minsk) are regularly raided by the K.G.B.
In addition to creating unsanctioned art, members of the Free Theatre were targeted by the K.G.B. for their participation in anti-Lukashenko protests following the 2010 Presidential contest, in which the incumbent won 79.67 percent of the vote in what has been condemned by international monitors as a rigged election. Several members of the company, including Kaliada, were arrested that December, right before they were scheduled to perform at La MaMa as part of Under the Radar.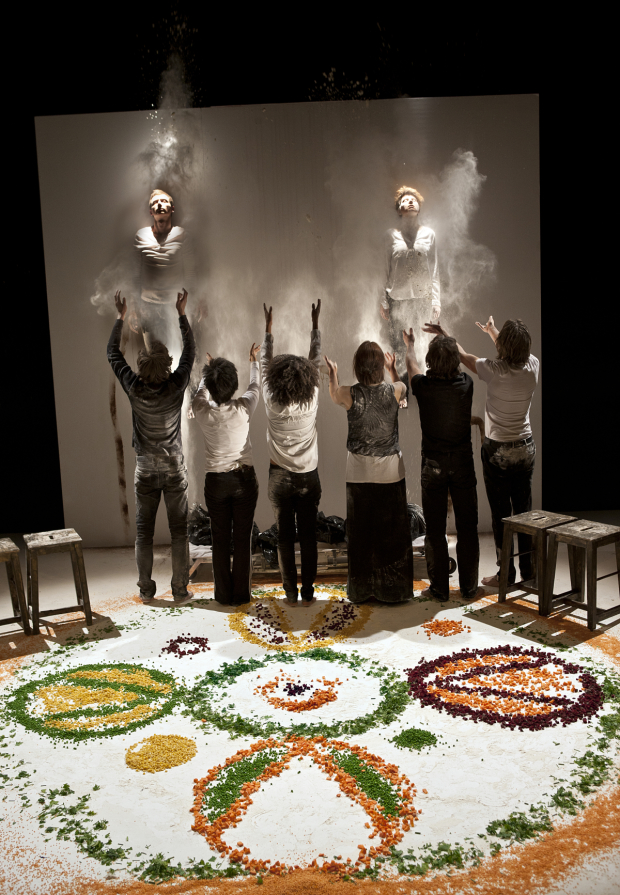 "The only reason we left was to perform at Under the Radar," Kaliada maintains. She was released from detention due to a clerical error that allowed her to slip across the Russian border and onto a New York-bound flight. "It was an absolutely unique moment of solidarity within the theater community," she recalls, describing the support that she and the company received upon their arrival in New York.
Kaliada, Khalezin, and Shcherban now live in the U.K., where they received political asylum in 2011. All three face lengthy prison sentences if they return to Belarus. Although blacklisted, the majority of the company did return to Minsk, where they continue to perform weekly. That doesn't mean the three founders are out of the picture. They create work via Skype with the company in Belarus, meeting them in person for their frequent performances abroad.
"Performances here go to pay for performances there," Kaliada explains. "Four weeks ago we organized the first festival of underground political theater in Belarus. We brought a Moscow company that was closed by the Russian government in December. We want to send a very strong message to authorities everywhere: If you're afraid of us on the surface where you can see what we do, be ready for us to go underground where we're much bigger."
That spirit of resistance has led Belarus Free Theatre to create Trash Cuisine, a project with a truly global outlook. "We traveled extensively in Asia and Africa trying to understand the limits of violence that human beings do to each other," Kaliada said. "After we went to Rwanda, we understood that there are no limits." Trash Cuisine has also been informed by the fact that Belarus is the last country in Europe with the death penalty. The show, which was a hit at the 2013 Edinburgh Fringe Festival, uses various national cuisines in order to explicate local flavors of violence. Kaliada incredulously asks, "If the government shows the people of a particular country that they can kill, why shouldn't I, as a citizen, kill someone if the government says it's OK?"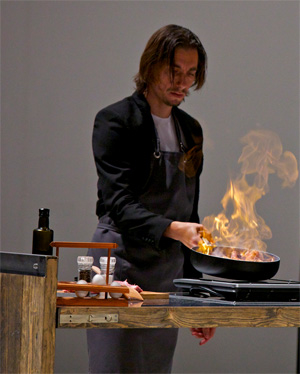 Of course, it hasn't been lost on Kaliada that Belarus Free Theatre is bringing their play about the horrors of capital punishment to a country that still regularly practices it. So far 13 people have been executed in the United States in 2015, including Andre Cole on April 14 (Missouri) and Manuel Garza on April 15 (Texas). A federal jury is presently considering a death sentence for Dzhokhar Tsarnaev, the Boston Marathon bomber. "In a dictatorship, everything is very straightforward," Kaliada explains. One can draw a straight line between every policy and the will of a strongman like Lukashenko. "Under democracy, life is more heterogeneous. It's complicated to identify straight away what the problem is."
In the case of the United States, the continued use of the death penalty is certainly related to high levels of public support. According to a recent poll from the Pew Research Center, 56 percent of Americans support the death penalty for convicted murderers. While this has fallen dramatically from a peak of 78 percent in the mid-90s, it is still far above the 38 percent who categorically reject capital punishment.
Kaliada hopes that Trash Cuisine will help contribute to a conversation about capital punishment in the United States. "La MaMa is the bravest theater in the United States," she asserts. "Many artistic directors from other theaters loved the show when they saw it in Edinburgh, but when they went back to their boards they found it was not possible to bring it." For many American theaters, it isn't financially viable to smuggle dissident artists out of Belarus just to perform a play that risks alienating a large chunk of audiences.
But the Belarus Free Theatre will not be deterred. "We find it very interesting that different societies have different borders and limits," Kaliada explains. "We feel that in order for us to continue to survive as a company we need to ignore those boundaries and continue to do what we do, otherwise we will be irrelevant. It really doesn't matter where we are, we will continue to challenge the status quo." For Belarus Free Theatre borders are no longer just a matter of passports and checkpoints, but social taboos, financial barriers, and cultural biases in every part of the world.
Click below to see a trailer of Trash Cuisine from Belarus Free Theatre: