Turning, Turning: Beowulf Boritt on Act One and the Revolutionary Trends Rocking the World of Set Design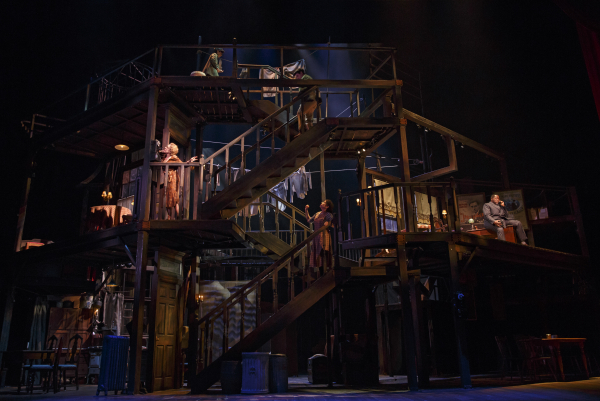 It's big, it spins, and it's nominated for a Tony Award. Or, more accurately, set designer Beowulf Boritt is nominated for his work on James Lapine's Act One. It's his second nomination, after The Scottsboro Boys in 2011. It's also one of the hugest projects of his career.
Act One is based on the memoir by 20th-century American playwright Moss Hart. It follows Hart's journey out of a dingy, overcrowded tenement to the bright lights of Broadway. To create the world of New York City in the 1920s and '30s, Boritt built a gigantic three-story rotating set. Fancy hotels abut tenements and theaters in a seemingly random nature, much like the city itself. As the set turns, street scenes fly past the audience, re-creating this bygone era.
Curiously enough, two of the three other sets nominated for a Tony in the Best Scenic Design of a Play category are also rotating: Machinal and The Cripple of Inishmaan. TheaterMania asked Boritt if this was a trend in scenic design. We also asked about the innovations changing his line of work, including 3-D printing, which The Economist predicted in 2011 would usher in the next industrial revolution. Will it represent a turning point for Broadway as well?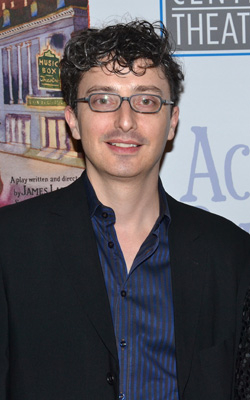 Is this the biggest thing you ever designed?
It's certainly the biggest physical set I've ever put on stage. Lincoln Center is saying it's the biggest turntable ever on Broadway, which, for all I know, is true. It's nearly sixty feet in diameter, which wouldn't fit in most Broadway theaters. It weighs about one hundred thousand pounds.
What was your budget?
Half a million dollars, which is a lot of money, but honestly, for something like this, it's not a lot. It was drawn up and ready to go to a shop nine months ago. That actually saved us a lot of money. Almost always for Broadway shows, you find out your theater two or three months out. The set build has to be really fast. Since we knew our theater nine months out, we could spend time sourcing materials and finding the cheapest options. If we had to do this set on a normal Broadway schedule, it would have been three quarters of a million. We got some huge savings by doing everything early.
When did you realize it needed to rotate?
I knew from the beginning the play had a lot of locations and scenes that needed to move really fast. Since it was a play about the theater, I thought, Let's do an empty theater set. The actors could bring in props for each scene: a desk, a chair, whatever…But frankly, I've done that set a lot of times, and we've all seen it. It works, but it's not so different. I had this nagging feeling for weeks that my set wasn't as good as it could be. So at five o'clock the day before my meeting with [playwright/director] James Lapine, it clicked, and I knew I had to do this set. I stayed up all night to build a very rough model of the set you see today.
We've come to expect set pieces rolling on and off from either side of the stage on Broadway. However, three of the four sets nominated for the Tony for Best Scenic Design of a Play are rotating. Is this a trend in scenic design?
Apparently. I've always been attracted to rotating stages. I did a turntable in Chaplin. I like the way it looks. Also, a huge part of the set designer's job on a Broadway show is trying to figure out how you're going to stack the set offstage, because there's never any wing space. The audience doesn't see that part of it, and it's a huge engineering feat. When you can put the engineering onstage, however, it's much showier.
That's the advantage of this set, but what was the biggest challenge?
The scale of it. It was exhausting. Just finding all the props and furniture pieces took a lot of energy. A lot of the furniture came out of the Lincoln Center stock and the stock of every other not-for-profit in the city, frankly. We had everything staged downstairs in the rehearsal room. John Lee Beatty, who was designing The City of Conversation in the Mitzi Newhouse, walked by and said, "How many shows is that for?" He was just looking at our props and furniture for the first act.
There have been huge technological changes in lighting, sound, and especially projections in just the last decade. Have there been similar innovations in the set design?
The innovations that are really affecting what I do are in digital printing and 3-D printing. All of the backdrops in this show are printed. It's to save money. I love having a scenic painter add their level of artistry to a set, but it costs more money. All of the drops in Act One are things that I painted on a small scale. We got a really good scan of them and then printed onto canvas. When they come back, I'm always a little jarred because I'm used to someone else's hand being part of it. A really good scene shop will add a level of artistic flair to something that will make your design better. It's like a symphony.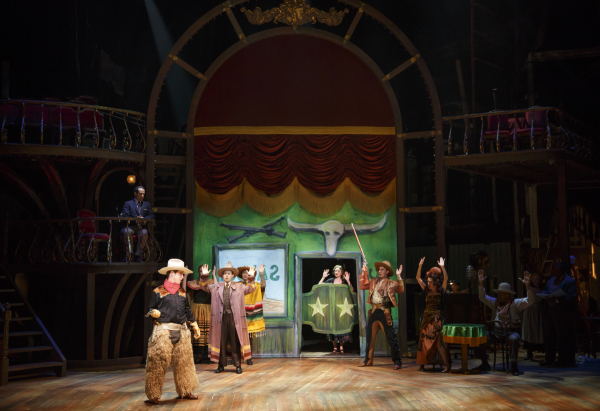 So has the advent of digital printing made your job less collaborative?
That aspect is a little sad. I get exactly what I designed, which is OK. I just have to be really happy with what I did. I asked a guy in one of the shops the other day how long it would be before we're just printing scenery. He thinks it will be about ten years before an industrial-scale 3-D printer is financially viable for the theater. (They already exist in other industries.) Of course, there will be advantages. There will be things you can make that you can't make now.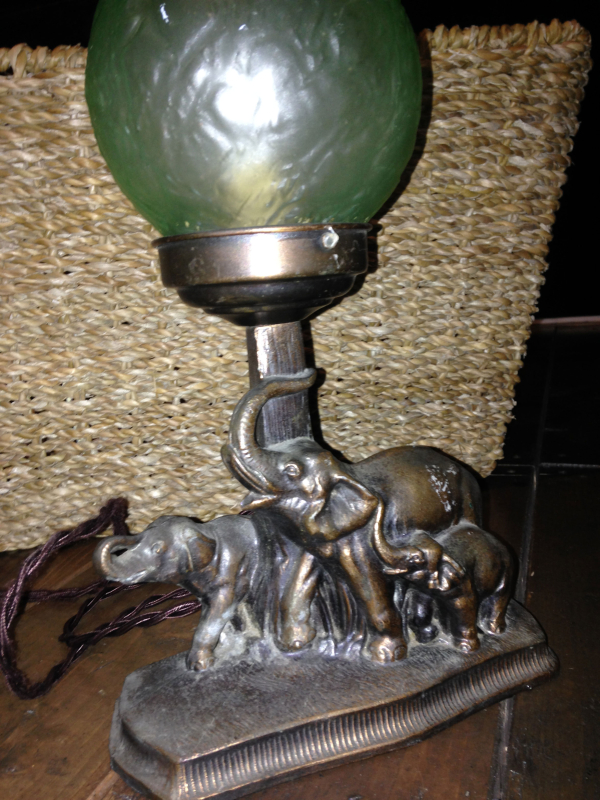 There are so many little details on the set for Act One. What is your favorite?
On Sam Harris' desk there's a green lamp with an elephant at the base of it that came from the Lincoln Center stock. I think it had been used in Nikolai and the Others. I love it for two reasons: As a little kid I loved elephants and I always try to put an elephant on my sets. Also, in my own experience in the theater, Hal Prince was the great and powerful producer whose office I visited when I first came to New York, much the way Moss Hart went to Sam Harris' office to ask for his first job. Hal used to have an elephant on his desk. I think it was the inspiration for the elephant in Phantom of the Opera. That little bit of resonance is part of the reason why I put that lamp there.
Click below to see a time-lapse video of the construction of the set for Act One: