Trying to Save the Ginger Gene in R.R.R.E.D.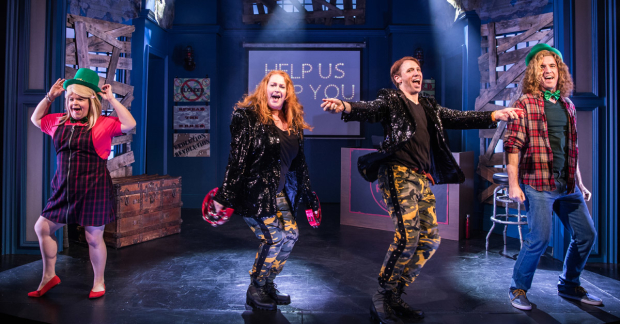 R.R.R.E.D. — A Secret Musical at the DR2 Theatre is the musical-theater equivalent of those old Sarah McLachlan commercials for the ASPCA. You know those ads, with the heartbreaking images of abused dogs and cats, the dulcet tones of "In the Arms of the Angel" playing in the background, and title cards with phrases like "Every day in America, thousands of animals suffer from cruelty and neglect." Now replace those images of household pets with redheads and lose any element of sincerity. That's the show.
Over the course of 85 minutes that vacillate between dead seriousness and unfunny camp, R.R.R.E.D. — with a score by Katie Thompson, who also stars, and a book by Thompson, Adam Jackman, and Patrick Livingston — follows what happens when two people take it upon themselves to save the soon-to-be extinct recessive gene that causes their hair color.
Victoria (Thompson) and GJ (Matt Loehr) run what's ostensibly a pyramid scheme out of a bunker where all the doors and windows are boarded up. It's called the Real Redheaded Revolutionary Evolutionary Defiance. Their goal is to convert attendees to their plan to save redheadedness, while making money in the process.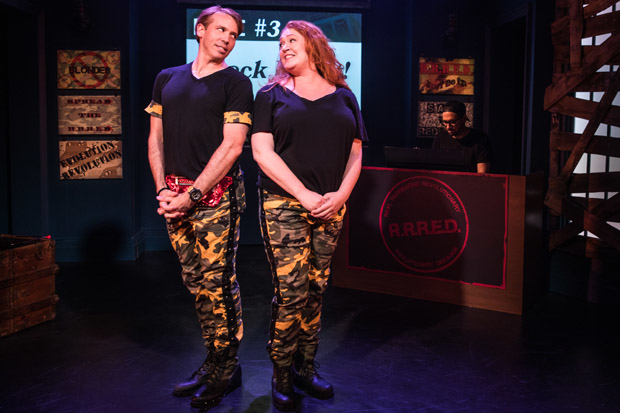 There isn't much plot, and what is there is hard to follow. Victoria has it out for "The Many," a catchall name for nonredheads. But "The Many," they willingly acknowledge, aren't responsible for the eventual destruction of red hair; science is. So it's up to them to save the gingers, and the only way to do that is through procreation. In short, R.R.R.E.D. is one mediocre sex joke stretched beyond the point of no return.
Director Andy Sandberg and choreographer Shea Sullivan have also staged the musical Neurosis, which runs in rep with R.R.R.E.D. But they seem to have forgotten about the latter entirely, creating a sloppy environment from top to bottom. Sullivan's dance steps are rudimentary; the cast members run amok and are in desperate need of pulling back; the set is flimsy; the wigs are unfortunate; and with a single keyboard player, the evening feels like bad cabaret.
Only one moment comes close to saving the production, a nightly guest appearance from a different Broadway star. During a recent performance, it was Nic Rouleau, late of The Book of Mormon and soon to play Cornelius in the Hello, Dolly! tour. It's only in this sequence that the show finally figures out what it wants to be. Or maybe it's just that Rouleau instinctively knew how to underplay the material in order to make it truly surprising and funny. In any case, it was too little, too late.