Titanic the Musical Is Coming to Movie Theaters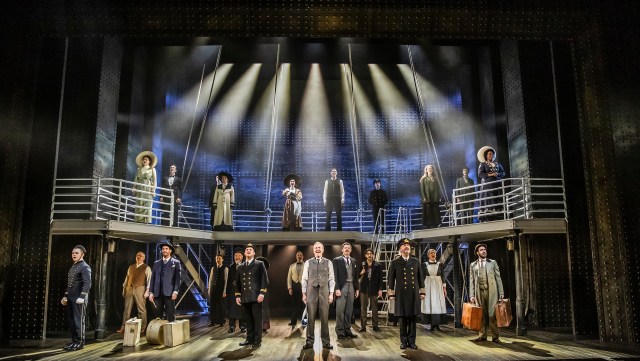 Fathom Events and BY Experience will present a live stage capture of Titanic the Musical to be screened at more than 700 movie theaters nationwide on November 4 and 8. The film, which celebrates the 26th anniversary of the Broadway production and the 10th anniversary of the London premiere, was captured from a UK production that premiered at Southwark Playhouse in July 2013 and has played in Toronto and on two UK and international tours.
The musical, based on the true story of the RMS Titanic that sunk on its maiden voyage in 1912, originally opened in 1997 and won the Tony for Best Musical. The score is by Maury Yeston and the book is by Peter Stone.
The cast for the filmed production includes Martin Allanson, Valda Aviks, Graham Bickley, Sam Brown, James Darch, David Delve, Adam Filipe, Emily George, Luke Harley, Emma Harrold, Alastair Hill, Abi Hudson, Barnaby Hughes, Paul Kemble, Niamh Long, Matthew McDonald, Ian McLarnon, Danny Michaels, Janet Mooney, Chris Nevin, Jack North, Joseph Peacock, Billy Roberts, Bree Smith, and Lucie-Mae Sumner.
This production was directed by Thom Southerland. David Woodhead designed sets and costumes, Howard Hudson designed the lighting, and Andrew Johnson designed the sound. The musical staging was by Cressida Carré, the musical supervisor was Mark Aspinall, and the musical director was Ben Papworth.
Tickets and a complete list of theaters are available at Fathom Events.