The Rhythm Gets Broadway as Gloria and Emilio Estefan's On Your Feet! Opens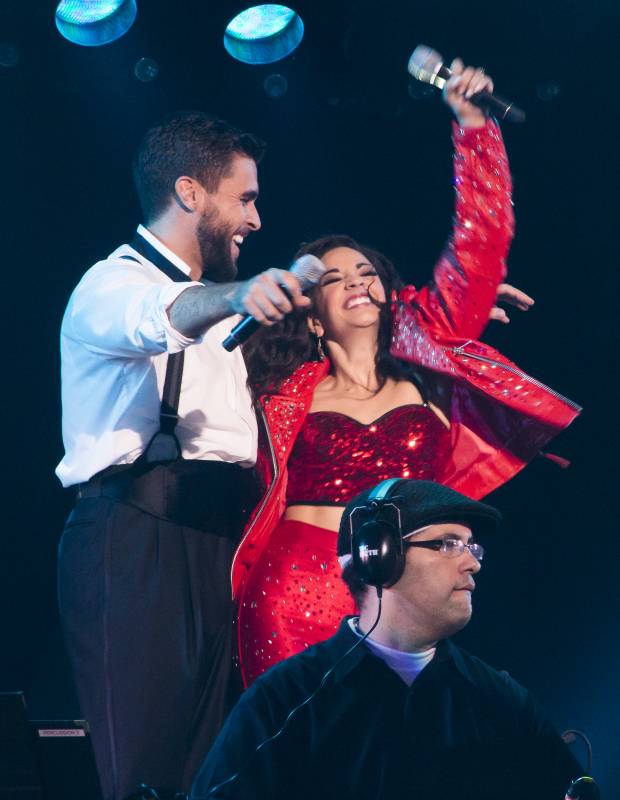 On Your Feet!, the new musical about the lives of music icon Gloria Estefan and Emilio Estefan, celebrated its opening night at the Marquis Theatre on November 5. Directed by Jerry Mitchell and choreographed by Sergio Trujillo, the production features a book by Oscar winner Alexander Dinelaris and a score that uses the classic songs of Estefan and Miami Sound Machine.
Ana Villafañe and Josh Segarra costar as the iconic couple, alongside Andréa Burns as Gloria's mother, Gloria Fajardo; Alma Cuervo as Gloria's grandmother Consuelo; Alexandria Suarez as Little Gloria; Eduardo Hernandez as Nayib/Young Emilio; along with Fabi Aguirre, Karmine Alers, Yassmin Alers, David Baida, Natalie Caruncho, Henry Gainza, Linedy Genao, Carlos E. Gonzalez, Nina Lafarga, Genny Lis Padilla, Omar Lopez-Cepero, Hector Maisonet, Marielys Molina, Felix Monge, Doreen Montalvo, Liz Ramos, Eliseo Roman, Luis Salgado, Marcos Santana, Martín Solá, Jennifer Sanchez, Brett Sturgis, Kevin Tellez, Eric Ulloa, Tanairi Sade Vasquez, and Lee Zarrett.
Guests at the opening-night festivities included music legends Frankie Valli and Jon Secada, Orange Is the New Black stars Jackie Cruz and Dascha Polanco; Broadway favorites Bernadette Peters and Harvey Fierstein, and many more. Check out TheaterMania's photos in the gallery below.