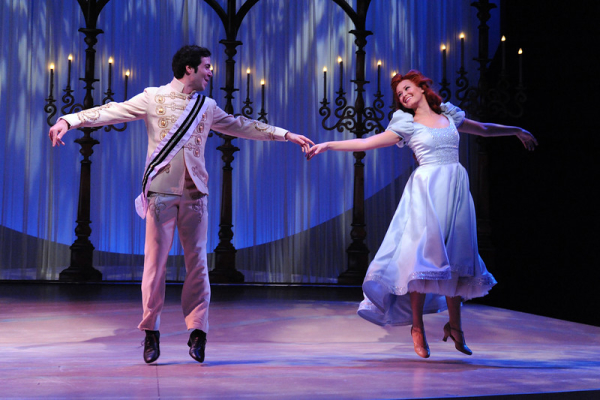 When you have the Disney brand behind you, it's hard not to make a big splash. Yet Olney Theatre Center's colorful production of The Little Mermaid does more than just put smiles on people's faces, it crafts a delightful adventure that swims beyond what lovers of the movie expect thanks to director Mark Waldrop and his outstanding creative team who make the ocean come alive.
The well-known story tells of Ariel (Lara Zinn), the vocally gifted mermaid who falls in love with Prince Eric (Joe Chisholm) and trades her voice for the chance to physically walk besides him — a devilish deal concocted by the Sea Witch, Ursula. The requisite humorous sidekicks abound — earnest crab Sebastian (Troy Hopper), blundering seagull Scuttle (Clark Young), and the always-faithful Flounder (Sean McComas), each helping to make Ariel's wish of being "part of the human world" come true.
Zinn is everything you would expect from a Disney princess — sweet, fetching, and possessing a glorious voice. Chisholm does his best to bring some life into Prince Eric, but let's face it, this is Ariel's story and most everyone else is just "tank dressing." Donna Migliaccio is cartoonishly over-the-top and an absolute riot as Ursula. Hopper, Young, and McComas do justice to their movie counterparts, especially on crowd-pleasing tunes "Kiss the Girl" and "Under the Sea." Nicholas Ward's heroic Triton also deserves praise, as does Ethan Watermeier as the seafood chef, who shows great physical comic timing.
James Fouchard's scenic design is inspired, as the cast appears to be swimming in the deep blue thanks to a set draped with intricately patterned sheer chiffon banners rippling across the stage. Songs also come to life thanks to the creative puppetry of the cast and a first-rate ensemble, especially the six enchanting actresses playing Ariel's sisters.
The Little Mermaid includes all of the incredible hits that composer Alan Menken and lyricist Howard Ashman wrote for the classic animated musical in 1989, plus the work that lyricist Glenn Slater and playwright Doug Wright contributed for the original Broadway production. Unfortunately, the familiarity is the show's biggest problem. When songs or scenes that people aren't used to seeing are performed, the show tends to drag.
Though The Little Mermaid does stray from the movie version a bit — especially with the circumstances surrounding Ursula at the end — there's no denying that it's a fun time for kids of all ages and you'll be glad to be "a part of their world."