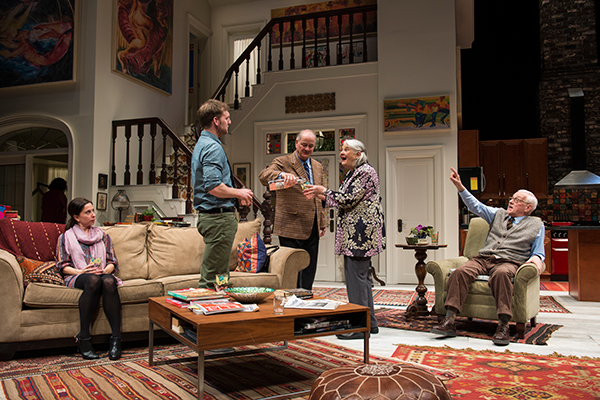 Life is just a matter of luck, opines the cheerfully plain-spoken grandfather near the top of a deeply fractured family tree in the Chicago premiere of Rory Kinnear's The Herd. It's a rotten sort of lottery his family has won, a lifetime bonanza of abandonment, alienation, and exhaustion. Running through June 7 at the Steppenwolf Theatre, The Herd is the kind of juicy, fraught family drama that the venerable company does so deliciously well. And so it does here, with a cast anchored by the indomitable John Mahoney and Lois Smith as the vibrant and mercilessly outspoken elders of a vibrant, troubled family.
Directed by Frank Galati, Kinnear's first foray into playwriting centers on Carol (Molly Regan), the besieged mother of a profoundly disabled son. It's the 21st birthday of never-seen-onstage Andy, but the young man has the mental capacity of a 10-month-old. Carol is planning a birthday party nevertheless, and Andy's 33-year-old-sister Claire as well as grandparents Patricia (Lois Smith) and Brian (John Mahoney) have all convened at Carol's spacious suburban London home to celebrate. The tensions embedded in that home reach a fever pitch with the arrival of two unexpected guests. Unbeknownst to her parents, Claire has invited her newish boyfriend Mark (Cliff Chamberlain). The final partygoer is Ian (Francis Guinan), a despised family prodigal whose presence sparks outbursts of unmitigated loathing and unfiltered rage from Claire and Mark.
Kinnear focuses more on emotions than he does on events, and those emotions quickly escalate to a fever pitch. The 105-minute drama gives a showcase scene to everyone in the cast, each character getting the chance to rip the scar tissue from long-festering wounds and lay them bare amid the cake and balloons.
The cast is superb, but Mahoney and Smith form the nexus of the drama. Initially, it seems as if the silver-haired duo is merely a source of much-needed (albeit pitch-black) comic relief. But as the gathering unspools in real time, Patricia and Brian shine through as the indomitable heart at the core of The Herd. Both are longtime Steppenwolf ensemble members, and they share a rapport that comes from decades of collaboration – it's easy to believe that these two are a loving husband and wife, even when they seem brusque or careless with each other. Kinnear dispenses with the sentimental trope of the elderly as fonts of folksy wisdom. These two are clear-eyed about the random, relentless unfairness of life. They harbor no illusions about virtue inevitably being repaid in kind or cruelty inevitably reaping a comeuppance. Mahoney remains a powerhouse at 78. He has the final scene to himself, and it is a devastating portrait of true love and great loss.
Galati gets equally powerful performances from the rest of his cast. Regan captures the worn-to-a-nub perpetual anxiousness, exhaustion, and lionlike drive of a woman who has spent more than two decades martyring herself to the needs of a helpless child. Claire is also bending under the weight of family obligations, as well as the slow, steady accumulation of resentment at spending a lifetime in a distant second place when it comes to parental attention. Guinans bring a red-hot coil of resentment to the unwanted Ian and swerves with wincing authenticity from penitent to passionate animosity. As Claire's poet boyfriend Mark, Chamberlain creates a gentle, openhearted soul willing to accept his girlfriend's broken family imperfections and all.
Walt Spangler's set design is an über-realistic home interior, although the massive, garishly colored abstract paintings adorning the walls are a puzzling distraction. (Is Carol an artist? A collector? Why is such jarring focus put on these giant orange- and red-splashed artworks?)
That quibble aside, The Herd manages a difficult feat. Ian, Andy, Carol, Claire, Brian, and Patricia make up a singular family with intensely specific problems. As singular as their struggles are, they will be recognizable to anyone who has ever dealt with trouble on the home front.