The Architecture of Becoming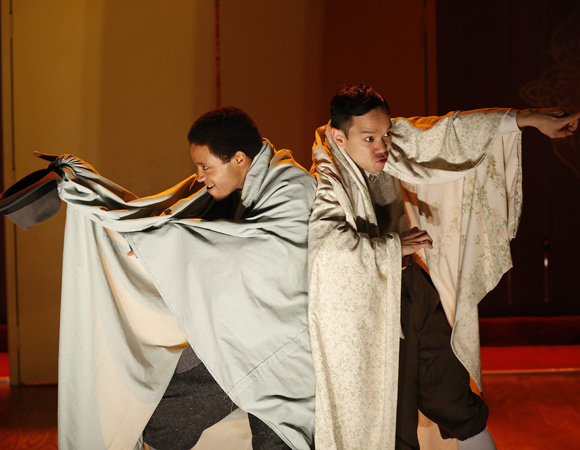 Welcome to New York City Center: "The Mecca Temple at 55th Street at the corner of fate and destiny."
Even Harry P. Knowles' sturdy architecture can't keep the historic locale from buckling under such divine descriptors in The Architecture of Becoming, the Women's Project Theater's newest collaborative effort now playing at none other than the messianic theater itself. Five playwrights and three directors have joined forces to trace the theater's 90-year history while simultaneously charting the journey of an aspiring playwright who has been commissioned to write a play about New York City Center. The piece strikes a few poignant chords, portraying generations of young dreamers who have come to the Big Apple for a chance at artistic expression and fulfillment. Unfortunately, the many cooks who have been squeezed into this tiny kitchen have stretched (and oversweetened) a clever concept far beyond its capacity.
The first of the play's five vignettes, penned by Sarah Gancher and directed by Elena Araoz, is set in present-day Manhattan. Young Latina writer Siempre Norteada (played by Claudia Acosta), who has been commissioned to write a play about New York City Center, wanders its hallowed halls in search of creative inspiration. Low and behold, her prayers are answered by the theater's boisterous phantom, Grande Dame (flamboyantly portrayed by Danielle Skraastad), who dons a pair of thick shades, a large-brimmed hat, and a shapely dress fit for a diva of the 1920s. Designer Kate Fry has unsubtly patterned the sassy specter's outfit after the theater's recognizable design, preparing us for the heavy-handed 90 minutes that await.
Christmas Carol-style, Grande Dame promises to show Siempre stories from three eras of the theater's history to spark her creative juices. The first tale we see, written by Lauren Yee and directed by Lydia Fort, spans the 1920s-'30s following City Center's 1923 construction under the original name of Mecca Temple. Set designer Justin Townsend pays homage to the theater's origins as a meeting place for the Ancient Arabic Order of the Nobles of the Mystic Shrine (also known as Shriners), with his Arabian ornamentations. Christopher Livingston and Jon Norman Schneider have featured roles in this vignette as two Shriners, Marco and Kapowski, who develop an illicit romantic relationship through this theatrical fraternity. In the following story, set in the 1940s, the theater prompts a similarly forbidden love between two women — a self-assured fishmonger named Virginia (a brassy yet sincere Skraastad) and a shy Japanese immigrant named Tomomi (a beautifully innocent Vanessa Kai) who totes around a radio that vocalizes her inner thoughts. She has escaped the internment camps and now aspires to be an actress, though, for the meantime, she finds herself confined to a menial janitorial position at the illustrious theater. We finally land in 1977 where Livingston becomes "Dude," a rapping thug who hangs out by New York City Center hoping to exorcise an opera ghost from its "high-brow" halls. Fort directs the scene, written by Kara Lee Corthron, who, in a blatant appeal to our emotions, depicts the seemingly unexpected corners of society that the theater has inspired. "Dude" and his new, equally troubled friend "Kid" (a punked-out Kai in an ill-fitting role) dwell over the class divide that the theater's large double doors seem to impose.
We finally land back in present day with Siempre along with her transgender best friend Loco-Loca (played by Schneider) as they live the life of struggling artists in New York City (a scene written by Virginia Grise and directed by Araoz). As the story comes full circle, we do feel a few heartwarming pangs of pride for the rich history and enduring sense of community that surrounds this New York City landmark and our artistic culture as a whole. The disjointed and unsubtle depiction of these themes, however, dilutes what could have been an especially resonant piece — particularly for the City Center ghosts that undoubtedly pepper the audience on a nightly basis.