The 7 Best Musicals for High Schools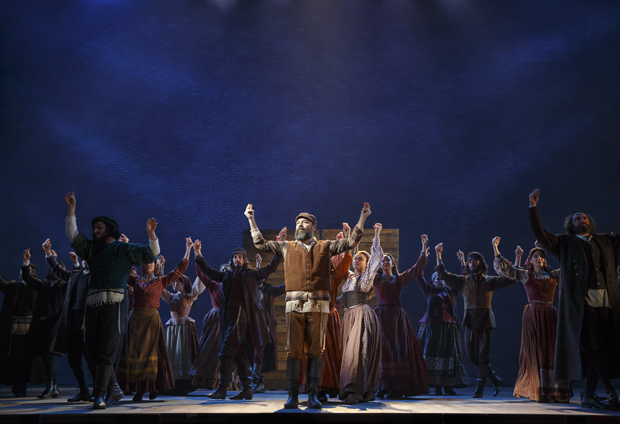 Ask any theater maniac when their affair with the stage began, and they're likely to tell you it was in high school. Whether you're a professional actor or an avid fan, the high school musical is an experience that binds us together. This is especially true if the drama club picks the kind of show guaranteed to produce lifelong memories.
There are a lot of things to consider when choosing a high school musical: Do you have the right performers for the material? Is it age-appropriate? Is the cast big enough to include all the students who want to participate, but not so big that the director will have to resort to conscripting kids from study hall? We've compiled a list of seven musicals that check these boxes, and will wow the audience in the process.
We've also included video evidence that high schools are not only producing these shows, but doing so spectacularly. Lest you think these are particularly ambitious schools with pushy directors that can secure the rights to hard-to-get shows, know that every one of these titles is listed with licensing agency Musical Theatre International. So have at it, high schoolers. Show us how these shows are done.
---
1. Fiddler on the Roof
Full of name characters with their own songs, Fiddler is a perennially good choice for high school. It tells the story of three daughters who each challenge their father and his traditions in different ways, a theme sure to resonate with teens and parents alike. For every memorable solo in Fiddler, there's a showstopping dance number for the whole company. And since the show is set in a shtetl in early 20th-century Imperial Russia, there is no end to the number of Jewish villagers and belligerent Cossacks one can add to a production. If you want to stage a high school musical that will have the cast toasting to life (with sparkling cider, of course), you can do no better than Fiddler.
---
2. Les Misérables
Anyone who has ever seen a high school production of Les Mis knows that inside the chest of each drama club kid beats the heart of a revolutionary…or, as a lusty chorus of "Lovely Ladies" might reveal, a salty French prostitute. There are so many roles in this musical adaptation of Victor Hugo's epic novel of redemption that directors can find use for the passions and talents of a diverse ensemble of actors. The massive Paris street scenes call for an endless supply of shivering supernumeraries, opening up the potential for a cast of hundreds. In a time when American teens are increasingly speaking truth to power, why not channel that revolutionary fervor into a breathtaking rendition of "One Day More?"
---
3. Something Rotten!
Set in Elizabethan England, this recent Broadway hit comedy concerns the great (and not-so-great) poets of the era and their battle for theatrical supremacy. This show is a clever way to get high school students to engage with Shakespeare, without actually doing Shakespeare. Also, "A Musical" is one of the best production numbers ever written: It's like doing 20 showstoppers in one. While Something Rotten! might be a little too fresh to have reached the attention of high school drama clubs, the show choirs are already all over it (as you can see above). You don't want them to have all the fun, do you?
---
4. The 25th Annual Putnam County Spelling Bee
Not every high school musical needs to have a big chorus. If you're looking for a strong ensemble piece that can be environmentally staged in your very own gymnatorium, look no further than Spelling Bee. As you might have surmised, it depicts a spelling bee and the strange assortment of kids and adults drawn to such an event. Composer William Finn has written some great character numbers in which bigger performances are almost always better, which is often the ethos for young actors. Plus, the scholastic setting means that the show won't put too much of a strain on the design budget. If your drama program has little money, but loads of talent, Spelling Bee is the show for you.
---
5. The Music Man
Sixty years after it first bowed on Broadway, Meredith Willson's musical about traveling instrument salesman Harold Hill remains one of the most produced musicals in the MTI catalogue. And it's little wonder: With great characters, big ensemble numbers, and an always relevant story about the chicanery of conmen, The Music Man is the great American high school musical. Enterprising directors might even use the show as an opportunity to forge closer ties with the marching band through a spectacular finale sure to have everyone in the audience moving in lockstep.
---
6. Beauty and the Beast
In all likelihood, Disney was the introduction to musical theater for most of today's high schoolers. That's been true since Hamilton composer Lin-Manuel Miranda was a kid who fell in love with The Little Mermaid. With its unforgettable score, fantastical design, and huge cast of singing, dancing household objects, Beauty and the Beast is a surefire way to get students excited about the high school musical. These are the roles they've been rehearsing since they were old enough to sashay across the living room coffee table during "Be Our Guest."
---
7. Ragtime
An adventurous choice for a high school, this sprawling musical about the rapid social change that took place in the United States at the dawn of the last century also has the potential to be the most rewarding. If produced well, its story of dreams and disappointment has the ability to teach us more about the land of the free than 10 AP American history classes. Its huge cast of characters, many based on real people, gives student actors the opportunity to shine in speaking parts. Ragtime is the perfect choice for a big, diverse high school and a drama department with several budding stars. This is a show actors and audiences will be talking about for years.