Sir Patrick Stewart, James Lapine, and More Talk Broadway at the Annual NCTF Broadway Roundtable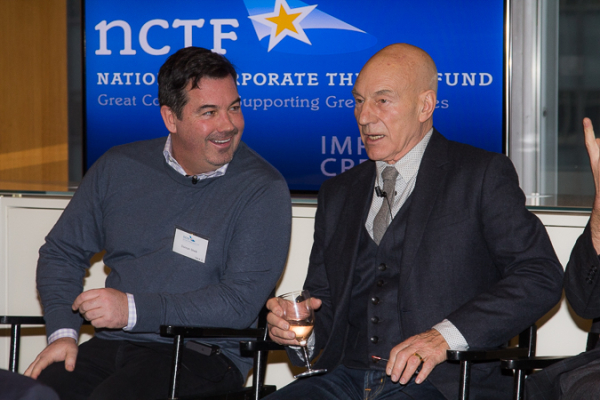 On Friday, January 31, at the UBS Midtown headquarters, the National Corporate Theatre Fund hosted its 11th annual Broadway roundtable. The event featured six notable names of the theater industry on a discussion panel led by NCTF Executive Director Bruce Whitacre. The panel included Broadway producer Stephen C. Byrd (The Trip to Bountiful, Romeo and Juliet); Pulitzer Prize- and Tony Award-winning playwright/director James Lapine (Little Miss Sunshine, Act One); Tony Award-nominated actress Estelle Parsons (August: Osage County, The Velocity of Autumn); New York Post columnist Michael Riedel (Theater Talk); Tony Award-winning composer Duncan Sheik (Spring Awakening, American Psycho), and Tony Award-nominated actor Sir Patrick Stewart (Waiting for Godot, No Man's Land).
Whitacre opened the event with a few introductory remarks, including an announcement that Tony-winning coloratura Kristin Chenoweth (Wicked) will receive the Theatre Artist Award at NCTF's 2014 Chairman's Awards Gala to be held March 31 at New York City's Pierre Hotel. Chenoweth succeeds Tony nominee Vanessa Williams, who accepted the Theatre Artist Award last year at NCTF's 50th-anniversary celebration. NCTF will also honor The Edgerton Foundation, which this year has promised to match all new and increased gala support one hundred percent. "We'll have an opportunity to raise a half a million dollars for new plays and musicals," said Whitacre. "This will be a very big moment for American theater."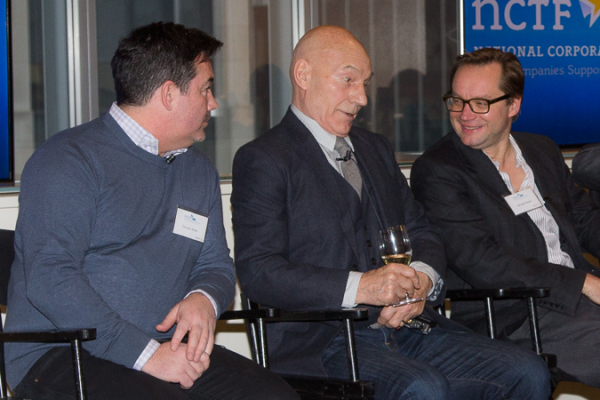 The panelists then shared their unique perspectives on the current state of the theater community in the context of their current artistic projects. James Lapine opened the discussion, commenting on his stage adaptation of playwright Moss Hart's autobiography Act One, which comes to Broadway this spring. The play itself references a time when theater played a larger role in New York City life. "Before radio and then television and films really took off, theater was a mainstay of our culture and particularly our city," he said. "There was one night when eleven [Broadway] shows opened all in one night. It was just a very different time."
Sir Patrick Stewart, currently costarring with Sir Ian McKellen in the repertory productions of Samuel Beckett's Waiting for Godot and Harold Pinter's No Man's Land at Broadway's Cort Theatre, expressed pleasant surprise with the city's popular reception of what he labels "legitimate theater." "What has been astonishing for us," he said, referring to himself and McKellen, "is that contrary to what we had expected, the smash pop hit is Waiting for Godot — a play that sixty years ago emptied theaters."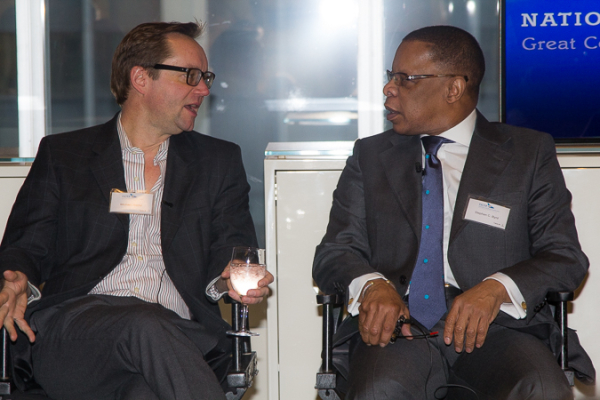 New York Post columnist Michael Riedel, best known for his inflammatory, pot-stirring journalism, joined in this air of optimism, comparing the theater community today to the dire state of both Broadway and New York City in the late 1960s and early 1970s. "The city was careening to bankruptcy," he said. "Times Square was dangerous and the whole Broadway business was unraveling."
It was the hit 1975 musical A Chorus Line, he explained, that revitalized Broadway as well as the city's economy, serving as the inspiration for the "I Love New York" campaign, which capitalized on Broadway as the city's defining characteristic. "The year before A Chorus Line, [Broadway attendance] hits the lowest of all time. Only 4.2 million people see a Broadway show. But after A Chorus Line it just keeps going up and up and up and up and today you have fourteen to fifteen million people attending a Broadway show."
"I guess the larger point I'm trying to make," said Riedel, wrapping up his statistical analysis, "is that it's the arts — it's the theater that can help save a city."