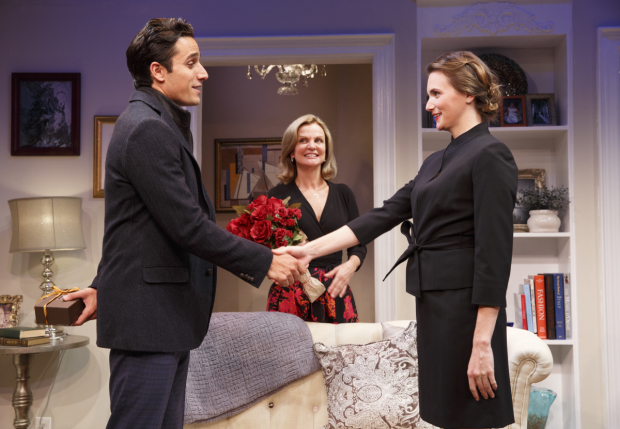 Sometimes the most serious dramas make the funniest comedies. That's certainly true of Joe Godfrey's Romance Language, now making its New York debut at Theater 511 as part of a rental agreement with Ars Nova. Overflowing with lust, intrigue, and the anxieties of wealthy Manhattanites, Romance Language is a real scream.
Housewife-turned-widow Kay (a spookily authentic Audrey Heffernan Meyer) lives alone on the Upper East Side. Her daughter, Penny (the prosecutorial Mairin Lee), is a busy attorney and can't hang out with mom all the time. Kay decides to occupy her days by taking private Italian language lessons with attractive young tutor Fiore (the handsome Jared Zirilli). Soon this student-teacher relationship blossoms into a romance, much to the chagrin of daddy's-little-girl Penny. Of course, dad has been dead for three years and it's 2015. Should Kay really be expected to sit around all day wearing black? Could it be that Penny (a single lady herself) is actually jealous of mom's May-September romance? After all, Kay isn't that much older than Fiore (60 is the new 40 in New York City).
Yet it's hard to not think that Fiore has ulterior motives for his newfound affection. After Kay expresses how beautiful she finds Rome, Fiore says, "Also beautiful is your home and your things." (Godfrey is mostly this on-the-nose with his plot development.) Meanwhile, Penny is convinced that Fiore is out to score a green-card marriage so he won't be deported back to Italy. Such bourgeois angst about an immigrant gold digger betrays the fact that there is a considerable amount of gold to dig.
Director Carl Andress makes that clear from the moment we enter the space: Sound designer Bart Fasbender has selected cheerful Italian classical for the preshow music, as if we were attending a swanky garden party. Kay is regularly decked out in the uniform of her station: gold embroidery and fur trim (spot-on costumes by Gregory Gale). Paul Tate dePoo III's set looks like a spread in the West Elm catalogue, with the art tastefully complementing the walls and furniture. This vision of opulence is only slightly interrupted every time the plastic stemware reveals itself by scraping against the coffee table. After Fiore tells Penny that Kay has given him a key to this plush abode, a woman sitting behind me pondered aloud, "I wonder what the co-op board thinks about that!"
Undoubtedly, the concerns in Romance Language are somewhat rarified. A green card seems like a small price to pay for romance and regular sex into one's golden years. Wealthy older men have been marrying attractive younger brides for millennia. The fact that the roles can now be reversed is a sign of progress. And if the aptly named Penny is so worried about Fiore stealing mom's money (a.k.a. her inheritance), she's a lawyer and can certainly whip up an airtight prenup. There are ways to make this arrangement work. The fact that these three people are so spectacularly incapable of figuring it out is the major source of drama here.
And they're so dramatic! Andress (a frequent collaborator with drag performer Charles Busch) never really escapes his typical modus operandi, which seems to work just fine with Godfrey's overwrought script. Zirilli's Fiore is like a human Maserati, going from zero to sixty in just a few seconds. He's as quick to anger as he is to fall in love. Meyer excels at playing the naive ingenue, even if her character is frighteningly old for such flights of fancy. Lee's Penny is a patriarch in high heels, ridiculously accusing her mother of killing dad: "And what caused it, Mother? What caused his cancer? …Maybe his life with you. Stress. Aggravation. A loveless marriage." Everything is pitched up to a ten. The natural reaction to such a thoroughly entertaining camp-fest is to reach for the popcorn.
Of course, the tragic interplay of love and money is a timeless theme onstage. Godfrey engages in a bit of heavy foreshadowing when he makes Kay and Fiore's first date a performance of La Bohème at the Met. As with that immortal Puccini opera, you may end up in tears by the end of Romance Language, but they will almost certainly be tears of laughter.