Review: Steel Magnolias in Harlem: Jaja's African Hair Braiding Comes to Broadway
After years of analyzing plays for their achievements and blunders, it's rare for me to walk out of a theater with a single thought in my mind: I loved it. And yet those three words floated in my brain after Jocelyn Bioh's new Broadway comedy Jaja's African Hair Braiding at Manhattan Theatre Club's Friedman Theatre. Bioh is one of the theater industry's brightest new writers, one who gives wholly original voices to African and African immigrant characters; people who we rarely, if ever, see on our stages. After finding thorough enjoyment in her School Girls; or, the African Mean Girls Play and Nollywood Dreams, I'm not surprised by how much I dug Jaja, as authentic a play as it gets.
Jaja's African Hair Braiding is set in the Harlem salon of the title, where a group of beauticians hailing from Senegal, Ghana, Sierra Leone, and Nigeria work until their hands swell, giving mostly inconsiderate American girls braids and extensions. An atmospheric look at a single hot day in July 2019, Bioh introduces us to these artisans who toil away in the cornrows: the kind Miriam (Brittany Adebumola), who came to New York to make a better life for her and her toddler daughter back home; Aminata (Nana Mensah), with a tumult-filled marriage and high blood pressure; Ndidi (Maechi Aharanwa), the fastest braider with a penchant for stealing other people's clients; and Bea (Zenzi Williams), the elder stateswoman who's addicted to starting drama.
The shop is owned by Jaja (Somi Kakoma playing a role that's a glorified cameo), but mostly run by her daughter Marie (Dominique Thorne), an 18-year-old who was valedictorian of her graduating class and dreams of a bigger life than the confines of the shop. However, Marie, like her mother, is an undocumented immigrant at a perilous time. Perhaps that's one reason why Jaja is getting married today to Steven, a white man with his own secrets.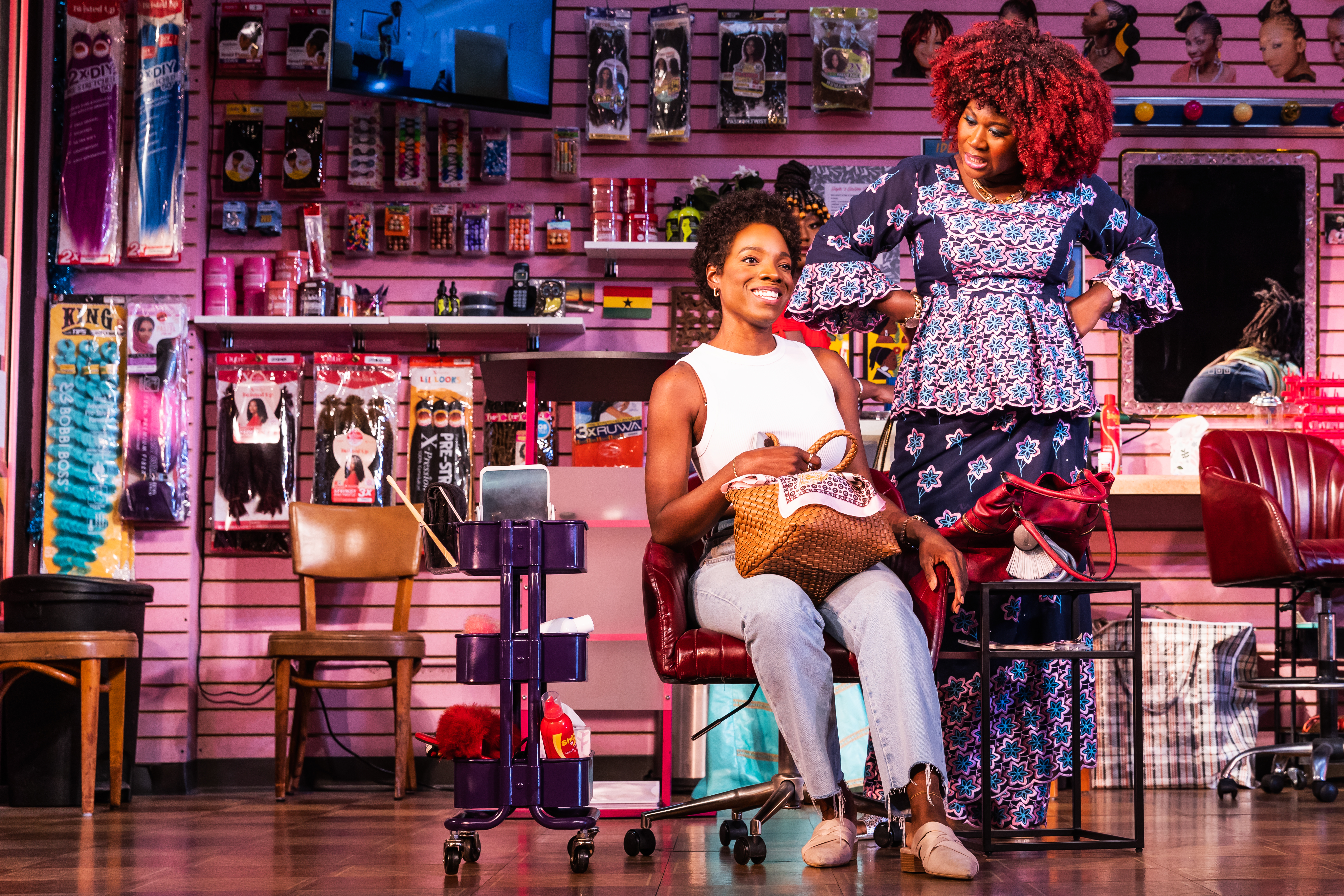 If the circumstances seem akin to a play like Steel Magnolias, you're not too far off. Bioh has created a portrait of a tight-knit group of women who recognize that harmony is ultimately more important than their daily squabbles. You don't realize how rare a theme this is until you see it right in front of you; with so many works nowadays focusing on the dark side of relationships, a simple play about a multifaceted group of women and the strength of their friendship feels like a breath of fresh air.
Director Whitney White has created an extraordinarily lived-in production. It has a hominess that begins with David Zinn's incredible set, a Pepto-pink salon that looks as if he picked up it up from 125th Street and plunked it down on the stage. Jiyoun Chang's lighting accurately signals the shifts in the sun as the day drags on.
Dede Ayite's vibrant costumes and Nikiya Mathis's wigs perform transformative miracles, especially for the trio of actors who play three roles each: the effervescent Kalyne Coleman, Michael Oloyede (sensitive as a variety of street sellers), and Lakisha May (hilarious as, among others, a typical New York City bitch). The "how'd they do that" nature of Mathis's work gets an especially satisfying pay-off involving Rachel Christopher's Jennifer, a journalist who spends her entire day in Miriam's chair getting micro box braids. Christopher and Adebumola form a particularly lovely camaraderie throughout their snatches of dialogue.
The play belongs to Williams and Thorne, though. As Bea, Williams is a larger-than-life Falstaff of bluster and big talk, with a heart that appears in the most unexpected of places. Thorne, as Marie, has a quality that's easily recognizable in many young immigrants: the need to make good on the mythical promise of American success and the desire to maintain your composure so nobody can exploit you. Thorne is keeping it all together for her mother, but also for herself, and her essential dignity is what makes this performance so memorable.
That's not to say Jaja's African Hair Braiding is perfect. It spins its wheels towards the middle as you await a cataclysm that some of the characters allude to. When that event finally arrives with five minutes left to go, it feels rushed. In truth, it seems like there's a second half waiting to be written, albeit one that would have to be bleaker given where Bioh leaves us off (that's obviously not what she's going for, since this is an overwhelmingly affectionate portrait of Black female joy and a tribute to their hair braiders who toil throughout New York City). But I enjoyed spending an afternoon with these characters so much that I want more time in their presence. Perhaps one day there will be a sequel.