Explore Shows from this Story
Final performance: September 30, 2023
Review: Rachel Bloom's Death, Let Me Do My Show is a Neurotically Macabre Nightclub Act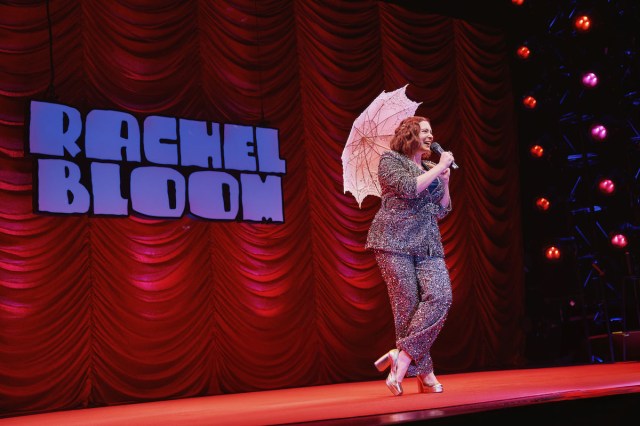 Rachel Bloom opens Death, Let Me Do My Show, her new solo(ish) musical at the Lucille Lortel Theatre, with a lie — an obvious one. "That's my one pandemic joke," she says after delivering a plausible sample of a 2038 college essay written by a pandemic baby, like the one she had in March 2020: "And that's when I learned to take off my mask. Not the mask you can see but the mask that I wear to hide who I really am." But no theater maker in her right mind would put the word death in the title and not refer to the close encounter with mortality we all experienced three years ago. As much as I'd like to forget about Covid forever, I fear it will be a lifelong topic of obsession.
Viewers of Bloom's television show, Crazy Ex-Girlfriend, might also know that she is instinctively drawn to taboos, approaching not-to-be-spoken-about subjects through song. (Part of Death is a tribute to her late writing partner on that show, Adam Schlesinger, who was one of the earliest victims of Covid-19 in the theater community.) In America, is there any taboo greater than death, that inevitability we irrationally assume we can overcome (or, at least, ignore) with our can-do attitude?
Bloom is here to remind us that death is everywhere, even in the adorable faces of our furry friends. She acknowledges this with her own shrine of Etsy kitsch dedicated to her very-much-alive dog (hilariously brought into the theater by Hana S. Kim's well-timed projections). She also illuminates the concept of the Rainbow Bridge with a schmaltzy number that could have been written by Peter Allen in his heyday. When it comes to pets, it's not unreasonable to hope they predecease you, even if it is unreasonable to expect them to await your arrival in the afterlife.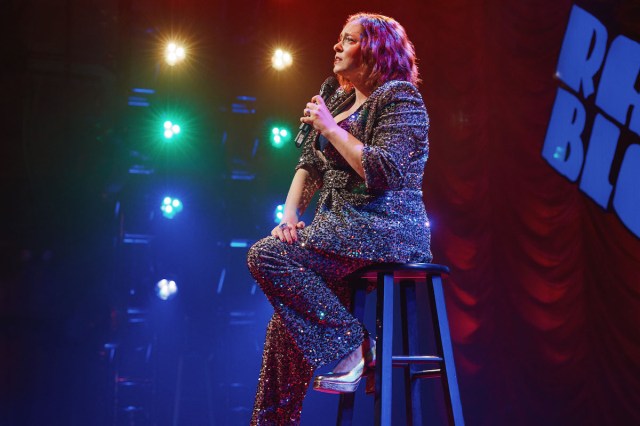 More gravely, Bloom expresses the constant dread that comes with parenthood through a lullaby about hair tourniquet syndrome and other distressingly Googleable causes of infant mortality. Schubert on the analyst's couch, it features the stanza:
"Checklist: Crib is bare
No toe hair
Your swaddle's not bad
Though I know
If you were to go
I'd just blame your dad
And it would dissolve our marriage."
These may be thoughts the parents in the audience have shared. They also might represent the very anxieties they are attempting to escape with a night at the theater. Your enjoyment of Death will depend on your willingness to engage with dark material in a playful way. A lowering of stakes might also help. As a blissfully childless homosexual, I had a lot of fun.
Bloom's special talent is making us laugh without losing focus on the serious matter she wishes to discuss. We chuckle at her opinion that the neonatal intensive care unit resembles an expensive spa for babies, but we're acutely aware that she came to this observation while visiting her own daughter there in the first five days of her life, which happened to coincide with the scariest chapter of the pandemic, when much of the maternity ward was being retrofitted for Covid triage. You may not care to be reminded of the Silkwood showers and obsessive cleaning that accompanied that fearful year before the vaccine — but there are few people in the audience who won't recognize themselves in Bloom's songs and stories. As far as musical comedy is concerned, she's the reigning queen of the uncomfortably relatable.
Director Seth Barrish puts the spotlight on Bloom and her distinctive voice through an elegantly understated production that only reaches for grand theatrical moments when it really counts (as he did for Mike Birbiglia in 2018, set designer Beowulf Boritt delivers one of these with a gasp-inducing transformation). Kristin Isola costumes Bloom in a glittering pantsuit worn over a comfortable top suitable for lockdown. The lighting (by Aaron Copp) and sound (by Alex Neumann and Beth Lake) create little moments of vaudeville that perfectly fit Bloom's personal style. And under the music direction of Jerome Kurtenbach (who also did orchestrations), she can parody composers as disparate as Noël Coward and Danny Elfman and it all feels perfectly natural.
Death is a hard sell in 2023, when so many of our feelings about the pandemic remain raw and unprocessed, stowed away in an emotional cupboard so that we can get on with the business of living. But if we must revisit Covid (and eventually, we must) I can think of few more delightful, hilariously tuneful ways.
Featured In This Story
Final performance: September 30, 2023