Review: Merry Me and the Diminishing Potency of "Queer" as a Verb
There is an ongoing project among playwrights and directors to "queer" the canon by taking stories and characters from older plays and endowing them with a contemporary LGBT sensibility. This can be done through nontraditional casting, as we saw in the last Shakespeare in the Park productions of The Taming of the Shrew, or by rewriting the story, as seen in the 2022 Pulitzer Prize winner Fat Ham. When done well, it's a clever way to introduce old stories to new audiences. When done poorly, it becomes a tiresome exercise in forcing fashionable manners and instantly stale cultural references onto material that doesn't easily support them — and sometimes actively resists.
Unfortunately, Hansol Jung's Merry Me, now making its world premiere at New York Theatre Workshop, belongs in the latter category. This comedic casserole borrows ingredients from ancient Greek drama, Restoration comedy, and Tony Kushner, yet somehow feels less than the sum of its parts. This is despite some very funny performances and a zippy DIY staging from director Leigh Silverman — both of which reveal the undercooked qualities of the script.
It's about Lieutenant Shane Horne (Esco Jouléy), who has been in therapy with Doctor Jess O'Nope (Marinda Anderson) ever since she was caught sleeping with the General's Wife (Cindy Cheung). As punishment, General Memnon (David Ryan Smith) placed Horne in solitary confinement; but he has a change of heart when it looks as though this alpha-lesbian has gone straight — as evidenced by her public make-out session with the brother-in-law of the General's nepo-baby son, Private Willy Memnon (Ryan Spahn). The only problem is, the "brother-in-law" is actually Willy's wife, Sapph (Nicole Villamil), in boy drag. Jealousy and lust overtake the camp as the army prepares for an invasion.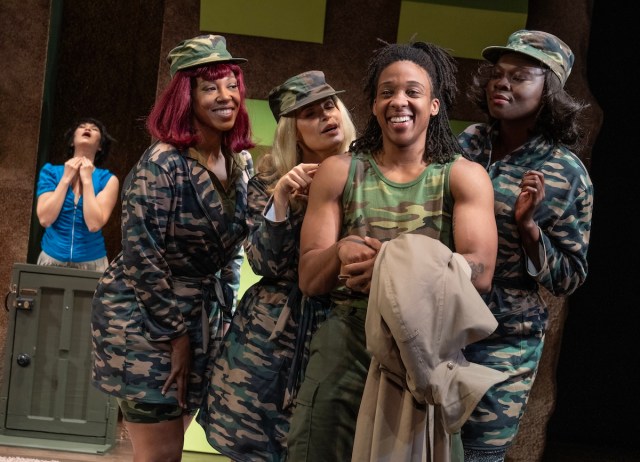 One can easily imagine this as the opening gambit of a much funnier play, in which Horne (based on Harry Horner from William Wycherley's The Country Wife) successfully beds every character (not just the ladies) as they slip in and out of rigid political identities in order to satisfy their sexual whims. It could have honored the legacy of the restoration comedy (which restored fun and frivolity to Britain's stages following a period of Puritan austerity) while demolishing some of the shibboleths that have made the conversation around sex and gender such a drag in recent years.
Sadly, Jung mostly hews to the party line as broadly adopted by the theater (straight men are dumb and worthless, "queer female rage" is righteous-verging-on-divine, and the disproportionate number of male directors of Shakespeare in the Park over the years is a subject outrageous enough to provoke murder). Curdled references to The L Word: Generation Q and Avengers: Infinity War serve as mildly funny inside jokes. And while Jouléy delivers a seductive and delightfully rakish performance as Horne, her exploits pale in comparison to those of the title character in Madeleine George's Hurricane Diane, which Silverman directed at NYTW in 2019 and worked much better as a newly queered classic.
Jung's most sustained reference is to Tony Kushner's Angels in America. It comes in the form of narrator Shaunette Renée Wilson, who claims to be the angel from that modern classic, and who has come down to earth to deliver a mandate to her new prophet, Dr. O'Nope:  She must embark on a "targeted effort to kill off cis-gendered male species of European descent." Essentially, the Angels want her to kill all the white men with an axe (which is itself a missed opportunity for a cherished gay, although perhaps not "queer," reference).
As the only cis white man in the cast, it falls on Spahn to willingly offer up his neck (we're led to believe that this army Ken doll is also super-woke, a tension that is neither explained nor exploited for comedy). Spahn's performance is as amusing as one could expect from a suicidal cuckold — an all-too-easy punching bag for both the Left and Right — whose self-destructive turn dampens the buoyant atmosphere the actors work so hard to create.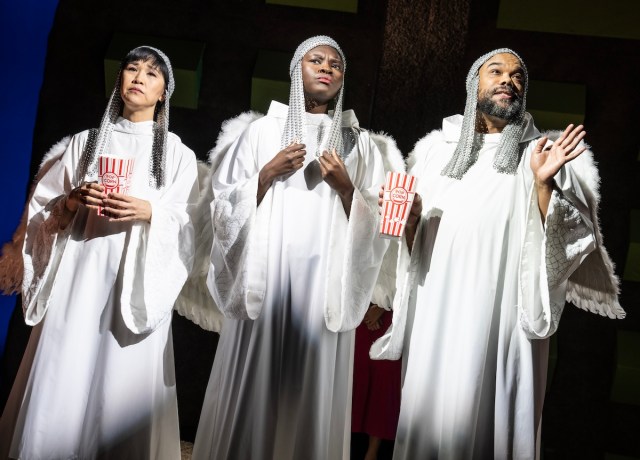 Far funnier are Cheung and Villamil as sexually dissatisfied military wives. It's hard not to laugh at Cheung's desperate effort, as Clytemnestra, to spin Horne's rejection into sexual roleplay. Villamil also keeps us chuckling with her unexpected line readings and wildly contorted facial expressions — although these are both evidence of a performer trying to compensate for a less-than-hilarious script.
Silverman's production aims for whimsical theatricality and mostly succeeds: Rachel Hauck's set, complete with hanging clouds and a bed that gives us a bird's eye view of the action, suggests a school pageant for naughty adults. Similarly, Alejo Vietti's costumes give us stereotypical army dudes and desperate housewives. Lighting (by Barbara Samuels) and sound (by Caroline Eng and Kate Marvin) help to create some of the magical and implausible moments in this mash-up of disparate stories and dramatic eras. It's all highly irreverent, but not nearly as funny as it wants to be.
Merry Me is best appreciated as an inconsequential, half-coherent romp through the theater-studies curriculum. As an exercise in "queering" the canon, it serves as an artifact of diminishing returns, offering us nothing we haven't already seen and heard a million times — occasionally from the HR department's Pride Month™ PowerPoint. Truly transgressive comedy would do more to challenge manners and assumptions that have too long gone unquestioned, and are no longer particularly queer in the dominant culture.