Review: Hell's Kitchen, a Coming-of-Age Musical Set in Alicia Keys's New York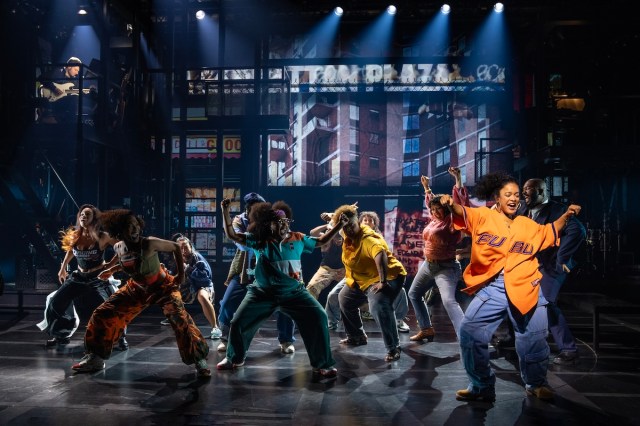 A good song can turn the seemingly mundane into pure magic. We cynical New Yorkers tend to roll our eyes every time we hear "Empire State of Mind" blaring from a pedicab in Times Square; but for the passengers, who may be seeing the city ("concrete jungle where dreams are made of") for the first time, the song makes all the difference. And so it is with Hell's Kitchen, the world premiere musical at the Public Theater featuring the music of Alicia Keys. Grounded in reality, but with anthemic melodies soaring overhead, it is easily the best new musical at the Public since Hamilton.
The story (book by Kristoffer Diaz) is loosely based on Keys's own adolescence in the Hell's Kitchen neighborhood of Manhattan. Seventeen-year-old Ali (Maleah Joi Moon in a breathtaking professional stage debut) lives with her mother (Shoshana Bean) in a one-bedroom apartment on the 42nd floor of Manhattan Plaza. Her father (Brandon Victor Dixon) is a mostly absent jazz pianist, leaving mom to raise Ali while holding down two jobs. She enlists her friends and the building's doorman (Chad Carstarphen serving 32BJ realness) to keep an eye on her daughter while she is away, a task that becomes fraught when Ali becomes interested in a handsome older man named Knuck (Chris Lee) who bangs on an upturned bucket with his friends out on 43rd Street.
At the same time, Ali becomes obsessed with the piano after hearing Miss Liza Jane (Kecia Lewis) play in the building's common room. Sensing a budding talent, the stern older woman invites her to take lessons. Very quickly, these lessons become an excuse to further escape mom and the apartment that makes Ali feel like a princess trapped in a tower.
Ali's issues are standard-issue teenage drama, but Diaz's book, under the sensitive direction of Michael Greif, unfolds like a particularly engaging memoir — voicy, candid, and clear in its perspective. It not only makes us remember what it was like to be 17, but shows how teenage follies play a crucial role in the formation of an adult personality. We may shake our heads at the obviously doomed romance of Ali and Knuck, but we understand that this is a journey Ali must take. And it's fun to come along for the ride when the driver is as likable as Ali, who regularly addresses the audience like we're a trusted confidant.
The songs, drawn from the Keys catalogue, serve particularly well to convey Ali's wonder and exuberance, even as Diaz's book interjects with quibbles: As one friend (Jackie Leon) belts "Girl on Fire" from a fire escape, another (the hilarious Vanessa Ferguson rocking a TLC wig) interrupts the song to incredulously ask, "The world is hers 'cause she got a man now? That's what we're doing?" And, because this is musical theater, where love wins, it absolutely is, and the music charges back with a vengeance (full-bodied orchestrations by Adam Blackstone and Tom Kitt, and rocksteady music direction by Dominic Fallacaro).
Everyone in the cast delivers knockout interpretations of this music: Lewis has a powerful alto that we feel in our chests, and by the time she finishes an emotional rendition of "Perfect Way to Die," we also feel a catch in our throats. Bean absolutely wails in "Pawn It All," while Dixon's voice on "Not Even the King" is the aural equivalent of an inviting smile from a handsome stranger on a busy city street. Their "Fallin'" is among the sexiest and best-acted musical theater duets I've ever witnessed.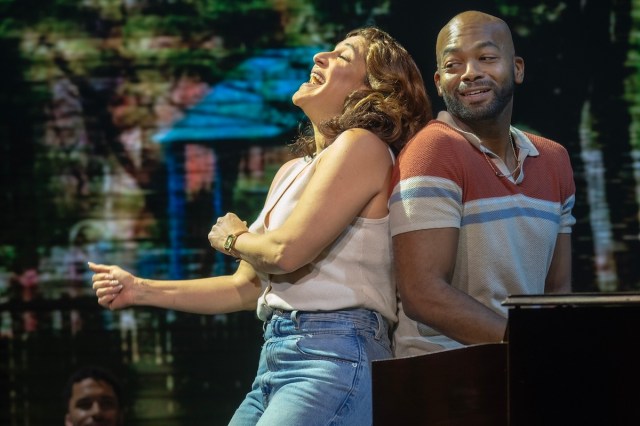 But Moon is the center of gravity in this show, and she shines every moment she's onstage. Her Ali is a shy girl with a big voice, valiantly persevering through her own awkwardness as she discovers who she wants to be. Even when she's being awful to her mother, we never lose sight of the sensitive, curious young woman whom we grow to love over the course of two hours, 30 minutes.
Camille A. Brown, already one of the most exciting and original choreographers working in the theater, has outdone herself by filling the stage with expressive and exceedingly well-executed dance. This cast really moves, with every moment sharp and performed full-out, like the final cut of a music video. The energy of the streets of New York feels ever-present, as every member of the cast works up a sweat reaching for their own little bit of happiness.
This being a Michael Greif production, there is, of course, scaffolding. Robert Brill's moving set creates the levels and fire escapes of a vertical city, the beautiful mess and bright lights of which are on full display in Peter Nigrini's projections. Natasha Katz's lighting stealthily pulls us into the musical numbers, all pristinely balanced through Gareth Owen's sound design. This is not an easy thing to do when you've got orchestrations that add upturned buckets (the essential NYC percussion instrument) to a full drum kit. But it all improbably works in harmony, much like the city where this story takes place.
Hell's Kitchen is an emotionally resonant tale of family and finding oneself in the city that never sleeps. It's guaranteed to send you into the streets singing.