Review: A Hamlet Brought Into the Present…in Theory, at Least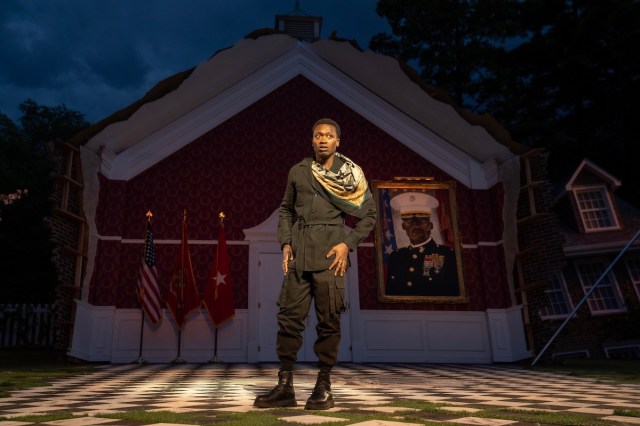 Those who remember director Kenny Leon's excellent production of Much Ado About Nothing for the Public Theater's Free Shakespeare in the Park back in 2019 may experience shivers of recognition upon seeing Beowulf Boritt's scenic design for Leon's new production of Hamlet at the Delacorte Theater. Boritt's verdant set for the earlier production, fresh and blooming with possibility, has curdled into a broken-down apocalypse, with the "Stacey Abrams 2020" banner once proudly displayed now merely half-visible amid the ruins. We have, of course, experienced the Covid-19 pandemic in the intervening years, which Leon acknowledges by having one character in the opening funeral scene enter the stage wearing a mask. Such gestures toward topicality, however, set up expectations for a more conceptually intriguing take on Hamlet than what Leon ultimately seems to have in mind (there are barely any masks seen afterward, for instance).
One thing Leon doesn't do is mess with Shakespeare's basic plot (no Fat Ham-like revisionism here). As ever, Hamlet (Ato Blankson-Wood) opens the show mourning both the death of his father and the quickness with which his mother Gertrude (Lorraine Toussaint) has remarried, to his father's brother, Claudius (John Douglas Thompson). When the ghost of Hamlet's dead father not only informs him that Claudius was his murderer, but also beckons his son to avenge his death, Hamlet becomes a man driven mad by indecision, intellectualizing his way to roundabout actions without committing to anything until it's too late. His madness confuses many, including Claudius's adviser Polonius (Daniel Pearce), who initially believes it to be result of unrequited affections for his daughter, Ophelia (Solea Pfeiffer) — an assumption Hamlet brutally rejects to Ophelia's face.
If Leon could be said to have a take on this material, it's in downplaying the play's supernatural elements. Instead of opening with Hamlet's father's ghost's initial visitation, this Hamlet dives right in with his funeral (with a quartet of vocalists singing "It's So Hard to Say Goodbye" from the 1975 film Cooley High). The ghost's appearance is reimagined as a momentary possession, with Hamlet mouthing his father's words as uttered by a disembodied deep voice (courtesy of Samuel L. Jackson) given full surround-sound treatment by sound designer Justin Ellington and accompanied by Jeff Sugg's projections of older photos of both father and son. Aside from that, most of Leon's modernizing touches are cosmetic or stylistic at best: Characters like Horatio (Warner Miller) delivering their lines with a casual hip-hop twang; and composer Jason Michael Webb turning scenes like the play-within-a-play to expose Claudius's guilt and Ophelia's descent into grief-stricken madness into quasi-musical numbers, complete with choreography by Camille A. Brown.
As colorful as such gestures are, ultimately they don't add anything especially revelatory to our understanding of Shakespeare's text as it pertains to contemporary times. In that regard, his Much Ado About Nothing felt more consistently inspired than this Hamlet, which can't quite escape the usual curse of bogging down in the second half, during the long stretch when Hamlet disappears from the stage. (In that context, one can almost feel the audience wake up when Tyrone Mitchell Henderson delivers his very fey interpretations of both Osric and the Priest.)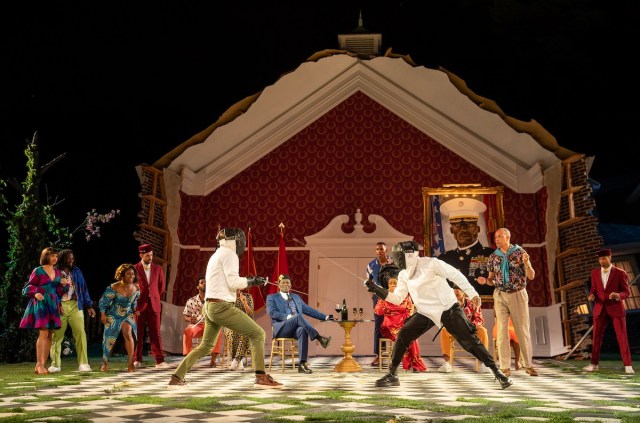 Perhaps that's merely a tribute to just how magnetic Ato Blankson-Wood is as Hamlet that we truly miss him when he isn't onstage. His is a Hamlet that experiences profound melancholy in the shortcomings of people and the world while refusing to let such moments of despair get the better of him, shielding himself with cutting fury and sharp intelligence. If anything, he sometimes takes his resiliency too far, as evidenced in his annihilating confrontation with Ophelia, with Blankson-Wood refusing to sugarcoat Hamlet's cruelty even as the character implores her to "get thee to a nunnery."
In fact, seen simply as a straight interpretation of Hamlet, Leon's production generally delivers the goods, in large part because of the performers. John Douglas Thompson, of course, has often found the pathos within even the most villainous Shakespeare characters (as he memorably demonstrated as Shylock in Theatre for a New Audience's The Merchant of Venice last year), and he milks Claudius's one big monologue, where he voices all the fear and regret within him over murdering his brother, for all the poignancy it's worth. Solea Pfeiffer conveys a quiet inner strength as Ophelia until her mad scene, where she uses her angelic singing voice to devastating ends. As for the rest of the sterling cast, a clear standout is Daniel Pearce, who unexpectedly turns Polonius into scene-stealing comic relief with some memorably loopy line readings. Even if it promises more than it delivers, this Hamlet still offers the considerable pleasures of seeing Shakespeare done in trustworthy, reliable, and sometimes inspired hands.