Patriots, Peter Morgan's Putin Play, Eyes New York Transfer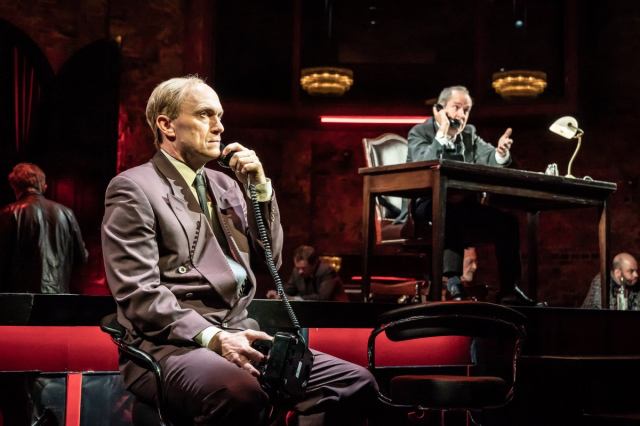 The West End run of Peter Morgan's Patriots has recouped its investment, and producer Sonia Friedman (Leopoldstadt) is looking toward a possible run in New York. "I really hope it will have a future in NY," Friedman told Deadline's Baz Bamigboye, who broke the story.
Peter Morgan is the creator of the hit Netflix series The Crown and the Broadway play The Audience, which won Helen Mirren a 2015 Tony Award for her portrayal of Elizabeth II.
Patriots similarly deals with palace intrigue, not at Buckingham but in the Kremlin. It tells the story of upstart oligarch Boris Berezovsky (played by Tom Hollander in London), who managed to capture large swathes of Russian industry and media during the chaos of Soviet collapse. He used his power and influence to champion a politician who he wrongly assumed would be a subservient puppet — Vladimir Putin (Will Keen).
You can read a full review of the West End run of Patriots on our sibling site, WhatsOnStage.
Patriots is directed by Rupert Goold, with scenic and costume design by Miriam Buether, and co-costume design by Deborah Andrews. Jack Knowles did the lighting, with sound and original music by Adam Cork.
In addition to Hollander and Keen, the London cast features Luke Thallon (Roman Abramovich), Matt Concannon (Assistant/Daniel Kahneman/Russian Captain), Ronald Guttman (Professor Perelman), Sean Kingsley (Voloshin /Nurse), Paul Kynman (Korzhakov/Yeltsin/FSB Boss/Reporter/Bodyguard), Jessica Temple (Anna Berezovsky/Newscaster/Journalist/Secretary/Pianist), Josef Davies (Alexander Litvinenko), Ashley Gerlach (Lawyer/Home Office), Howard Gossington (Teacher/Compromised Newscaster), Stefanie Martini (Marina Litvinenko/Nina Berezovsky), and Evelyn Miller (Tatiana/Katya/Judge/Lover). They are joined by understudies Peter Eastland, Lydia Fraser, and Matt McClure.