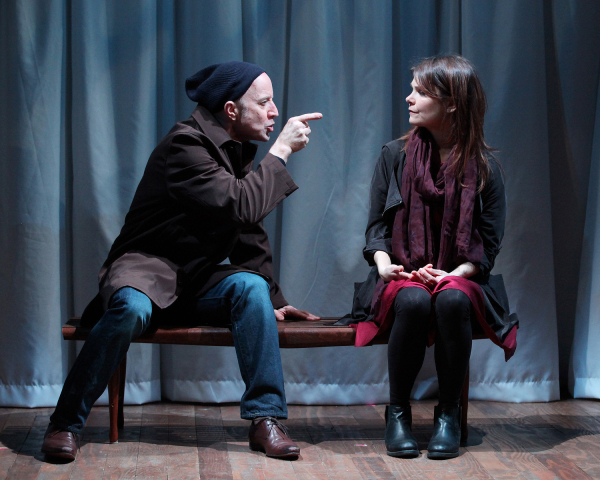 Ode to Joy, Craig Lucas' new dramedy at the Cherry Lane Theatre, is frustrating. A sensitive work that depicts the effects of addiction on one's romantic partners, the play is a return to form for the author, containing the same lyrical grace and bubbly quirkiness found in his Prelude to a Kiss and Reckless. But there's one crucial imperfection that prevents the piece — which Lucas also directs for Rattlestick Playwrights Theatre — from fully attaining the same heights that those two aforementioned plays reach.
Set over the course of 16 years (1998-2014), Ode to Joy follows the relationships between Adele (Kathryn Erbe), a painter of religious imagery, and two of her lovers, Mala (Roxanna Hope), a pharmaceutical sales executive with a bum heart, and Bill (Arliss Howard), a cardiac surgeon. Flashing backward and forward through time, Lucas presents us with a series of scenes depicting meet-cutes and breakups, fights and reconciliations. Each scene has one thing in common: Adele, despite the best of her intentions otherwise, can't escape putting her alcoholism before everyone else.
As evidenced in works like Prelude and Reckless, one of Lucas' considerable skills as a playwright lies in his ability to develop a mature, adult relationship that you grow to care about. The two at the heart of Ode to Joy are no different. As a couple, Adele and Bill are authentically codependent and impulsive, their first night together including both the adoption of a dog and Adele throwing up in Bill's mouth as they begin to make love. Similarly believable are Adele and Mala, whose first date ends abruptly when Mala slumps over in a restaurant and lands in the ER (a product of her heart issues and a variety of recent vaccinations for an overseas trip). Lucas directs with a light, almost ethereal touch, and even when the scene calls for Howard and Erbe to fall onto the floor stone-cold drunk, or for Hope to flop down and faint, they do so in a recognizably human way.
The fundamental flaw of the script is that there are a number of events in Adele's history, past and future, that the characters mention but Lucas doesn't depict. As a result of our hearing these things secondhand, they don't match up to the version of her that we see and that Erbe plays. Our Adele is eternally affable, even when she's had a few too many — a far cry from the "bloodsucking" c-word that Bill calls her in a climactic moment toward the end. Perhaps this is a side effect of having present-day Adele herself narrating the play in order to present the thematic question, "When an addict looks back, how do they see themselves?"
As Adele, Erbe is a magnetic presence, and it's absolutely clear why both Howard and Hope's characters would be drawn to her. It helps that, as a trio, they have terrific chemistry and all are on the same page regarding the just-slightly-heightened style of acting the play needs. The first-rate design includes Andrew Boyce's versatile set, which quintuples as a bar, restaurant, loft apartment, hospital room, and art studio, and Catherine Zuber's attractive contemporary costumes.
You can tell by watching Ode to Joy that the play came from an intensely personal place, but Lucas doesn't hit you over the head with the concept of autobiography (or semi-autobiography). How much of Lucas' actual life experiences are meshed into the play's narrative is unknown, but his knowledge of the subject matter is very clear and presented unapologetically (especially a brief discussion on whether addiction is a disease or a choice). Ode to Joy provides a lot to chew on, and just as much to savor.