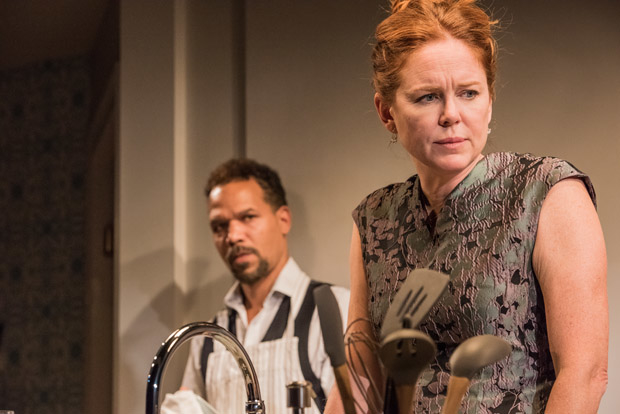 Muswell Hill is an old-fashioned drinking-and-fighting play: That's when a perfect storm of toxic personalities meet for a boozy party, the consequences of which are dramatic and irrevocable. Think Edward Albee's Who's Afraid of Virginia Woolf? or Ayad Akhtar's Disgraced. Playwright Torben Betts interprets this tried-and-true genre better than most, while a top-notch coproduction by the Barrow Group and the Pond Theatre Company sends it over the top. The result is a night of laughter through clenched jaws, the kind that could only come from the recognition of something that hits a little too close to home.
The suburban London residence in question is that of Jess (Colleen Clinton) and Mat (Jason Alan Carvell). She's a senior accountant and he's an unemployed writer with an unpublished novel that everyone agrees is "interesting." They're having a dinner party, but just before the guests arrive, Mat accuses Jess of infidelity. In typically English fashion, that drama is put on hold as Mat and Jess keep calm and carry on through an evening that passes about as comfortably as a kidney stone.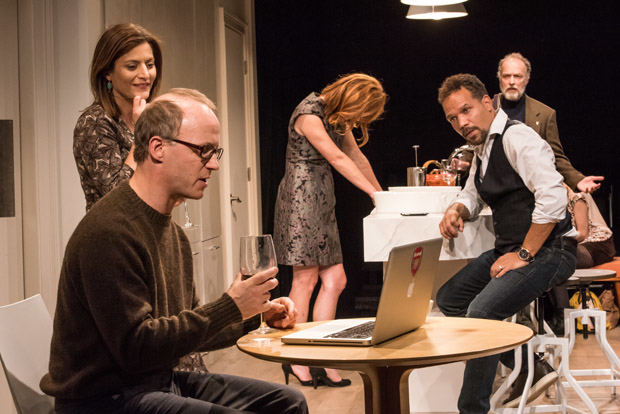 Betts has concocted a perfectly loathsome set of characters to join our unhappy central couple: There's Jess's friend, Karen (an appropriately grating Lily Dorment), who immediately rejects the monkfish stew on tonight's menu as it doesn't conform to her diet (everyone in this play has a strained relationship to food and alcohol derived from their unencumbered access to both). Then there's Mat's college buddy, Simon (a hilariously twitchy Richard Hollis), an armchair revolutionary in an ugly sweater. Once he launches into his soliloquy about 9/11 and Salvador Allende, we know we're in for a long night. Add to that already combustible mix Jess's 23-year-old sister, Annie (Sarah Street with believably messy exuberance), and her new boyfriend, Tony (a lip-licking John Pirkis), a married theater director three times her age. Everyone seems to be talking past one another, regaling the room with canned anecdotes that are never as clever as they are meant to be. Would you believe that Jess, the killjoy accountant, is the most likable of the bunch?
Clinton's Jess pushes through the evening with a bouquet of forced smiles that eventually withers into full glower. While she goes through the motions, Carvell's brooding Mat is checked out from the first minute. He's too preoccupied with his iDevices and indignity to help out (all the characters spend an unnervingly realistic amount of time staring into their screens). We get a sense that this is standard operating procedure in their relationship — the responsible wife pulling the dead weight of the mopey husband, hoping that his hefty inheritance will make up for it in the end.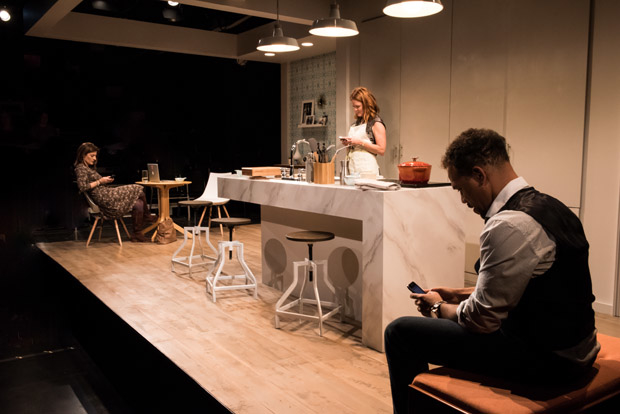 Alcohol is eventually added to this dumpster fire. Director Shannon Patterson has placed four bottles of red wine on a side table to menace the room like Chekhov's gun. The actors drink and pursue their objectives with ever-increasing aggression, turning this tastefully appointed modern kitchen into a snake pit.
The kitchen is courtesy of set designer Edward T. Morris, who intuitively understands that these people have such a weird relationship with food that the refrigerator must be hidden (he disguises it as a cupboard). Kristin Isola's costumes mock their wearers: Tony's tweed jacket and turtleneck betray a thespian that never really got over the '70s. The sound of a news report about a devastating earthquake in Haiti (the play takes place in 2010) occasionally pierces through this shell of privilege (sound design by Matt Otto). Everyone agrees that it is a terrible thing, but doesn't have much to add beyond perfunctory sympathy. Even wine-swilling Jacobin Simon can only muster a half-hearted anti-American rant in response to this tragedy.
In holding a mirror up to middle-class delusion, Betts has penned a bitter satire of the kind of socially conscious urbanites who attend the theater. You may wince in recognition of the inhabitants of Muswell Hill — perhaps one of them even looks like you. You'll definitely laugh, if only out of uncanny discomfort.