Mercedes Ruehl Dives Into Her Return to Torch Song
Mercedes Ruehl makes a late entrance in the Broadway revival of Harvey Fierstein's Torch Song, nearly two hours into the show, in fact. But her presence is felt way before she even steps foot onstage.
In Moisés Kaufman's production at the Hayes Theater (a transfer from off-Broaday's Second Stage), the Oscar- and Tony-winning Ruehl plays Mrs. Beckoff, the affectionate, but not necessarily tolerant, "Ma" of Michael Urie's forlorn protagonist, Arnold. Ruehl was eager to once again dance this pas de deux with Urie, and even more excited to find her way back into her character. There's always work to be done, she points out, even if you really have to do some digging.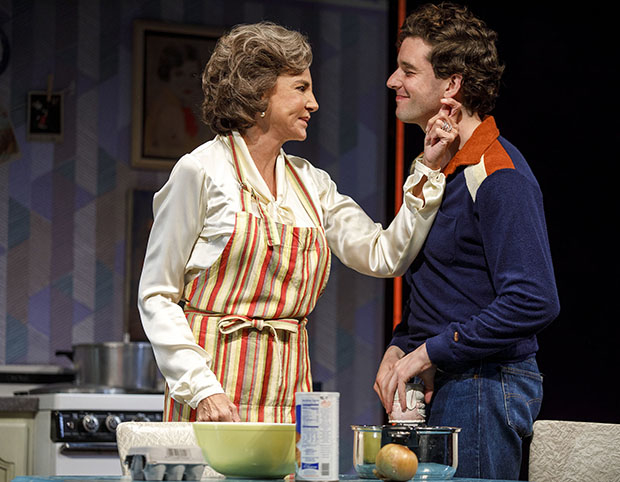 How has Torch Song evolved in the transfer from Second Stage to the Hayes?
It's deepened a bit. Certainly, everyone has dug in and found more emotional truth. That's been fascinating to watch and to hear. But also, as an ensemble of six actors, we were very fortunate to be very close and have a great fondness for each other, and that, too, has deepened. It's nice to go away and come back, because you come back with newfound objectivity. When you start parsing through the material again, you find arrowheads in the furrow that you didn't see the first time.
It must be even more helpful when you're working opposite an actor like Michael Urie, who's always so alive onstage.
I feel entirely safe with him, because I know he's going to be 100 percent there, listening and speaking and making sure he's heard. It's always a pleasure when you've got an actor like that. It becomes more of a dance, a pas de deux, and he really is there, in every sense of the word.
Were you completely satisfied with your performance the first time around, or were there elements that you were itching to dig back into?
There are a number of things that I wanted to revisit, small and large. Some were very simple: the delivery of a line and how it works best when such-and-such a word is emphasized.
But the big thing was coming back and exploring the scenes where the mother and Arnold really have at each other. This is with the help of the director and the producer, who made interesting observations. Like one night when I used a new adjustment, what actors call an as if. Performing "as if" I was talking to someone very particular in my own life. Something close to real rage came out. It got fierce. Both the director and producer came back and said "Wow, that fierceness is it." And I thought, "Bingo!" We're gonna try and hold on to that. And then the last scene has always been a bit of an enigmatic scene to me, how to handle Ma. I'm still working on that.
Good writers, I have found, almost always write more than they were conscious of when they wrote it. Those are the things that are fun to find. And if you can stay open through a long run and not get too rigidly identified with how you're doing certain lines, the process of discovering goes on through the length of the performance of the piece.
Speaking of, you've worked with so many legendary playwrights: Edward Albee, Neil Simon, and now Harvey Fierstein. Comparatively, what is Harvey like in the rehearsal room?
He may be surprised to hear me say this, but Harvey is probably the most relaxed of the playwrights that I've worked with, generally. He's not too keen on making changes or bringing anything back from the old play. But he's very gentle about it. Insistent, but gentle.
Neil Simon could be a little bit more fierce. If the rehearsal was not going to his liking, he would immediately get up, walk out of the rehearsal room, close the door behind him with a bang, and we'd all just sit there and shudder.
Edward came maybe once a week, and said very little. If you asked for an explanation of a line, he would clearly let you know that the answers are all in the text. Since his plays almost always involve some kind of metaphorical presence, like a baby that doesn't really exist or a goat — is it really a goat? — actors, of course, would be brimming with questions and he was not at all willing to provide answers or guidance in that way.
I think Harvey is. He always brings an air of merriment and playfulness into the rehearsal hall. The entire cast feels an enormous affection for him.
The Hayes is such an intimate theater that the cast doesn't even need to be miked…
We're proud New York actors. We spurn the mics! [laughs] If you're singing in a musical, sometimes it's very important to be miked so lyrics can be heard, but it's nice not to work with mics. These old theaters were made to amplify the human voice. There's a place behind the set where some of us have to yell lines to people onstage, and there is such a booming sound that happens right there. It feels like you're talking to the universe.
Can you feel the audience's presence when you're onstage?
You can feel a warm encircling of the audience, which is really nice. There are a lot of plays on Broadway with dark thematic material, and I think, in dark times, what we need as audiences is something with laughter, with hope, and where the element of love sears through everything. It's a great pleasure to be a part of it.