Marisa Tomei on Stepping Into the "Hooves" of Pony Jones in Will Eno's The Realistic Joneses
Marisa Tomei has an infectious laugh, one that can't help but put a smile on your face, even when you're chatting about heavy subjects like life, death, and illness. That holy trinity is ever present in Will Eno's existential Broadway comedy The Realistic Joneses, in which the Oscar winner stars as the delightfully named Pony Jones, a young married woman who has moved into a small town with her husband to start their lives anew. But there's a lot more bubbling beneath the surface that slowly comes out amid the small talk. TheaterMania chatted with Tomei about her experiences working on the play and the transformative effects it has on her as both an actress and a person.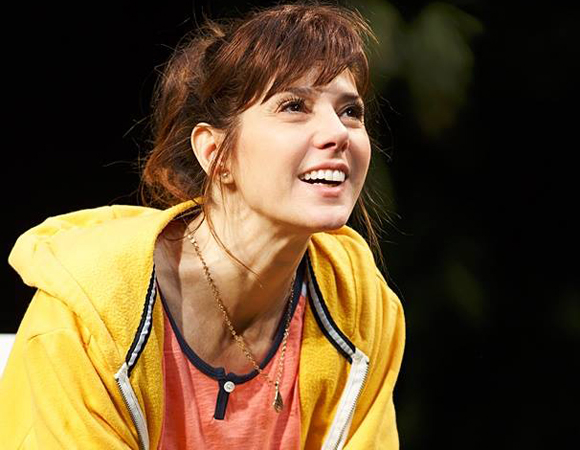 You first worked with Will Eno in 2007 on his play Oh, the Humanity and other exclamations at the Flea Theater. What was more attractive to you, working with him again or playing a character named Pony?
[laughs] They were both equally attractive. I suppose working with Will, because he birthed her. Who could resist, really? A lot of people said, "What do you mean by that?" If you don't understand what's great about a character named Pony, what can you say? It's like all the fun of Christmas in a box.
Besides those factors, what was it about The Realistic Joneses that made you say, I want to do this play?
I've really wanted to do a comedy for a very long time. I need to be in those kinds of roles. I've been feeling that itch lately. And to have it be about the existential [nature] of life, it's incredible. It's the best kind of comedy. I've also wanted to work with [director] Sam Gold for a very long time. We'd been throwing different ideas at each other, and I was just beside myself when someone said to me it would be Will Eno and Sam Gold. Stop right there. It was the two of them, period. Really.
What I love most about Will Eno's plays is that you walk out at the end and feel like your perspective on things has shifted.
Oh my god, that's absolutely how I feel every day. To be able to hear the play and be part of the play is transforming for me as a human being. Part of that is also listening. Being able to have the time to chew on certain sentences or thoughts on one viewing. It is so rich that you can't get it all. I have the exquisite pleasure of standing backstage and hearing Tracy [Letts], or Toni [Collette], or Michael [C. Hall] saying something that is cracking me up and changing my perspective on life.
The four of you have such great chemistry. Did you all know one another before you started?
Not at all. I would venture to say that it's the nature of people who are attracted to Will's work and really appreciate it. I get the sense that they are as just in love with Will as I am and really appreciate being in the show and being part of what he has to say.
Has your perception of the play and Pony shifted from when you started rehearsals to now?
It's interesting to hear feedback from friends who are coming and the damage that they really feel Pony carries. I even had one friend say that she carries the most pain and damage of all the characters. I don't feel her that way. To get into her…hooves…every night, I have to be in a very lighthearted, uplifted place. She's full of so much hope because she and her husband are making a new go of life in a new town. I have to play the positive. Otherwise, it doesn't work; the character would be cooked and in a straight jacket.
The language in the play is so simple, yet so loaded with subtext. As an actor, is that difficult to play?
You have to be completely in the moment, but there's something about the way his language plays in which there has to be no thought. It's rising from a visceral, mysterious place like it does with most of us when we're just talking. He's such a craftsman that he structured it on that level of complete banal, regular conversation and colloquialisms, and then he's got the metaphysical level where there's always something in between the words and in the air that's working on the characters and the audience. And then he's got all the structure and technique and style of a true poet. He's got a lot of technical balls in the air, so for the actor, once you find the way in, it's a really big crack-the-code case.
What do you find most interesting about Will's writing?
I think that, opposed to other playwrights, this springs out of him. It comes so organically out of his heart and soul. He is such a compassionate person and that all seems to arise from his reflections. Where there's another way to do it, from the outside in, where you say, "I want to craft a story about death and existentialism and marriage," and enter it from the head. That would maybe leave it colder, but you wouldn't have that mysterious part, that ineffable something, that always gets you in the stomach.